Toffee Brownie Ice Cream Sandwiches
This shop has been compensated by Collective Bias, Inc. and its advertiser. All opinions are mine alone. #SoHoppinGood #BlueBunny #CollectiveBias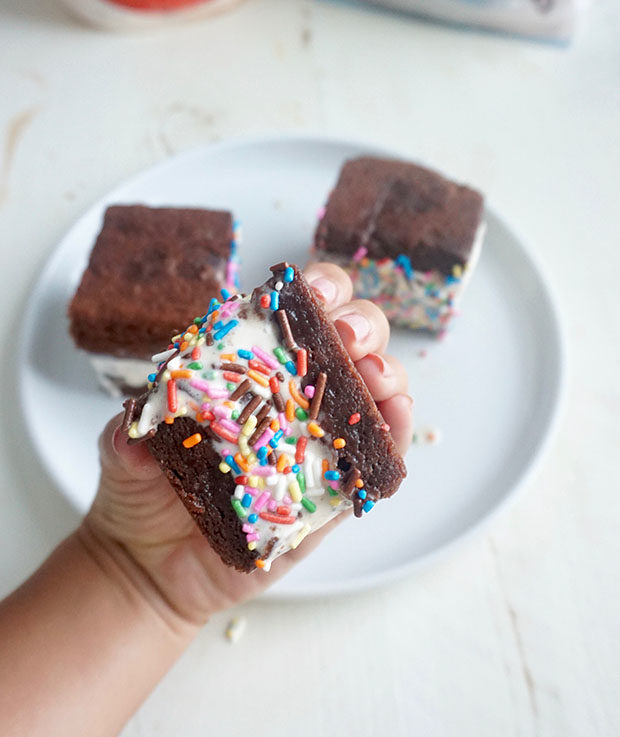 How do you beat the heat over the summer months? Ice cream, of course. I know you. That was a rhetorical question.
Ice cream has been the go-to summer treat forever. I mean, I'm assuming, but I'm also assuming that my assumption is correct. It's perfectly cooling, a sweet treat, and there are so many varieties that you're bound to find something that is ideal for your tastebuds. Ice cream is also a fantastic back to school and after school snack. You can give your children their last taste of summer before they head back into the daily school grind, or you can reward them with a little after school taste of something sweet and creamy.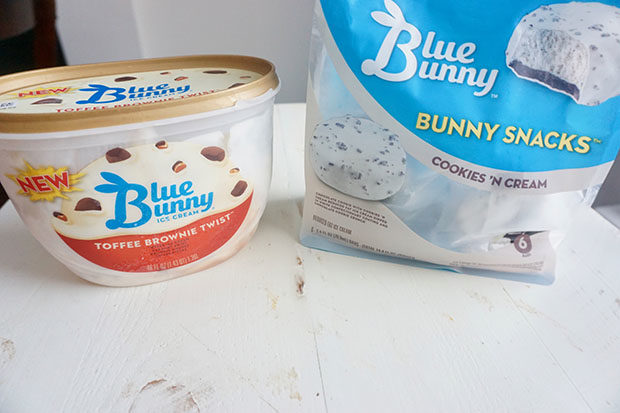 In the same way that ice cream during summer is somewhat of a time-honored tradition, Blue Bunny® has been around for more than 80 years. For all these years they have been making ice cream with fun, fresh ingredients for families to enjoy together. They now have new 2017 flavors, one of which is Blue Bunny® PB 'N Cones™ with swirls of peanut butter and crunchy chocolate dipped cone pieces throughout delicious vanilla ice cream. Is your mouth watering?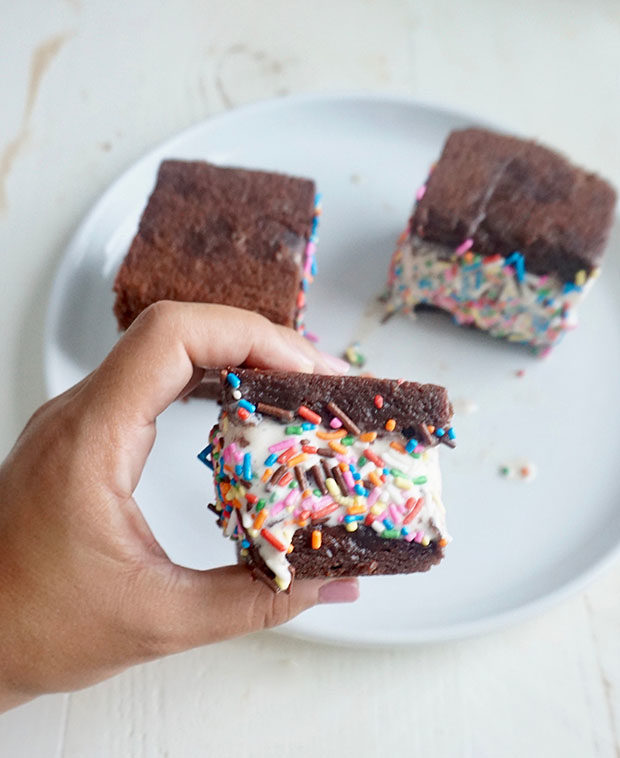 Other new flavors include: Rockin' Rocky Road™, Monster Cookie Mash, Toffee Brownie Twist™ (the flavor featured in today's post!) and Mint Cookie Crunch. For those Blue Bunny® enthusiasts, their seasonal flavor Cherrific Cheesecake is now available year-round.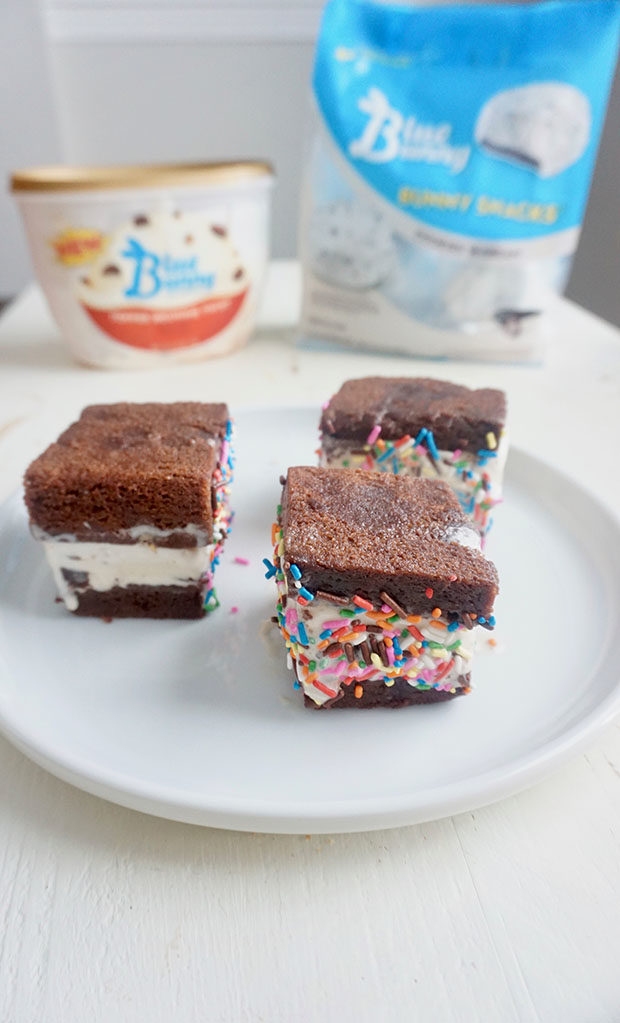 And it doesn't stop there! Along with the new ice cream flavors, Blue Bunny® now has Blue Bunny® Bunny Snacks™ in Salted Caramel Pretzel, Chocolate Vanilla Twist, Chocolate Chip Cookie, and Cookies 'N Cream! Imagine these perfect bite-size treats and now run to Walmart and make those dreams a reality. So good! (Plus, Blue Bunny® Cakes!)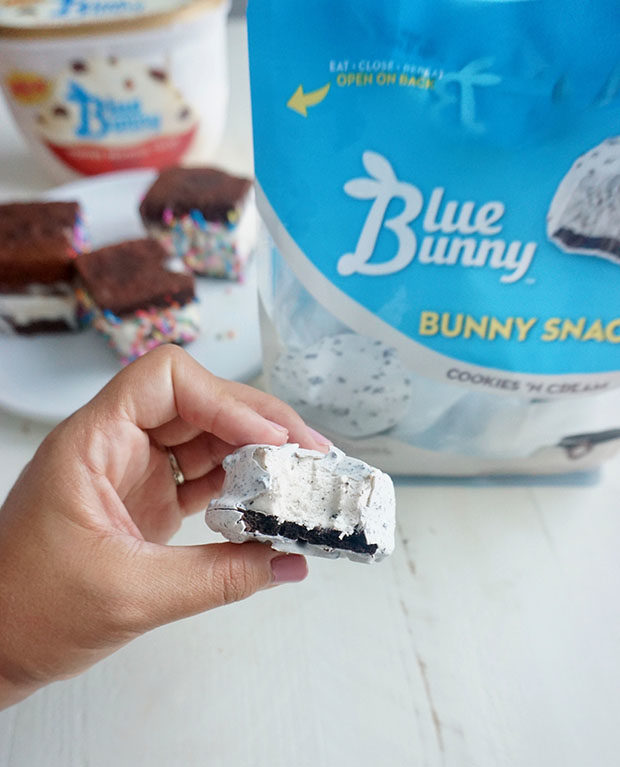 So, for pool time, grilling time, anytime, I made brownie cookies and then made ice cream sandwiches from the brownie cookies and the Toffee Brownie Twist™ ice cream. Toffee has always been one of my favorite flavors and it's darn near irresistible to me. And with a big crunk of ice cream, the ice cream sandwich will always win. Remember the ice cream sandwiches of your childhood? There's that nostalgic factor, but truth it they weren't that great. These are everything you ever need in ice cream life again!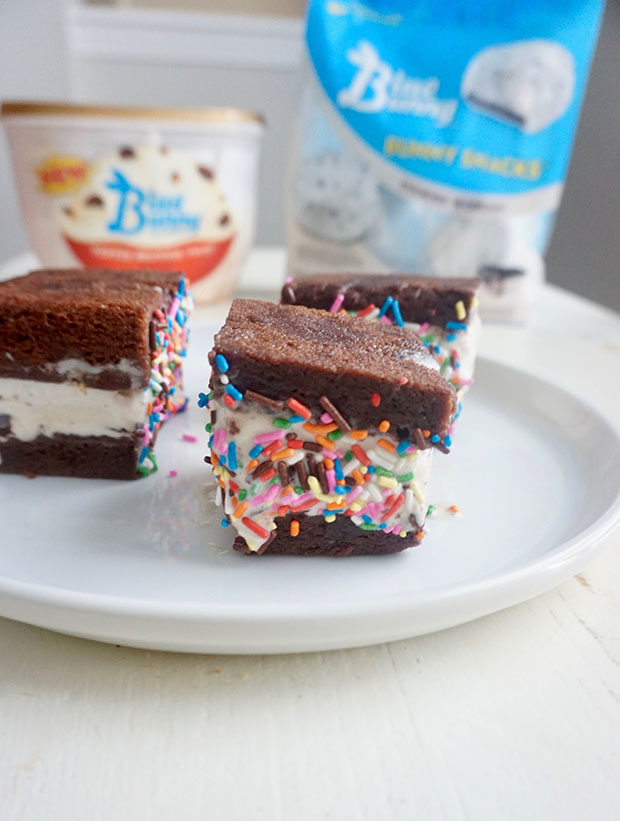 Beat the heat, make some Toffee Brownie Ice Cream sandwiches, dip in sprinkles (because everything is better with sprinkles) and enjoy!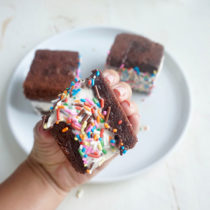 Toffee Brownie Ice Cream Sandwiches
Ingredients:
8 tablespoons (1 stick) unsalted butter
3/4 cup cocoa
2 large eggs
1 teaspoon vanilla
1 cup sugar
1/4 cup all-purpose flour
Pinch of salt
1/2 cup finely chopped toffee pieces
Blue Bunny® Toffee Brownie Twist™ ice cream
Directions:
Preheat oven to 325*F. Grease an 8x8 square pan (that can be put in the freezer) with some butter; set aside.
In a medium saucepan over medium heat, combine the butter and cocoa and stir until butter is melted and the consistency is smooth; remove from heat.
In the bowl of a stand mixer with the paddle attachment, pour in the cocoa/butter mixture, then beat in the eggs on medium-low, one at a time. Add vanilla.
In a separate bowl, combine sugar, flour, salt. Add in batches to the stand mixer, mixing in between each addition until barely combined. Stir in the toffee pieces.
Pour batter into the prepared pan. Bake 30-35 minutes, or until a toothpick inserted comes out relatively clean. These brownies will continue to cook outside of the oven and can be a little gooey in the center.
Once cooled all the way at room temperature, cover and place the pan in the freezer. Once very, very cold remove from freezer, allow the ice cream to melt just a tad (to make spreading easier), then spread ice cream all over the top. Return to freezer until ice cream has completely frozen and firmed up again.
When ready to make ice cream sandwiches, cut into squares or circles or whatever your heart desires, flipping half over onto the other half to create the sandwich. Dip in sprinkles because it's always better that way.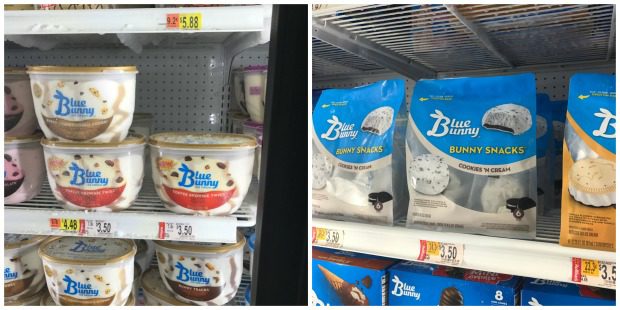 3 Responses to "Toffee Brownie Ice Cream Sandwiches"

Trackbacks/Pingbacks

Leave a Comment