Kale and Arugula Salad with Almond Breaded Chicken + Champagne Honey Vinaigrette
Compensation was provided by ConAgra PAM via Mode Media. The opinions expressed herein are those of the author and are not indicative of the opinions or positions of the sponsor.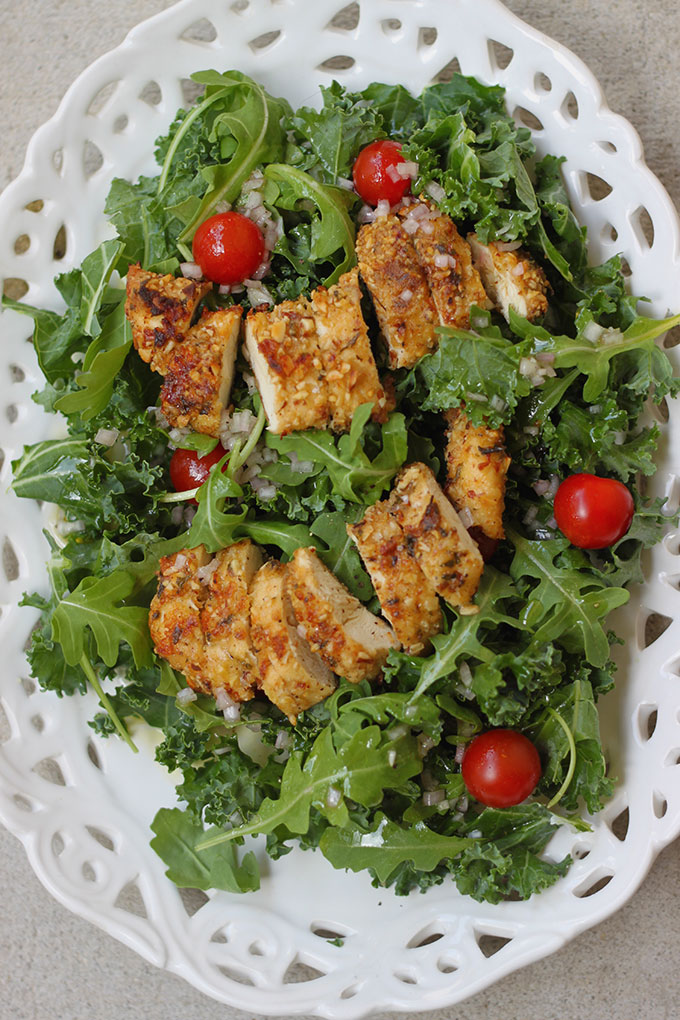 One thing I find so fascinating about food bloggers who have written cookbooks is the behind the scenes stuff. Usually, I come to know of a food blogger because of their cookbook (although there are some food bloggers that I've been following for years, like Love & Lemons who I've come to love through their blog and then hear the exciting news that they're writing a cookbook!!). But when I see that a blogger has written a cookbook, I immediately hunker down at my computer and search their archives for posts about the making of that cookbook. It's something I want to do myself, one day. I want to feel the pages of my own cookbook in my hands and to see ear marked copies on the kitchen counters of my friends.
The part of cookbook writing I would not be too excited about? The dishes. It's the most unfortunate part of all this. And to show how unglamorous cookbook writing actually is, these food bloggers post pictures of alllll the dirty, caked on grease pots that are the result of their cooking adventures.
Someone should tell them to buy some PAM.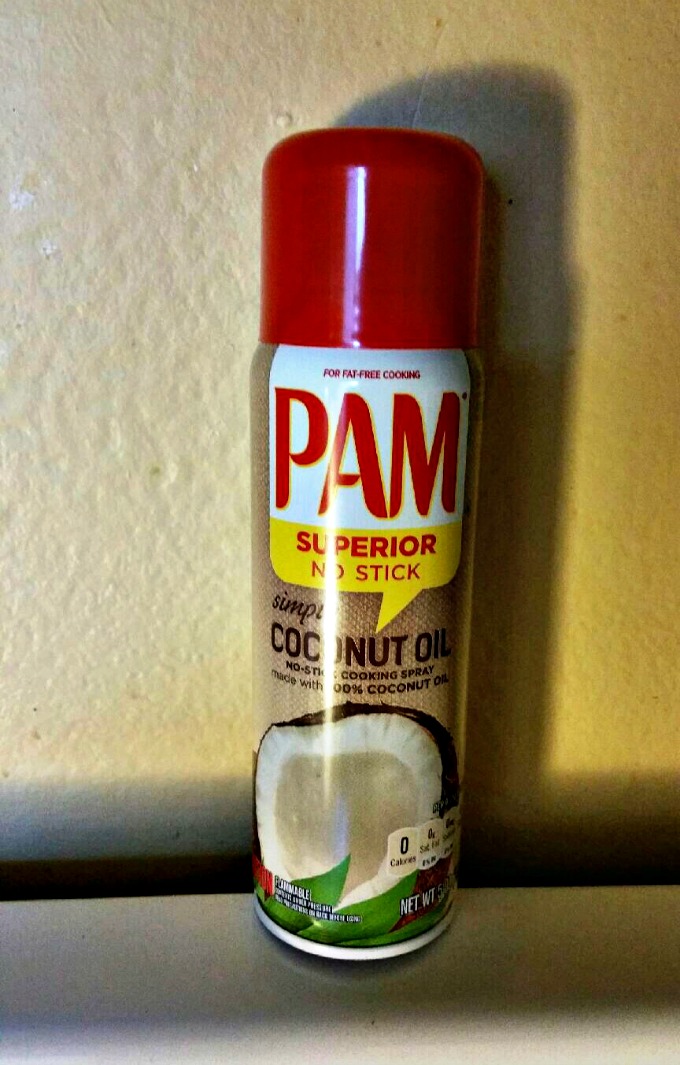 Speaking of, I would not be a food blogger without PAM. The worst thing ever is soaking pans and then still having to scrap them of food stuff.
Being I'm eating healthier, and making these dishes that are both hearty and full of everything that's good for you, I purchased PAM with Coconut Oil. There are so many uses of coconut oil, right? And it's healthier than other, more traditional oils.
Lemme go ahead and share this kale salad with almond crusted chicken tenders and champagne vinaigrette with you.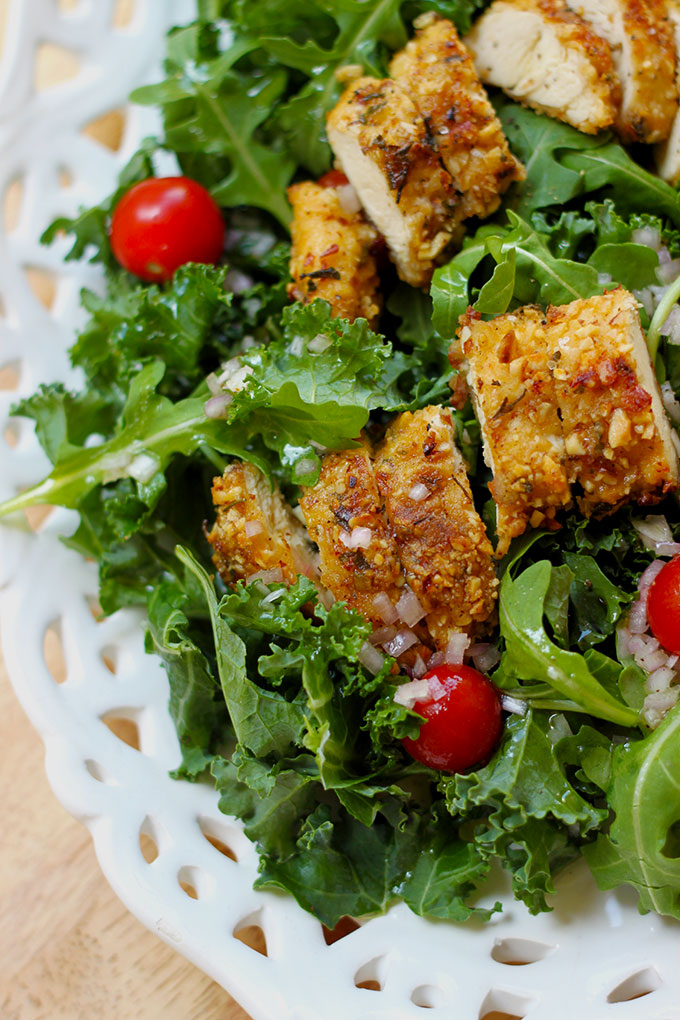 I know a lot of people who just think kale is just too bitter, but the truth is that kale is a wonderful green. I personally can eat it just plain, without much dressing. For all those of you who can't, just add more dressing. Kale soaks it up pretty well, but not so much that your salad is soaking in vinaigrette.
Using PAM with Coconut Oil, I made crispy almond crusted chicken to top my kale and arugula salad with. I used it to make breaded chicken the traditional way: all-purpose, panko breadcrumbs, whole egg and then pan fry in butter and olive oil. While yasssss I can get down on some of this alongside a lemon butter sauce. I don't miss it when I can get the same textural elements from almond crusted chicken. I also used an egg white and white whole wheat flour from King Arthur Flour.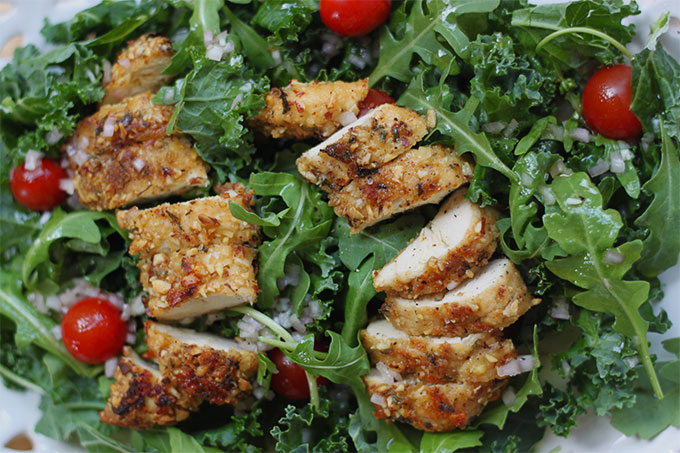 And then the dressing! Let's talk about that. I once had a sandwich that had steak, grilled onions, Dijon mustard, and champagne vinaigrette, and it changed my life. Ever since, I make sure I have a bottle of champagne vinegar in my fridge at all times.
I hope you love this salad as much as I do!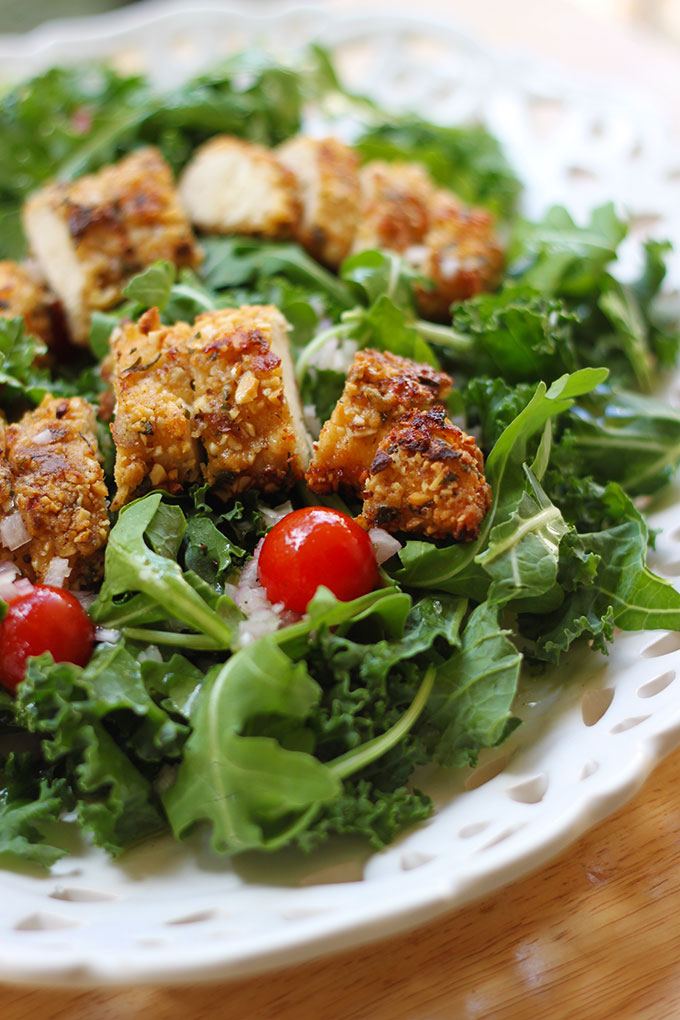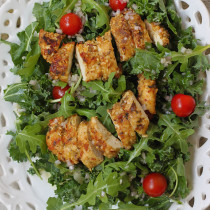 Kale + Arugula Salad with Almond Breaded Chicken + Champagne Honey Vinaigrette
Bitter kale and peppery arugula combine with a tart dressing and crispy chicken for a dynamic salad you'll really enjoy!
Ingredients:
Almond Crusted Chicken
PAM Coconut Oil Spray
3 chicken tenders
1 egg white, beaten
1/8 cup white whole wheat flour
1/4 cup almonds, ground
1 large pinch ground red pepper
1/2 tsp dried parsley
Salad
2 cups kale
1 cup arugula
1/2 cup cherry tomatoes
Champagne Vinaigrette
1 tablespoon champagne vinegar
1 shallot, minced
1 1/2 teaspoon honey
2 tablespoons extra-virgin olive oil
Pinch each of salt and pepper
Directions:
Almond Crusted Chicken
Preheat oven to 375*F.
Spray a baking sheet with PAM Coconut Oil Spray; set aside.
Sprinkle both sides of the chicken tenders with salt and pepper. In a shallow bowl, beat the egg white. In a separate bowl, combine white whole wheat flour, almonds, ground red pepper, and dried parsley.
For each chicken tender, coat it in egg while and then coat in the flour and almond mixture, making sure to cover all surface area of the chicken. Place on the baking sheet and spray each with PAM Coconut Oil Spray.
Bake for 15-20 minutes, or until browned and cooked through.
Salad
On a platter or salad bowl, combine ingredients. Pour champagne vinaigrette over salad.
Champagne Vinaigrette
In a bowl, whisk together champagne vinegar, shallot, and honey. Continue to whisk while slowly drizzling in the extra-virgin olive oil. Pour over the salad and chicken tenders.
Leaving up to *99% less residue, PAM is your ally in the kitchen and allows you to save time during prep and clean up.
* vs. leading cooking sprays (except olive oil), after spraying on glass bake ware, baking at 400°F for 30 min, cooling, and then washing in standard home dishwasher with detergent and repeating 4 times
7 Responses to "Kale and Arugula Salad with Almond Breaded Chicken + Champagne Honey Vinaigrette"

Trackbacks/Pingbacks

Pingback: summer salad recipes

Leave a Comment