This shop has been compensated by Collective Bias, Inc. and its advertiser. All opinions are mine alone. #PeriodConfidence #TryTheDivaCup #CollectiveBias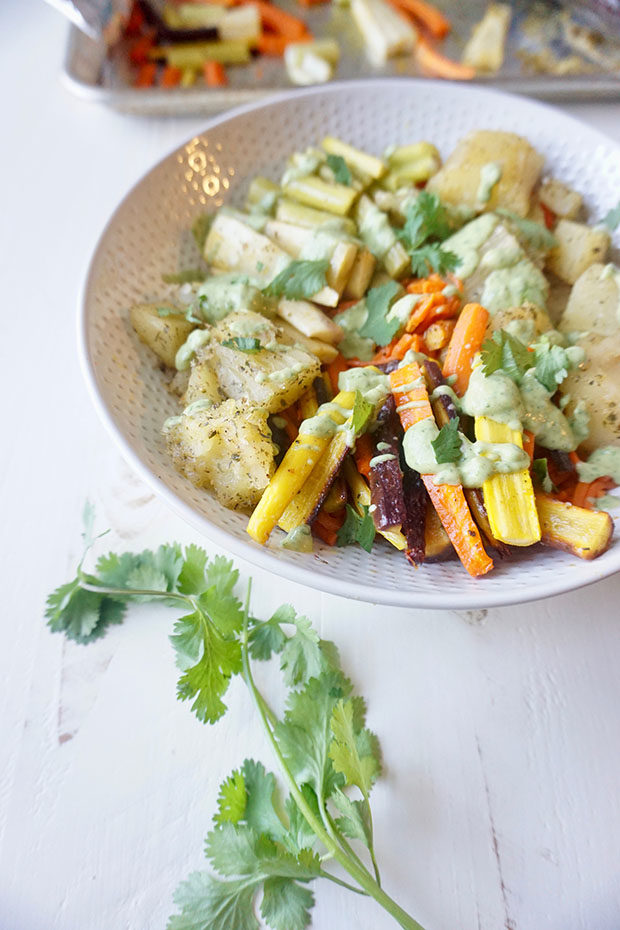 Ladies: it's time to talk periods. Not just today, but anytime you feel like it. As a normal part of our lives, it's not something to be ashamed of or embarrassed about. I used to go to the store for my supplies and then go out of my way to find a female cashier because I was embarrassed to purchase my items with a male. I hid my supplies in the deep recesses of my bathroom cabinet so my boyfriend (now husband) wouldn't need to see them. I would go out of my way to sneak to the bathroom so I could do my thing without anyone noticing what I was holding in my hand.
And, I would refuse to attribute any attitude I had to the very real PMS…because I didn't want to talk about it. Well, it's time. Maybe this freedom comes with being over 30 and having gone through childbirth where your inhibitions no longer exist, but today I want to talk about it out in the open. We're friends.
There are many phases of your monthly cycle, from the time one period ends until the beginning of the next (and also the dreaded week or so you're actually on your period). It's not fun and it's not exciting and yes, it can be a little gross, but it's life and so let's make the best of it! If you're wondering what to eat during each phase of your menstrual cycle, I have suggestions so you feel and look your best! Note: Each phase is about a week.
Menstrual Phase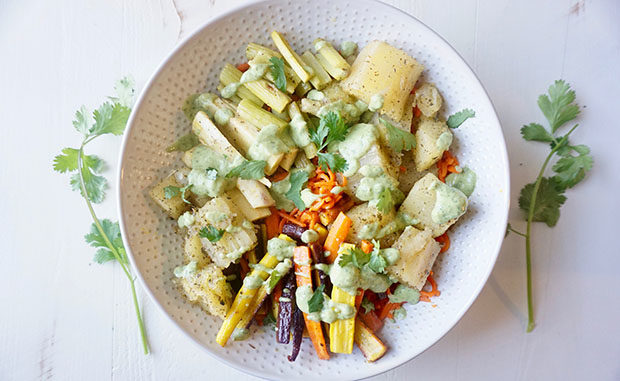 I'm going to start with the menstrual phase which is ultimately the topic of today's post anyway. This is the week (or so) during your period. Your hormones definitely fluctuate during this time so it's best to consume fatty acids and root vegetables. These types of food help with mood and the processing of estrogen, respectively. There are so many dishes you can make that combine these two things, like a root vegetable bowl with a cilantro tahini dressing!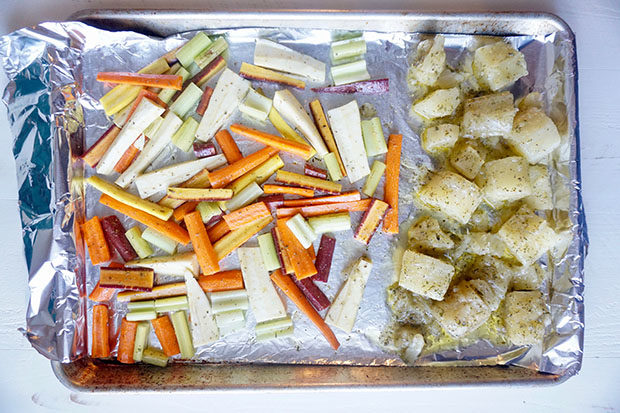 This is the perfect recipe to share now because it's fall and most root vegetables (with the exception of beets) come into the prime of their season in the fall and winter. My favorite root vegetables are parsnips, carrots and yuca, but you can also use turnips, rutabaga, potatoes, radishes, pumpkin, or any combination of these you feel like. I roast all of these vegetables, but I make sure to boil the yuca first because yuca tends to need more help breaking down. Once everything is on a roasting pan and tossed with your favorite herbs and spices, this dish comes together in about 25 minutes. Let us waste no time during this phase so we can just go back to lounging on the couch, right?
Now for the dressing. The main flavors you'll get here are from the cilantro and tahini, but there is a whole avocado in this dressing and an impressive amount of olive oil. (Following the recipe, you will likely have leftovers and this dressing is perfect for roasted salmon, salads, grilled chicken, etc.)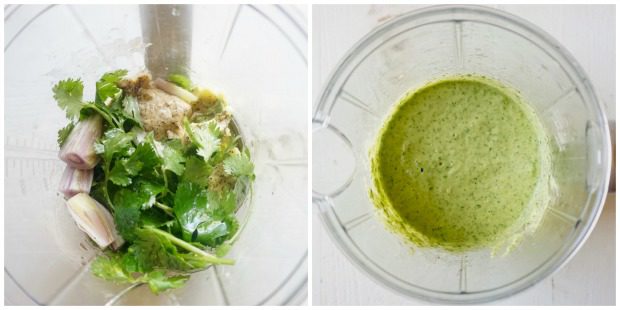 I love the creamy texture of this dressing and I just drizzle over my root vegetable bowl for a really wonderful punch of flavor.