Lemon, Blackberry, Date Parfait with Liberté® Méditerranée Yogurt
Today's post is sponsored by Liberté® Méditerranée, but my love for their luscious yogurt (and my opinions) are all my own. #YogurtPerfection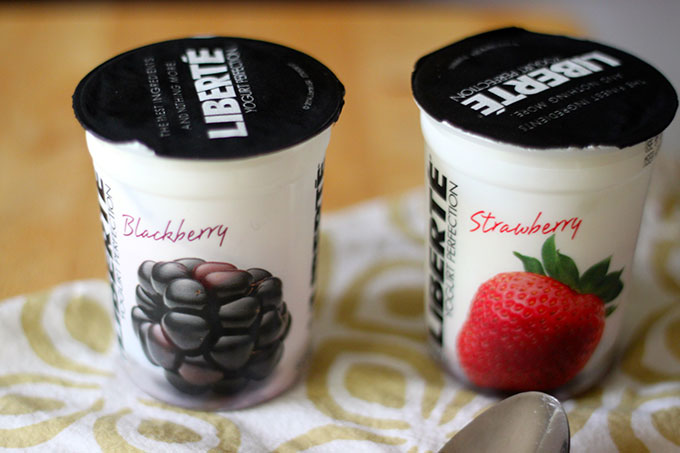 I've never had a love affair with yogurt. (I actually hope there's nobody out there that has had a literal love affair with yogurt, but I've seen My Strange Addiction and I now know what human beings are capable of.)
I wish I could identify why I don't like yogurt too much. Is it a texture thing? No, I like things like flan and very creamy guacamole and tapioca pudding and pots de creme and melted ice cream. Is it a fruit thing? Even though the fruit on the bottom yogurts are typically my least favorites, it's not that either. I love fruit! (One of my nicknames as a child was fruit fly.)
I'll go through these spells of eating yogurt every morning for breakfast – because, you know, I hear it's good for you – and then, a week later, turning all thoughts of yogurt away in complete disdain. Yogurt?! HOW DARE YOU! I won't even speak of such a thing.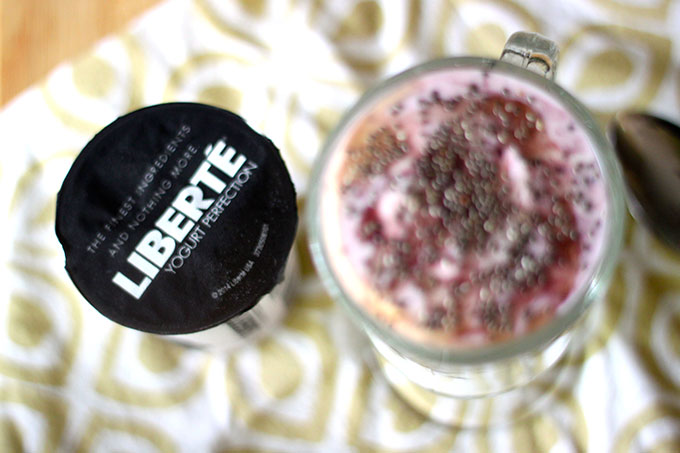 The pretty cool thing is that I've experienced so much food that I've never tried before because I was afraid I wouldn't like it, which is silly because I end up liking it immensely, but I've never been totally wishy washy and bipolar about anything and then found something that makes me so manic about the food that I am such a raging fan I don't even recognize myself. Scraping every last bit of yogurt from the container? That's not me! Except it was me yesterday in my kitchen. Like a savage. (I stopped at the point of licking the inside of the yogurt container like a dog, but that's just because I have some shred of self dignity.)
You wanna know the answer? Well, DO YOU?!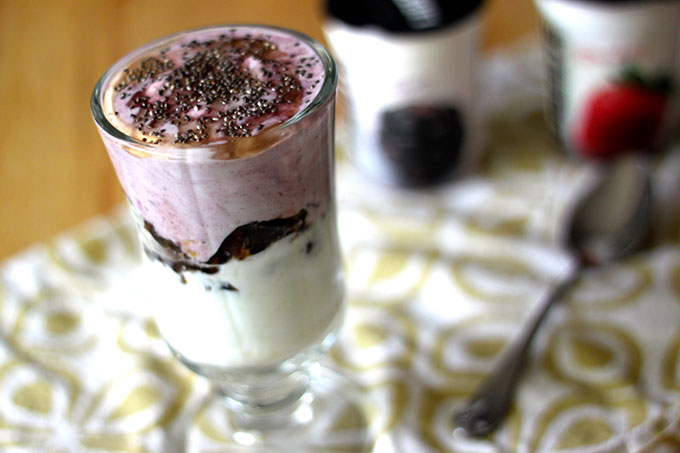 It's Liberté® Méditerranée!
And I made this parfait for you. I used the lemon flavor as the base (my favorite!) and the blackberry flavor at the top. In between, there's chopped dates and a drizzle of honey. On the top, there's another drizzle of honey and a sprinkle of chia seeds. I used to say I wish I loved yogurt so I would be happy to eat parfaits every morning for breakfast. Now, I can, seriously.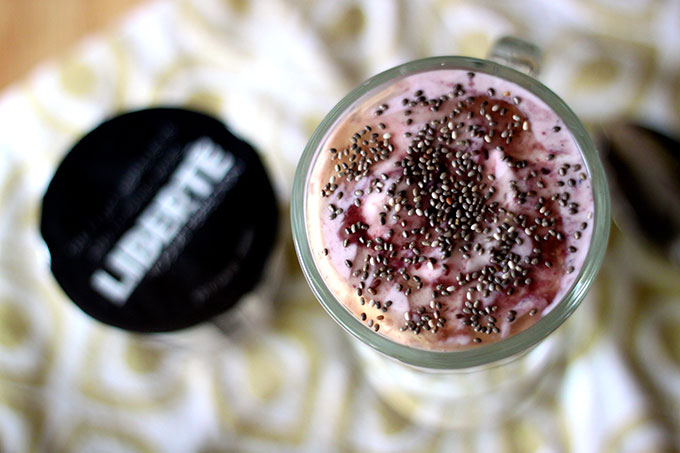 Liberté is made with whole milk and cream so it's silky. Each fruit flavor comes with real fruit on the bottom and no gelatin, sugar substitutes, or preservatives. They also have caramel and cappuccino flavors that I can't wait to try.
Now for the even BETTER news! We all know that yogurt is pretty inexpensive to begin with ($10 for 10, or $10 for 20, what what!), but there are coupons available for Liberté yogurt, too! Get the yogurt coupons. It's #YogurtPerfection!
Second, I'm giving away $15 in PayPal funds. That's at least 15 yogurts you can buy! All you have to do is visit the Liberté yogurt website and comment at the bottom of this post with what flavor sounds the best to you.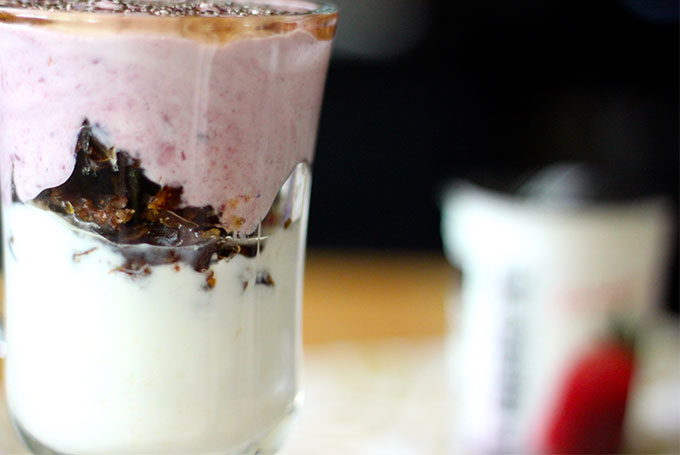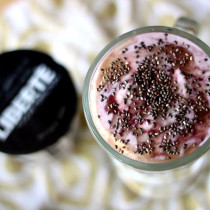 Lemon, Blackberry, Date Parfait with Liberté® Méditerranée
A combination of lemon and blackberry yogurts are perfect in this tangy breakfast parfait.
Directions:
Build the parfait by layering (from the bottom up) lemon yogurt, 1/2 tablespoon honey, dates, blackberry yogurt, 1/2 tablespoon honey, chia seeds.
Stick a spoon in and enjoy.
38 Responses to "Lemon, Blackberry, Date Parfait with Liberté® Méditerranée Yogurt"

Leave a Comment