A Post Mostly About the Restaurants we visited in San Diego…because that's what's important, of course
I walked into the airport with a feeling of excitement. I was going to the premier social media marketing conference in San Diego, all the way across the country, and my company was sending me because that's what they do: invest in people. My friend was alongside me and from the moment I kissed my husband goodbye and walked into the airport, we were laughing. God knows what we were laughing about because I certainly don't remember, but the point is that it was an exuberant time as we people watched and caught up (we hadn't truly hung out in so long) and sing-songed a lot of words, like "Yasssssss".
We went through the security line where I was completely distracted by a medium sized dog that was sniffing everyone as they passed. He wore a "do not pet me" sign, but that's all I wanted to do. I wondered if this dog received any petting and cuddling or, because he's a working dog, it's all business, even after hours. Either way, I wanted to get down on one knee, or more like, just sit indian style on the dirty airport carpet and hug this dog for hours. Maybe even roll around on the floor with the dog, without a care in the world about how many bare feet and dirty shoes had touched this same space.
After airport security, and suppressing my urge to be totally inappropriate and break the rules, we realized that we happened to be at the only gate that had, like, no good food. There was a restaurant that tried to be fancy, with their dark paneled walls and low lighting, but it was like a defunct Bennigan's – overpriced, and with cheese that won't melt. We opted for Pizza Hut, the lesser of all evils, which is mind blowing in and of itself. It was way worse than that cardboard pizza we all remember from childhood because there was none of the nostalgia attached.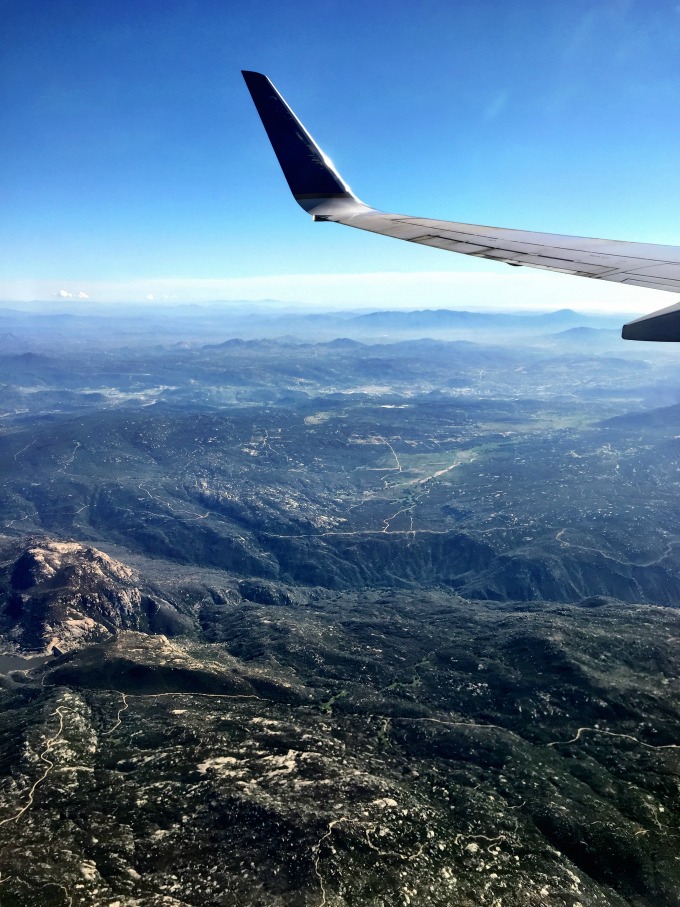 All of these things served as distractions from the realness of flying. The thoughts of what could happen, and what to do if you realize you're in a state of emergency.
I fully expected to have the sweaty palms, the closed eyes with head back while I unsuccessfully try to transport myself to an island somewhere with a pina colada in my hand and a flower tucked behind my ear. I expected to ignore everybody while chewing pieces of gum in rapid succession to keep my ears from popping as much. Instead, I found myself laughing about shoe boogers. You know, those little boogies you get when you sweat in well worn shoes. It's gross, but also hilarious, and most importantly, distracting. Before I knew it, we were in the air, that tropical island completely forgotten about. On the plane ride, we laughed, we did some work, we talked about our lives and where we're going next.
And then…we were in San Diego.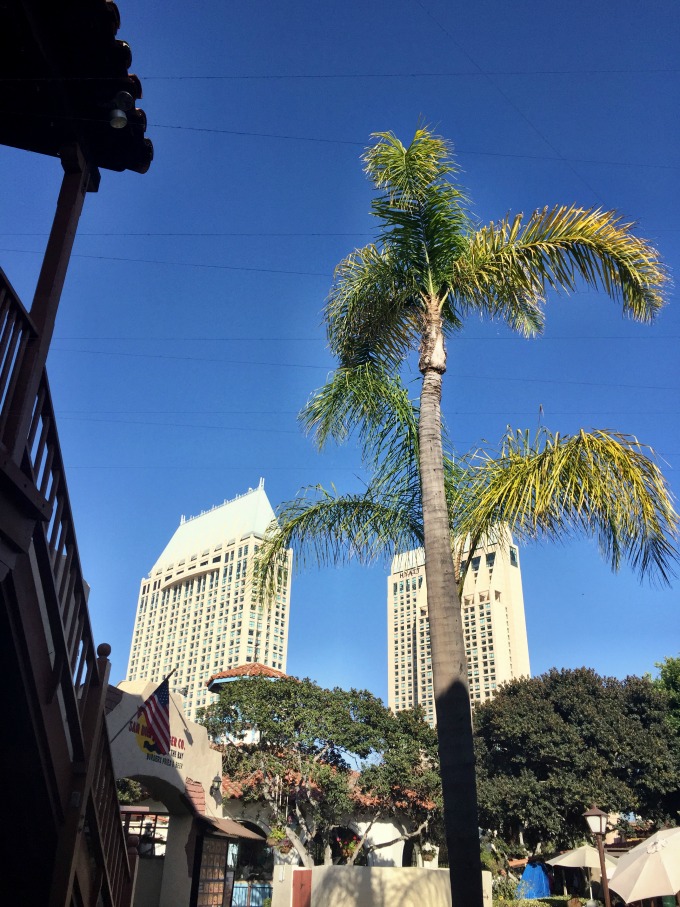 There's blue skies, a 75 degree breeze, tall palm trees lining the streets, and more clean air than I'm used to. There are friendly people and hip restaurants that you want to be a regular at. We walked most places since I wanted to stay close to the hotel for the conference, but the streets were easy to understand, unlike St. Pete where nothing makes sense. Plus, this is a real city…with buildings…and enough blocks of stuff that you can actually walk around and see the sights without having a car.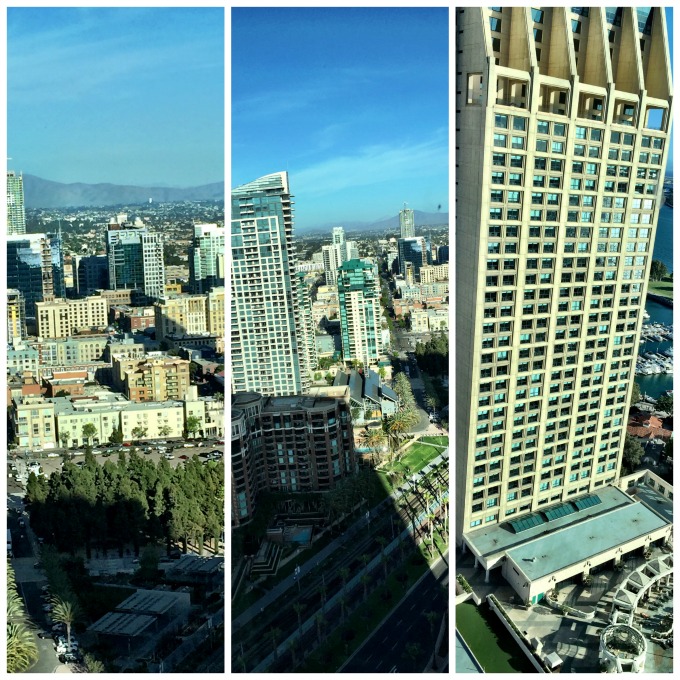 And that's when we went to have some tacos at Puesto, a restaurant I saw recommended by Chef Marcela Valladolid.
Plus, the water is beautiful. During a lunch break one day of the conference, we walked around Seaport Village to find something to eat. While not the best fare that San Diego has to offer, Seaport Village is like a fishing town, full of small shops and the scent of lots of food being cooked at one time. There are people flying kites on the grassy knoll, families walking around with ice cream cones in hand – vanilla, mostly, and everyone is having a leisurely time. After a lunch of Greek salad and tzatziki, we walked down the pier, taking in the sights of houses on cliffs, naval ships, and the bridge, with hair blowing in the wind and surrounded by other groups of people, mostly with selfie sticks in hand and smiles on faces.
And it was time for selfies of our own.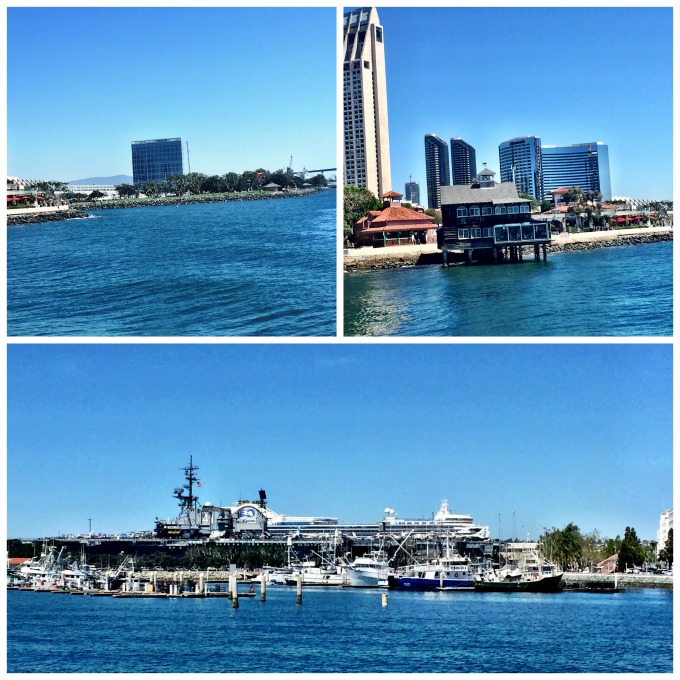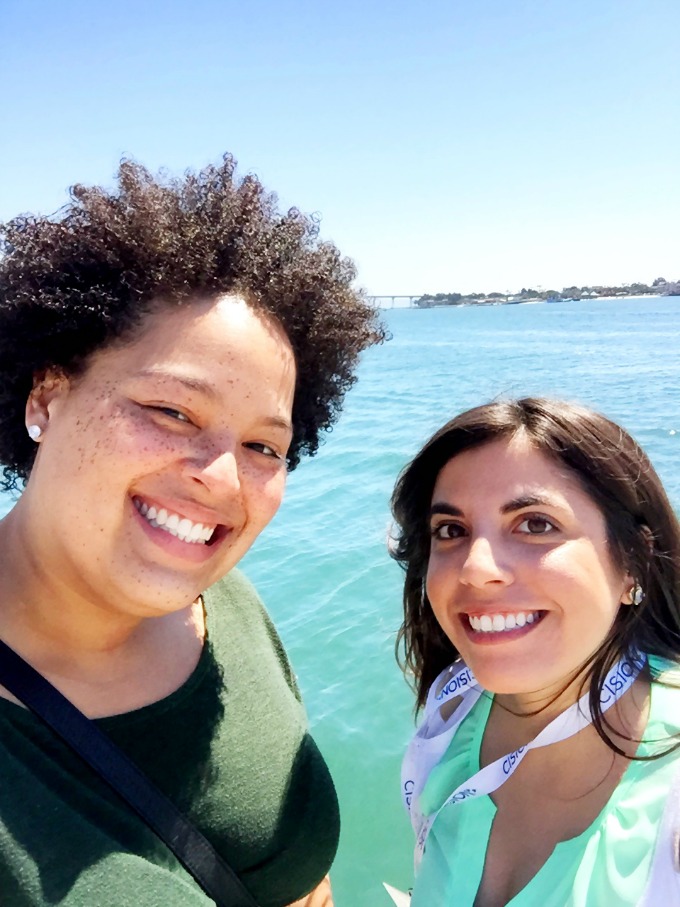 Back to the conference sessions I went, armed with my computer and a thirst for knowledge. Here's what else we did on our trip:
EAST VILLAGE & LITTLE ITALY
A lunch in East Village, just a couple of blocks from our hotel, took us a grand total of approximately forever to get there. Google Maps on the walking feature might as well not even because it took us all kinds of ways. Although happy to be able to see some of San Diego, and a fight that broke out on a street corner (that's not something I see everyday), we arrived to Bottega Americano with red, sweaty faces. How's that for attractive?
The attractiveness of the restaurant and food more than made up for where we lacked. Bottega Americano has fresh pasta hanging, a wood-fire oven, crudo bar, salumeria, and a marketplace.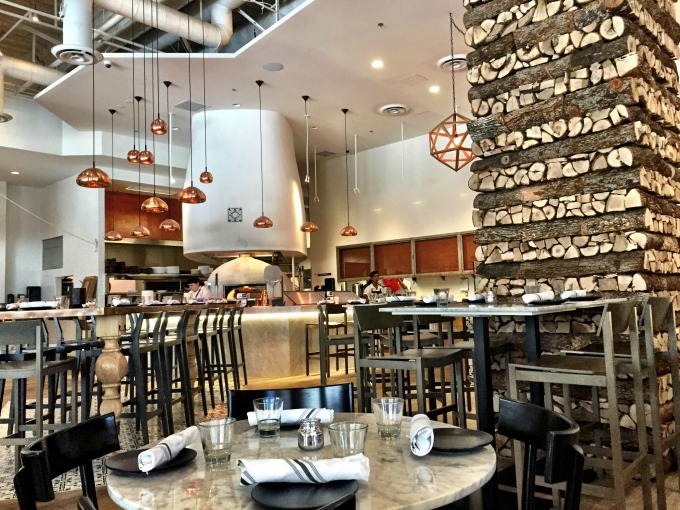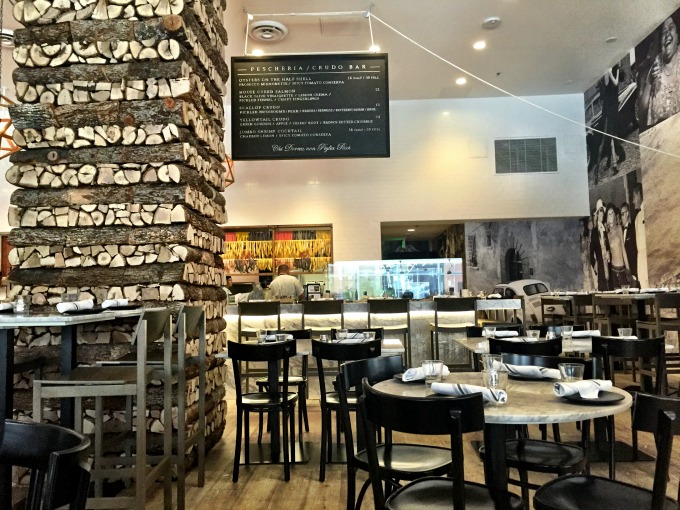 Before dinner, a quick (okay, fine 2 hour) stop at San Diego Cellars where I tried 7 different wines that this urban winery makes themselves. At only $10, it was so worth it.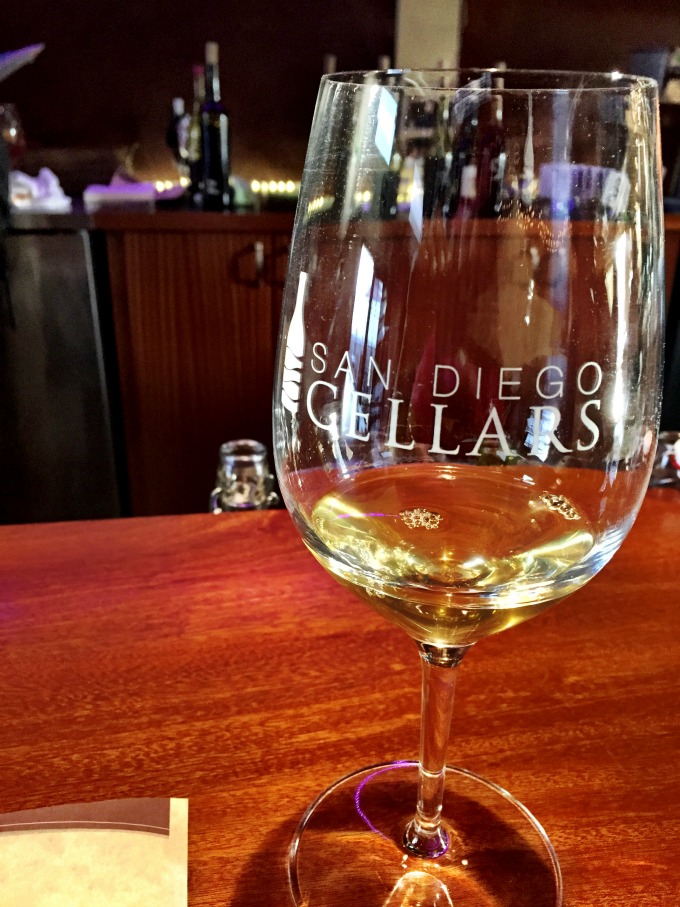 Next up: Juniper & Ivy, the restaurant by acclaimed chef Richard Blais, was the first reservation I made for this trip. It was the can't miss spot for me. I first heard of Richard Blais through Top Chef and I quickly became of a fan of this guy. According to the menu that's printed daily, Chef was in the kitchen, but unfortunately, I didn't get to snap a selfie or even catch a glimpse. Oh well, on to the food!
Juniper was our favorite stop this trip. I loved everything about it: ambiance, service, creativity of dishes.
Craving Italian on Saturday, we decided to venture out to Little Italy again for homemade pasta and cheese at Bencotto Italian Kitchen. On the way there we passed by an outdoor market with food trucks, the scent of dishes being cooked over outdoor grills was absolutely permeating. At Bencotto, we basically made a Meerkat through our entire meal (Meerkat is my new favorite app, btw) and ate some really great food.
GASLAMP QUARTER
The Gaslamp Quarter has shopping, nightlife, and some of the greatest dining and entertainment in San Diego. Apparently. I mean, what do I know. One of the places we visited was Searsucker, a restaurant that's all about putting an imaginative twist on American classics. Lead by Chef Brian Malarkey, this was another must-visit for us.
OTHER MENTIONABLES 
Also, The Cheese Store and Taka Sushi.
THE CORONADO ISLAND FERRY
You bet we took a ferry! We were debating on which beach to go to, but in the end Coronado Beach won out (it was closer to our hotel). The sad part? We took the ferry over to the island, walked 40 minutes in the direction of the beach, and then realized we were so hungry that we had to go for the Mexican joint that, let's just say, left me in complete want for something appetizing because it certainly couldn't be found there. The plus side? Our $8.50 fare made for some pretty pictures as we crossed to the island, stolen hotel pool towels in hand (don't you worry your pretty little heads, we returned them).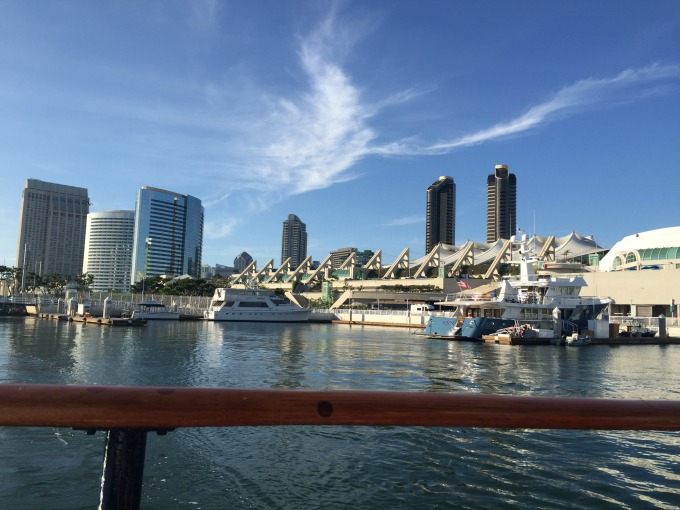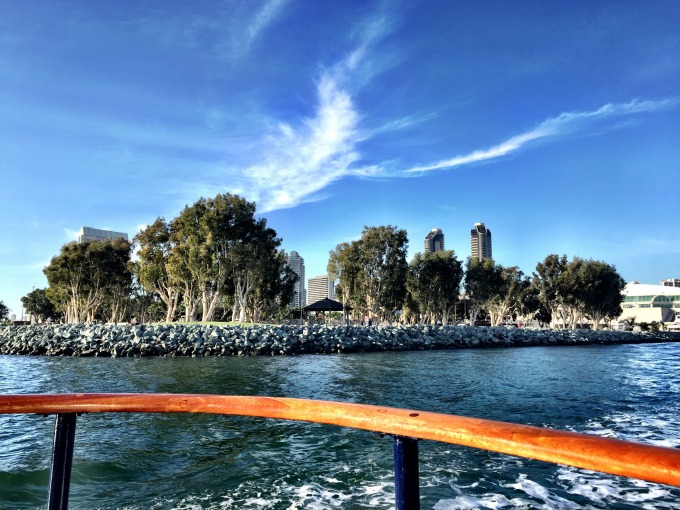 This afternoon, I don't think I'll be too scared to fly. The fun memories of San Diego will have me smiling all the way home.
2 Responses to "A Post Mostly About the Restaurants we visited in San Diego…because that's what's important, of course"

Leave a Comment