Homemade Sloppy Joes with Ketchup
This shop has been compensated by Collective Bias, Inc. and its advertiser. All opinions are mine alone. #KetchupWithFrenchs #CollectiveBias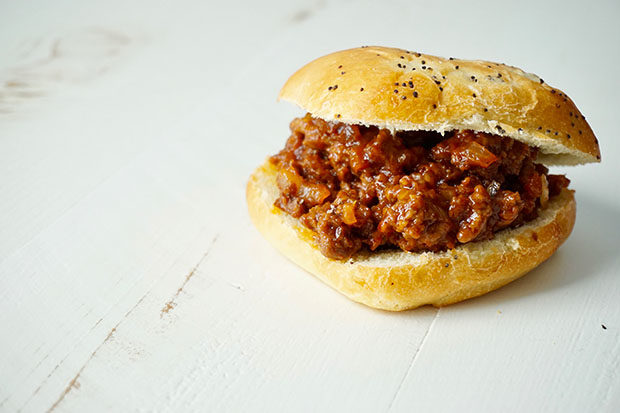 I love French's Ketchup. (But who doesn't?) Before I go any further, let me give you some background information.
I like when juices from a Cuban sandwich run down my arm, I appreciate a patty melt that generates strings of cheese as you take a bite, and I love sloppy sandwiches. Sloppy Joes are those messy sandwiches when you don't care that a bite causes some of the meat mixture to fall out of the other side and onto your plate where you'll eat it at the end, sans fork. Because hands-only is acceptable, and even encouraged, for the sloppy joe.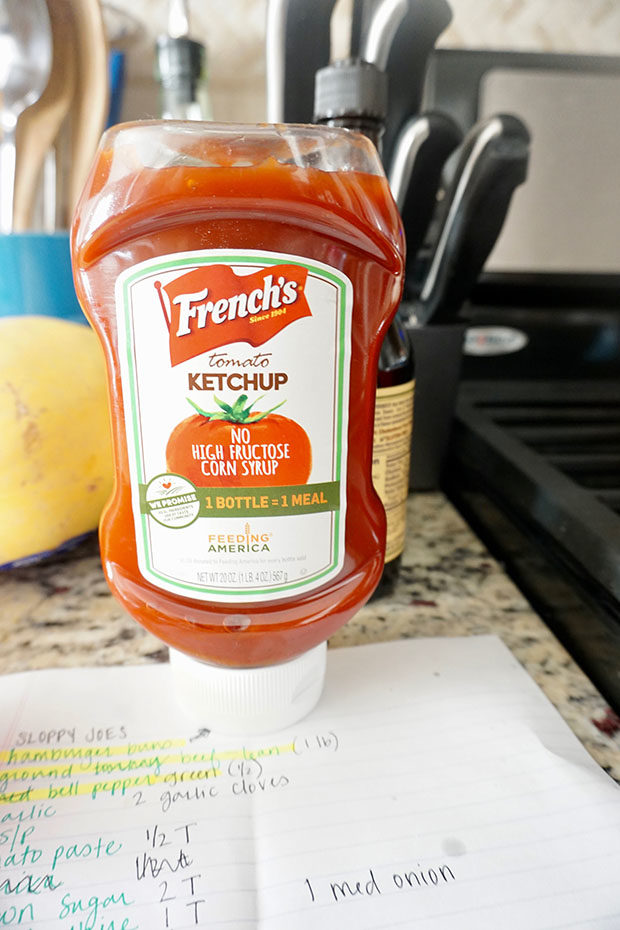 The other day I tacked a piece of paper to the fridge with all the minimums Max should be consuming in a day, like how much fruit, vegetables, protein, beans. It's surprisingly difficult to make sure he's getting what he needs (although I think we're doing a fantastic job). When I made spaghetti with meat sauce and again with chili, Max turned into this little fiend, just hands all in, palms and fingers grabbing the food and shoving into his mouth. It was not clean, but he loves it, and it's fun to see him understanding his food and enjoying what he's eating.
For sloppy joes, I was looking forward to more of the same.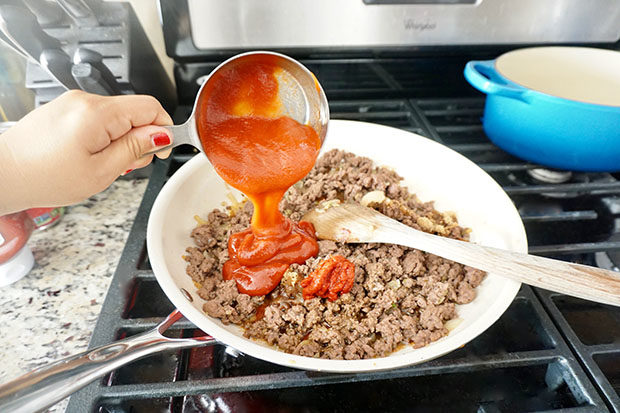 I like to make my sloppy joes homemade. The can of sloppy joe sauce is from my childhood in the 90's. And as awesome as Fraggle Rock and omg Eureka's Castle and oooooh the Care Bears and remember Bonne Bell and Polly Pocket and that electronic diary and the game Dream Phone and yessss Tamagotchis..
Okay, sorry, sorry. I could reminisce all day, every day.
Basically, the can of sloppy joe sauce is a part of the past that's better living in the past. Start making your homemade sloppy joe sauce now and never, ever look back. Some things should not perpetuate nostalgia.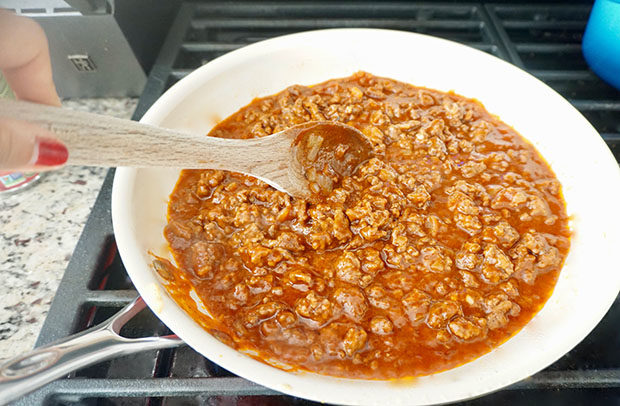 If you're a 90's kid (I was born in 1984 so I FEEL YOU) and you're all, thanks for sharing but I'll pass because basically canned sauce is my jam and I ate it all the time growing up…well, first, it's not jam and second, can you just trust? From one 90's kid to another.
All you're doing is cooking some meat and then measuring ingredients into a bowl where you'll stir stir stir to combine and then smother the meat with it, following by your hands as you bite into your lovely creation. Oh, don't forget the crispy onions and coleslaw toppings. Another thing that may make the 10 year old in you gasp in horror at because back in the day any creamy food that wasn't pie or ice cream was gross, this is another thing where you're going to try it and I'm going to say I told you so.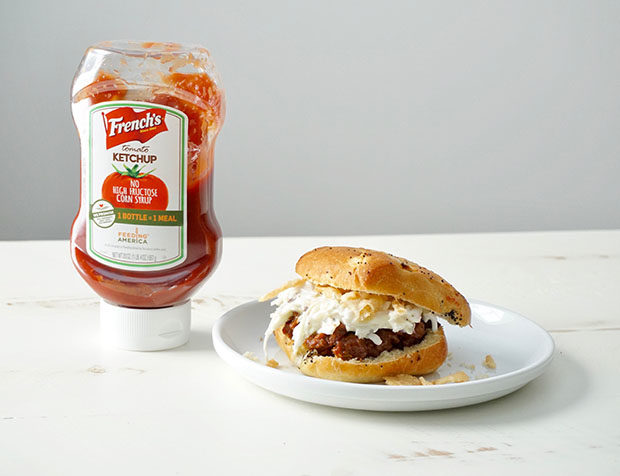 So, I told you so…in advance.
If you need more convincing (I have a sneaking suspicion you are slowly considering the idea), there is French's Ketchup in this homemade sauce and we all know that ketchup went on everything when we were kids (I still use it as dip for my chicken nuggets and swirled into mashed potatoes, if we're being honest).
And for the adult in you, here's what you should know about French's:
French's uses real ingredients. Do you know what that means? No GMOs, no high fructose corn syrup, no preservatives, and no artificial flavors or colors so you can feel good about consuming.
You can feel good about the brand you support because French's has partnered with Feeding America, donating 10 million meals in 2017.
It tastes just as delicious as you remember.Pinky promise.
Also see the video here! Your next steps should be: going to Walmart to purchase French's and then making these sandwiches. Okay? Okay.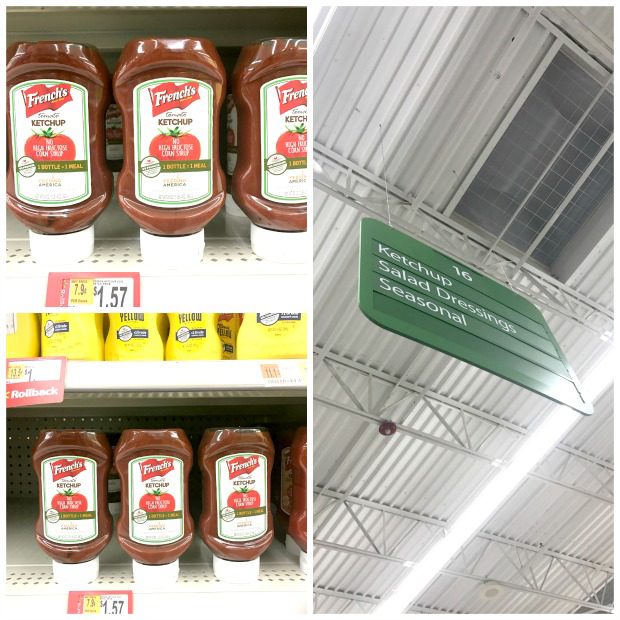 Told you so.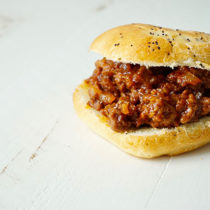 Homemade Sloppy Joes with Ketchup
Ingredients:
Your choice of hamburger buns (I used onion rolls)
1 tablespoon extra-virgin olive oil
1 pound ground beef
1 medium onion, diced
2 garlic cloves, minced
1 tablespoon tomato paste
1/2 cup tomato sauce
1 cup ketchup
2 tablespoons light brown sugar
1 tablespoon worcestershire sauce
1 tablespoon apple cider vinegar
1/4 teaspoon salt
Pinch of black pepper
Coleslaw (option for topping)
Crispy onions (option for topping)
Directions:
Heat olive oil in semi-deep saute pan over medium heat. Add onion and a pinch of salt; cook until softened. Add garlic and cook for another 1 minute, or until garlic is fragrant. Remove mixture from pan.
Add a little more oil if needed. Add ground beef and cook through. If you used full-fat ground beef, drain. If you used around 97% lean, keep the fat in the pan. Add the onion and garlic mixture back to the pan.
Combine all other ingredients into a bowl and stir to combine. Pour into the meat mixture and combine again. Reduce heat to simmer and cook for 15 minutes, or until thickened to desired consistency.
Optional: Top sandwich with coleslaw and crispy onions.
4 Responses to "Homemade Sloppy Joes with Ketchup"

Leave a Comment