Simple Dinner | BBQ Beef Mac & Cheese Bake
This shop has been compensated by #CollectiveBias, Inc. and its advertiser. All opinions are mine alone. #RollIntoSavings
When I can get a small break in the kitchen, I take it. And I don't just take it. I take it and hold onto it for dear life. Especially given this food holiday project I'm on, I appreciate a simple dinner that is easy and quick to make without sacrificing flavor, and it's a major bonus when the meal doesn't cost a fortune too! It's always the 1st and 15th of the month when those bills come creeping up, right?? I'm all about making it easier on myself.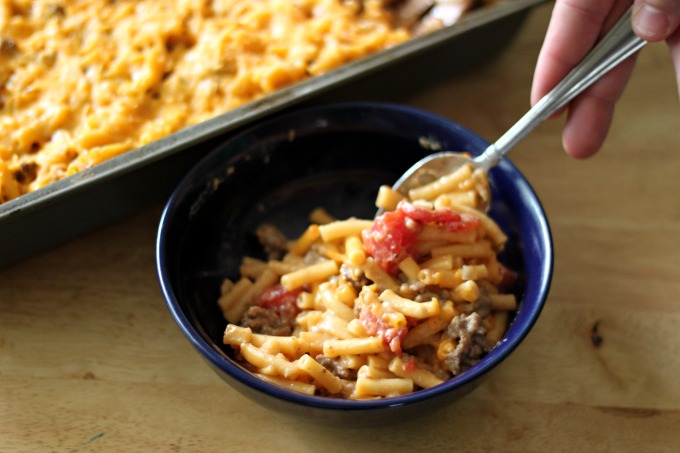 This dish is something I remember my mom making pretty often. When you work full-time and still have to put dinner on the table when you get home, it's meals like these that are your go-to. Knowing how many dishes I planned on making this weekend for national food holidays (I made a schedule for myself so I'm always ahead!), I asked my mom for the official recipe for this Beef Macaroni & Cheese Bake. It's one of my favorite things she makes!
Since I was so busy today making apple dumplings, donuts, cookies, butterscotch sauce, and more (yes, I made all these things!), I was in desperate need of a dish that would be perfect for Sunday lunch and enough to tide my husband and I over for dinner and even some days to take to work for lunch. When you can make a dish that lasts for a couple of days, I love it!
So, armed with my grocery list for this dish, plus all the food holidays I planned on making, I headed to Walmart for a weekly shopping trip.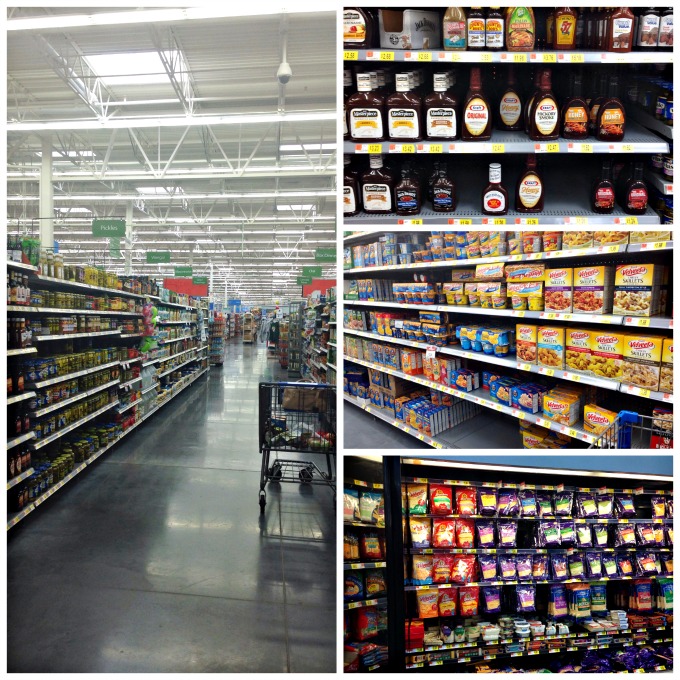 I only had to buy four items at the grocery store for this dish: Kraft Barbecue Sauce, ground beef, Kraft Macaroni and Cheese Dinner, and Velveeta Shredded Cheddar Cheese. At home, I had onions, seasonings, and milk. Talk about a meal under $20! The Kraft and Velveeta products were all on rollback – score! If only it was under 20 minutes, though, but it's not that much longer!
After you've browned the ground beef and seasoned with salt, pepper, Italian seasoning, sauteed onion and garlic, and barbecue sauce, here's how the rest of the dish is made:
Then you'll add a splash of milk and top with shredded cheese. Bake at 350*F for about 12 minutes, or until the cheese on top is melted. And just like that, you have a meal that everyone in the family will enjoy – a meal that didn't cost a lot and didn't take a long time to make. So you can spend more time with your family and less time over a hot stove in the kitchen.
And especially if you're crazy like me and make what seems like a million dishes every weekend, you need those under $20 meals so you can really cut back on the amount of money spent at the grocery store. By incorporating more meals like this into our weekly routine, it has made a big difference in our monthly food budget. It's been a very expensive year as you can imagine so this helps to alleviate that.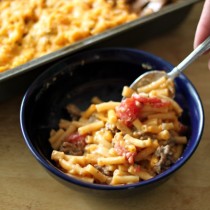 BBQ Beef Mac & Cheese Bake
Ingredients:
Kraft Macaroni and Cheese Dinner, family size
1 Tbsp olive oil
1 pound ground beef
1 small onion, diced
2 cloves garlic, minced
Pinch each of salt and pepper
1/2 Tbsp Italian seasoning
1/3 cup Kraft Barbecue Sauce
1 (14 ounce) can diced tomatoes, drained
1 Tbsp whole milk
1 cup Velveeta Shredded Cheddar Cheese
Directions:
Preheat oven to 350*F.
Prepare macaroni and cheese according to package directions.
Meanwhile, in a large saute pan, heat olive oil over medium heat. Add the onion, garlic, salt, pepper, and italian seasoning, cooking until onions and garlic are tender, about 5 minutes. Add the ground beef and brown completely. Drain, then add barbecue sauce. Toss to coat.
Add the completed macaroni and cheese, diced tomatoes, ground beef, and milk to a casserole dish and stir to combine. Top with shredded cheddar cheese and bake for 12-15 minutes, or until cheese is melted and bubbly.
One Response to "Simple Dinner | BBQ Beef Mac & Cheese Bake"

Leave a Comment