National Wienerschnitzel Day | Breaded Pork
My experience with German food is basically Mr. Dunderbak's. Seems pretty legit, and if German food from Germany is just 10% as tasty as Mr. Dunderbak's, we're in business.
We last visited Mr. Dunderbak's for my best friend's birthday. We saw a movie and then met us with our husbands to enjoy wienerschnitzel, breaded pickles, and potato cakes. Traditionally, wienerschnitzel is a veal cutlet, but pork is pretty typical too, and that's the meat that I opt for when ordering.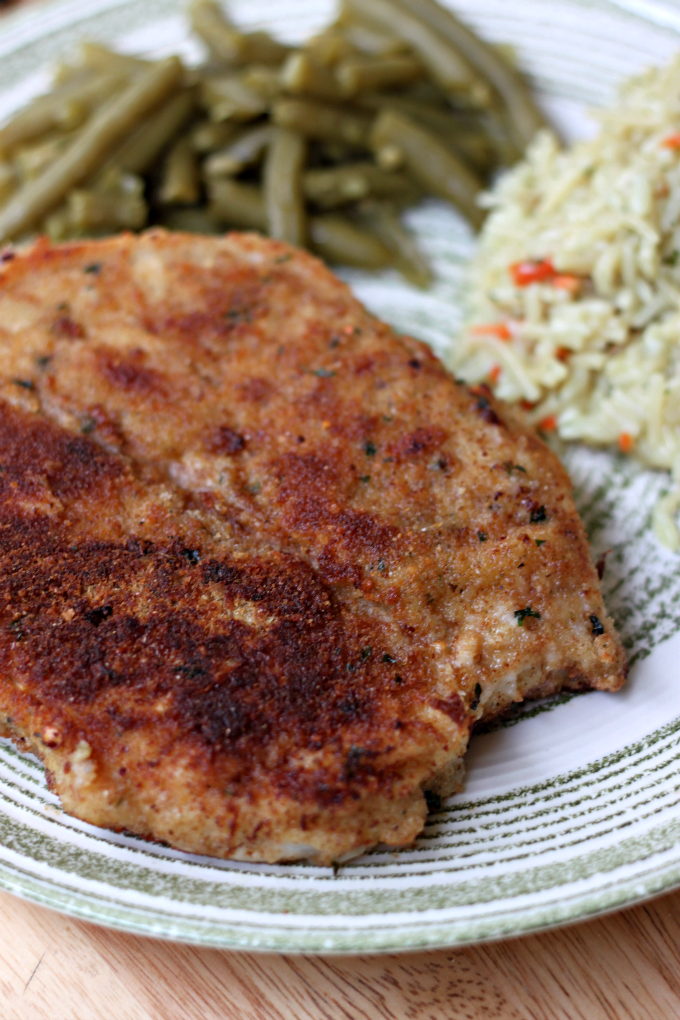 For National Wienerschnitzel Day, a used butterflied pork chops, breaded them, and done – Wienerschnitzel served!
It's important to season the breading and flour to get a really great flavor. I very lightly bread the pork chops because too much breading on anything is really annoying, right?
Happy German food day!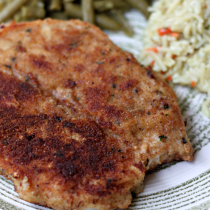 Breaded Pork
Ingredients:
2 butterflied pork chops
1 Tbsp olive oil
1/2 cup King Arthur all-purpose flour
Pinch each of salt and pepper
2 large eggs
Dash of hot sauce
1/2 cup breadcrumbs
2 Tbsp grated Parmesan
1/2 Tbsp parsley
1/2 tsp nutmeg
Directions:
Heat olive oil over medium heat in a large saute pan. Season pork with salt and pepper.
Place the flour in one shallow bowl with the pinch each of salt and pepper, the eggs beaten with the hot sauce in another, and the combination of breadcrumbs, Parmesan, parsley and nutmeg in a third. Each pork chop at a time, coat both sides with flour, dip in egg, and crust with the breadcrumb mixture.
Carefully place the breaded pork chops in the heated pan and repeat procedure with remaining pork chop.
Saute pork until breading is nice and browned and the inside is cooked through.
 Tomorrow: National TV Dinner Day
Trackbacks/Pingbacks

Pingback: National Wienerschnitzel Day | Breaded Pork – The Foodie Patootie » webindex24.ch - News aus dem Web

Leave a Comment