National TV Dinner Day | Salisbury Steak with Roasted Garlic Mashed Potatoes
In an attempt to eat cleaner, more local, more seasonal, etc., I've still had many a "cheat" day. I'll never be 100% paleo or gluten-free or low-carb, but I can certainly cut back a lot on the unhealthy, or "less healthy", that I consume and really just eat all the bad with more of a moderation check than what I'm used to.
But the one thing I haven't eaten in a very long time? Frozen dinners.* It's been so long, I fumbled with the packaging, plastic cover, and microwave instructions during my lunch break the other day as I begrudgingly ate a Boston Market frozen meal just so I could get the TV dinner container for this food holiday post. Even if it's frozen food, it's not like I want to waste it. It's still food after all. And have you seen the prices of TV dinner meals? Yeesh.
So after a less than stellar, and in all honestly, semi ick-producing frozen meal, I had the vessel I needed to present National TV Dinner Day and my Salisbury Steak with Roasted Garlic Mashed Potatoes.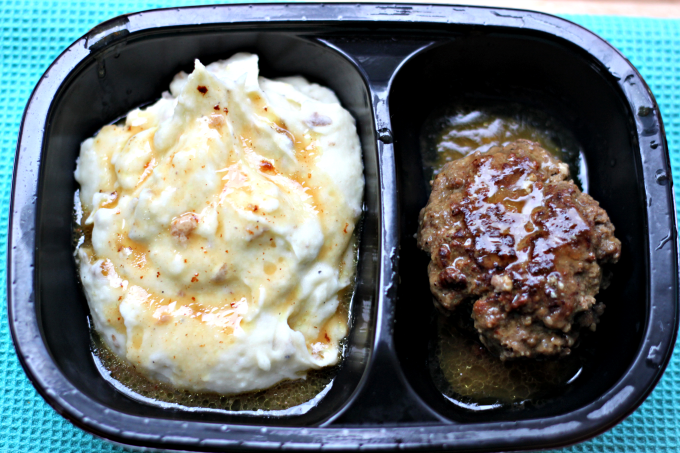 Every frozen food company has their version of salisbury steak, sometimes with mashed potatoes, sometimes with macaroni, all the times with food you aren't too sure is real…
A quick walk down the frozen food aisle shows me meals that are more innovative (as if you could get any less innovative) than the meals I remember seeing when I was a frequent visitor of aisles 11 and 12 back in the day. When you say TV Dinner, though, I think of salisbury steak.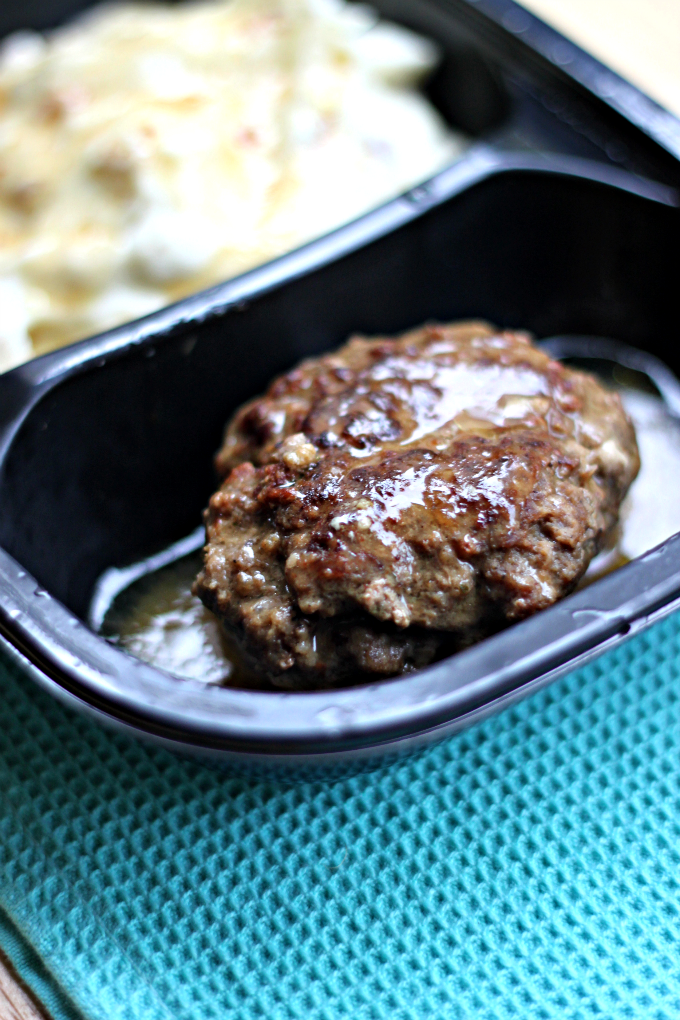 I've made salisbury steak before, and I love it because there's just slight differences between it and hamburger, really. It's a more "beefy" flavor, with the Worcestershire and a beef bouillon cube. Unfortunately, I realized in the middle of the patty-shaping portion of my dish that I didn't have any onions left. My favorite part of a salisbury steak dish is the onions in the gravy. Sigh.
I guess it's fine without them, but I really disappointed myself there. Therefore, you'll find that the recipe below has onions included. If you don't like onions, I'll say that you're crazy, but just go ahead and leave them out, still completing the rest of the recipe as instructed, even the flour and warm water part.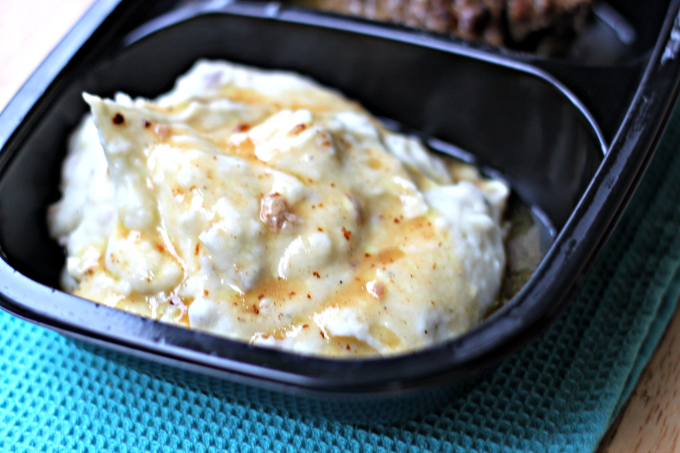 As a side, now and frequently enough to be called a go-to in my kitchen, I made my garlic mashed potatoes. It's a really simple recipe that comes together in no time. You'll be surprised by how easy they are to make and if your husband is like mine, he'll dub your potatoes the best he's had.
Make them with red potatoes or baking potatoes, adjust the amount of garlic, butter, or milk as you see fit – the mashed potatoes world is your oyster. Me personally? I like to leave the skin on baking potatoes because you still get super creamy potatoes, but also these brilliant pieces of skin.
Enjoy!
*actually, I take it back. I was forced to eat a TV dinner for National Frozen Food Day. See? So unappetizing, I totally forgot. But the meatloaf I made in its place was totally worth it. (Kinda…)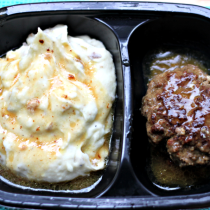 Salisbury Steak with Roasted Garlic Mashed Potatoes
Ingredients:
Salisbury Steak
1 pound ground beef
1 large egg
1 1/2 tsp salt
1 tsp black pepper
1 tsp garlic powder
1 tsp Worcestershire sauce
1/4 cup bread crumbs
2 Tbsp unsalted butter
1 large onion, sliced in 1/4 inch parts
2 Tbsp King Arthur all-purpose flour
2 cups warm water
2 beef bouillon cubes
Garlic Mashed Potatoes
5 red potatoes, cubed
8 garlic cloves, peeled
1/4 cup extra virgin olive oil, for roasting
Salt and pepper to taste
2 Tbsp heavy cream
1 1/2 Tbsp unsalted butter
Directions:
Salisbury Steak
In a large bowl, combine the ground beef, egg, salt, pepper, garlic powder, Worcestershire sauce, and bread crumbs.Mix together with your hands until all ingredients are mixed together thoroughly. Shape meat into 4 patties that are more oval than a burger patty.
Add butter to a large, slightly deep pan over medium heat. Once melted, add steak patties. Brown each patty, about 5 minutes on each side, to seal in the flavor. Remove from skillet and set aside. Your patties will probably not be cooked all the way through at this point. That is okay, and much better! They'll continue to cook later.
In the same saute pan, add the onion slices. Cook the onions on medium-low heat for 20 minutes, or until they are translucent. Add the 2 tablespoons of flour. Stir until combined.
Add warm water and beef bouillon cubes to the pan mixture. Stir to combine, allowing bouillon cubes to melt into the gravy.
Place the meat patties back into the gravy pan. Cover pan, reduce heat to medium-low and summer for about 15 minutes
Garlic Mashed Potatoes
Place potatoes in a large pot and cover with water. Bring to a boil and cook until potatoes are completely soft.
While the potatoes are cooking, heat the olive oil in a small pan over medium heat. Add peeled garlic cloves until oil begins to softly bubble. Reduce heat to very low and "roast" cloves until they are browned and soft. Remove from heat, set aside cloves, and save the oil for later.
Once the potatoes are done, drain the water and return to the pot. Add the heavy cream and butter, whipping together using an electric hand mixer, potato masher, or stand mixer.
Mash together soft garlic cloves with a fork, then add them plus your desired amount of the olive oil (I used about 1/8 cup myself), salt and pepper. Mix together well.
 Tomorrow: National Hot Cross Bun Day
Leave a Comment