One-Bite Enchilada Crackers
This shop has been compensated by Collective Bias, Inc. and its advertiser. All opinions are mine alone. #HolidayRITZ #CollectiveBias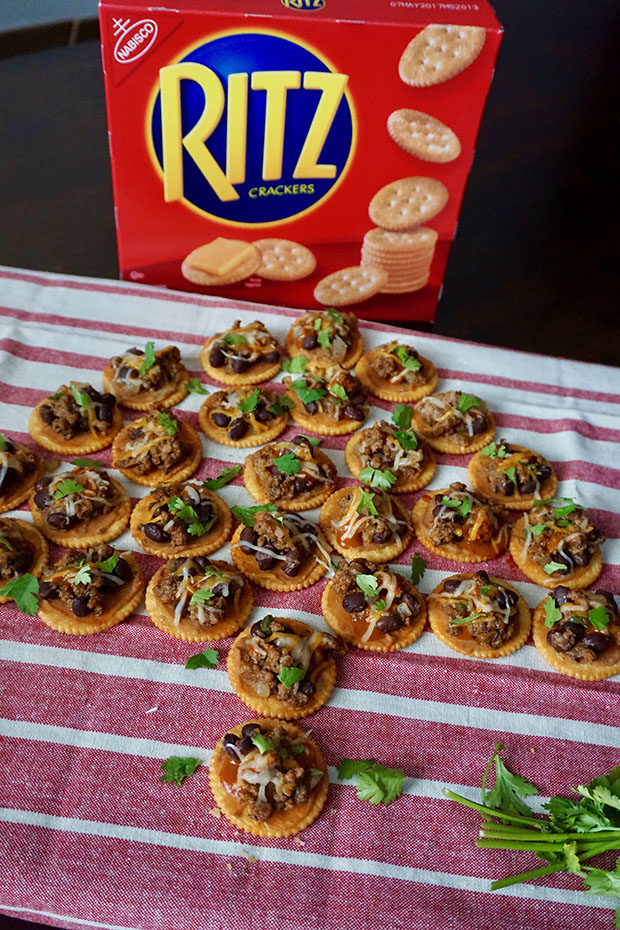 Holiday entertaining as an adult is way more fun than opening gifts as a kid. Am I the only one who thinks this? I didn't think so. Among friends and family I'm known as the one who loves to cook, loves to have people over, loves to keep it simple.
I also really love enchiladas. (You'll see why that makes sense in a second.)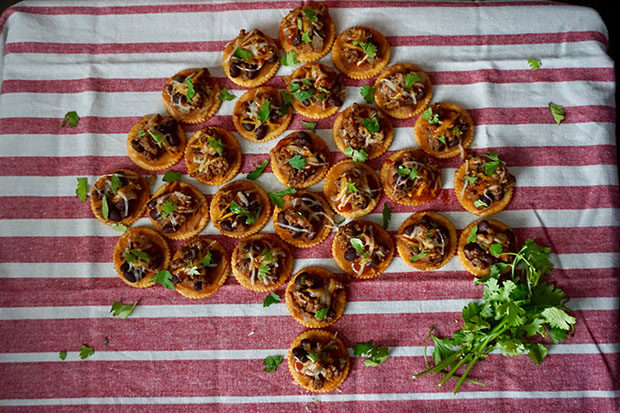 RITZ Crackers is pretty much a go-to brand when planning any gathering, for the holidays or otherwise. RITZ Crackers have always been great by themselves, but they also serve as an ideal vessel to hold dips and an arrangement of toppings for quick one-bite snacks. When it comes to holiday entertaining, a quick trip to Walmart for some RITZ Crackers started the whole thing off.
(If you want to save $.50 on RITZ Crackers, check out Ibotta for a coupon!)

Probably throughout the course of a year I make enchiladas more than anything else. I tend to have the ingredients on hand at all times and you can make a lot from very little, feeding my husband and I many times over without spending a fortune. Because it's just us two I tend to have left over filling that I can use later for another dish.
…or for these holiday appetizers! Enter: the one-bite enchilada cracker! Thanks to RITZ Crackers and their crunchy, salty crackers!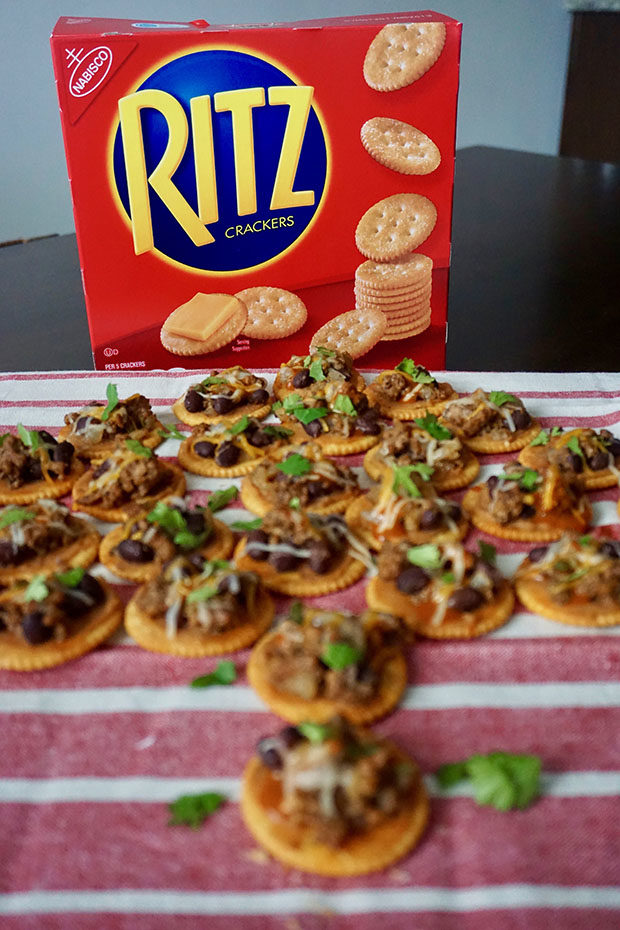 The preparation is easy, especially if you make enchiladas the night before and then save some filling like I did. Either way, the recipe below will do one of the following:
Make 15 enchiladas.
Make 10 enchiladas and top approximately 27 RITZ Crackers with the rest of the filling.
Basically you can't go wrong although I do suggest the second option. You'll probably end up eating more that way, but that's not always a bad thing.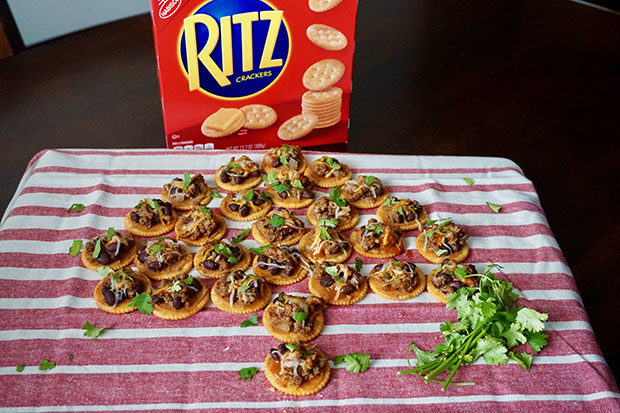 I'm reading this book on DIY projects and it's totally because I'm bad at DIY'ing. If you are too, then shape your RITZ Crackers enchilada bites into a tree! It'll just be a nice added element to your holiday party rather than having them placed randomly on a tray.
Holiday season, I'm so happy you're here!
Have you ever made holiday appetizers with RITZ Crackers? What was it?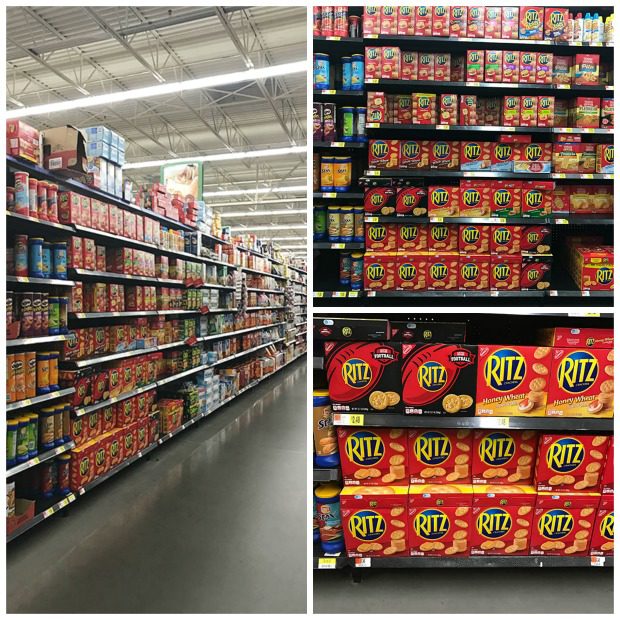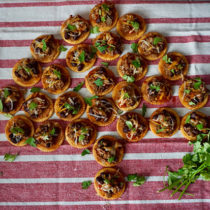 One-Bite Enchilada Crackers
Ingredients:
1 tablespoon olive oil
1 pound ground beef (see note)
1 yellow onion, chopped
1 jalapeno, deseeded and minced
1/2 tsp garlic powder
1/4 tsp onion powder
1/4 tsp crushed red pepper flakes
1/4 tsp dried oregano
1/2 tsp paprika
1/4 tsp ground cumin
Salt and pepper to taste
1 15-ounce can of black beans, drained and rinsed
1/2 a can of refried beans (I used half of a 15-ounce can)
Enchilada sauce
Cheese (I use the four-cheese Mexican blend)
Cilantro
Lime juice (I use fresh lime juice)
RITZ Crackers
Directions:
Preheat oven to 350*F. In a large deep skillet, heat the olive oil over medium heat. Add beef, onion and jalapeños. Sauté until beef is cooked through and onions and jalapeños are softened; drain (see note).
Add black beans to skillet and stir to combine and heat through.
Place RITZ Crackers top-down on a baking sheet. One by one, spread refried beans on the cracker and then top with enchilada filling. Spoon a little bit of enchilada sauce on top of filling and top with a pinch of cheese.
Bake for five minutes, or until cheese is melted. Remove from oven and top each cracker with a little torn cilantro. Squeeze lime over top.
If you get really lean ground beef, I do not recommend you drain it. A little beef fat is a good thing!
Leave a Comment