One-Pot Turkey Bolognese
This shop has been compensated by Collective Bias, Inc. and its advertiser. All opinions are mine alone. #BarillaPronto #OnePanPronto #CollectiveBias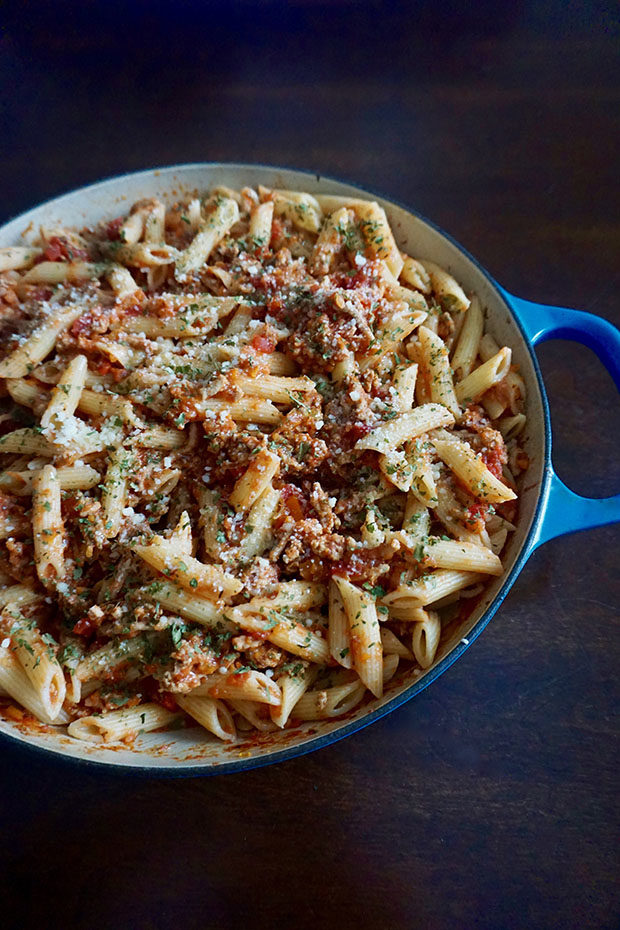 Here in North Carolina it's been overcast and cold lately. It's definitely colder than what I'm used to in Tampa and so all I want is some comfort food. I'm talking – macaroni and cheese, soup, this penne with meat sauce. This is a go-to recipe for me because it can come together very quickly, an important feature when you have a full-time job and a seven month old child. Over the years I have perfected this dish to go from taking hours to really not that long at all and now, Barilla Pronto cuts back on the time spent even more.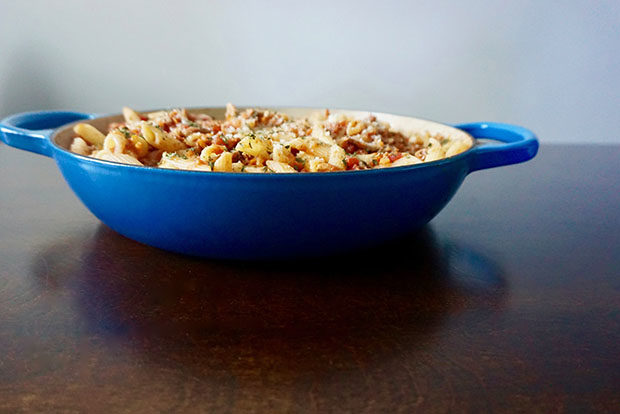 You've surely heard of the expressions that a watched pot never boils. I feel like that's true and most of the time, it feels like it takes longer for the water to boil than for the pasta to actually cook. It's about time there was a quicker way to make pasta, right? Let's get this Italian food on the table as fast as we can so we can enjoy more time with family.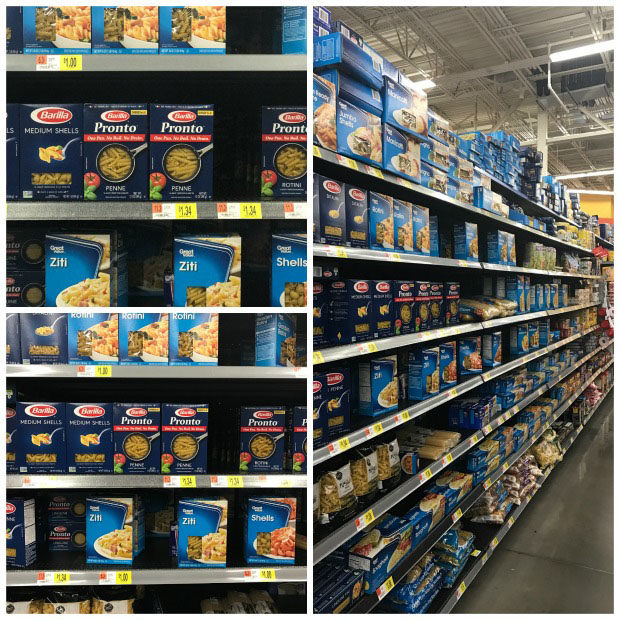 I had to head to Walmart to get Barilla Pronto Penne for myself and see how this dinner on demand worked. I became a converter almost faster than it took for the penne to actually cook, and that's saying something. Because here are the facts for you:
Barilla Pronto Pasta is an innovation. Those one-pan meals are even more attainable because you don't have to wait for the water to boil and there's no draining required.
In 10 minutes, you've got cooked penne. That's right – no boiling, no draining, 10 minutes total.
You never lose the al dente bite. Cooking your penne is such a way, you might be skeptical and think that you may end up with a different texture penne than you'd like. That's not the case. The shape and texture is maintained.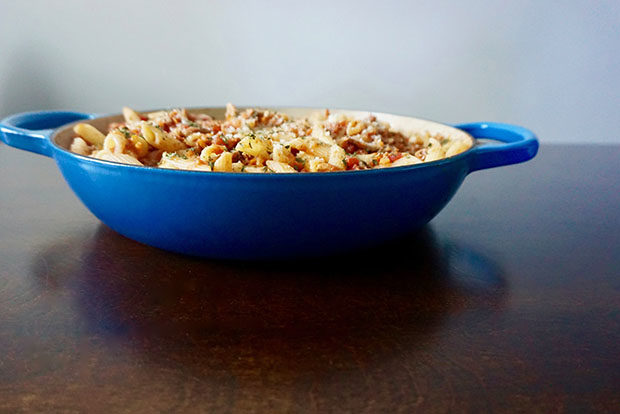 Now you can try Barilla Pronto Penne for yourself (and hopefully you'll try this recipe too!) with an Ibotta coupon. Buy any Barilla® Pronto™ pasta and earn $0.50 and then head over to the Barilla Pronto social hub to connect through social media and recipes featuring this product.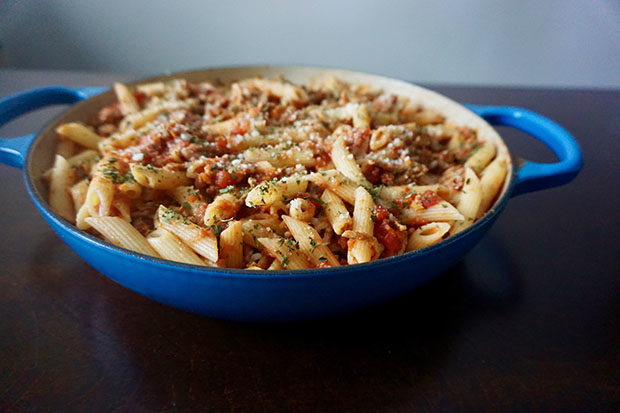 So I grabbed the penne pasta, knowing what I would make for dinner, and it all came together in seemingly no time at all. It's a dish that can seem like you spent a lot of time on, but really, it's easy and simple and exactly what you need for minimal time in the kitchen.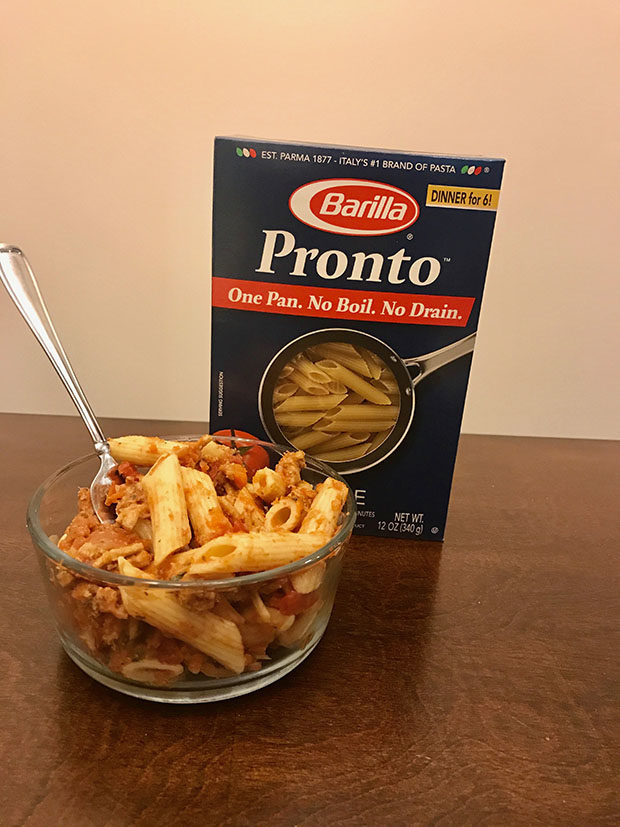 Do you have a recipe idea for Barilla Pronto?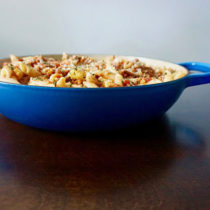 One-Pot Turkey Bolognese
Ingredients:
1 (12 ounce) box of Barilla Pronto penne pasta
1 pound ground turkey
2 tablespoon olive oil
1 tablespoon dried Italian seasoning
1 teaspoon dried parsley
Pinch of red pepper flakes
Salt and pepper
2 carrots, shredded and roughly chopped
2 celery stalks, roughly chopped
1 medium onion, roughly chopped
3 garlic cloves, peeled and smashed
1 cup broth (really, any broth flavor would do)
1 (28 ounce) can crushed tomatoes
1 tablespoon tomato paste
 2 bay leaves
Directions:
Cook penne according to package directions. Once al dente, remove onto a plate. Heat the olive oil in a medium, deep skillet set over medium heat. Add the ground turkey, Italian seasoning, parsley, red pepper flakes, and salt and pepper. Cook, breaking apart with a wooden spoon, until the turkey is cooked through. Remove onto a plate. (See note)
While the turkey is cooking, use your blender or food processor to puree the carrots, celery, onion and garlic cloves together. Some more more olive oil is needed and then add this mixture to the pan set over medium heat. Cook for about five minutes, or until the vegetables have been softened. Add the turkey back in along with the broth, can of crushed tomatoes, tomato past0, and bay leaves.
Cook together, stirring occasionally,  until broth is reduced by half or so. Add the pasta back in.
Do not drain the turkey. Turkey is lean so having some extra fat flavor is preferred.
Leave a Comment