National Strawberries and Cream Day | Strawberries With Mint-Infused Cream
We are exactly one month away from the official first day of summer! Although here in Florida it's summer 98% of the year…
When I'm at a restaurant or relaxing at home, I usually opt for a glass of wine more often than anything else. But, there's something about "official" summer that makes me grab for the mojitos, margaritas, and any other icy adult beverage I can get my hands on. It's also the time of year when I can better tolerate the super warm (read: scorching hot) weather in favor of beach bars and a cool breeze from the ocean.
Instead of typing this at 8:00pm on a Tuesday night, I wish I were at the scene in my head. That place is much better. I would have a strawberry mojito. Which drink would you choose?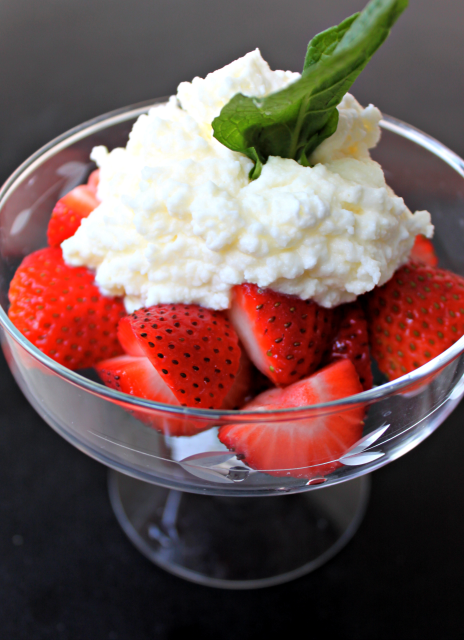 You like that segue into the rest of my post? I would still like to know what your favorite summer drink is, by the way.
As you can see, and you must have noticed even prior to my pointing it out, it's Strawberries & Cream Day. (Just typing that out reminds me of those LifeSavers Crème Savers..mmm!) I didn't just want to stop at some strawberries and some whipped cream in a cup, however. I wanted to introduce mint into the picture. Basil is also a nice alternative if fresh mint isn't readily available.
Back to that mojito I'm casually sipping on while tanning at the beach (probably with a sub or small platter of fried chicken at arm's length). My favorite is a sweet strawberry mojito. The combination of mint and strawberry is a classic one of my summers.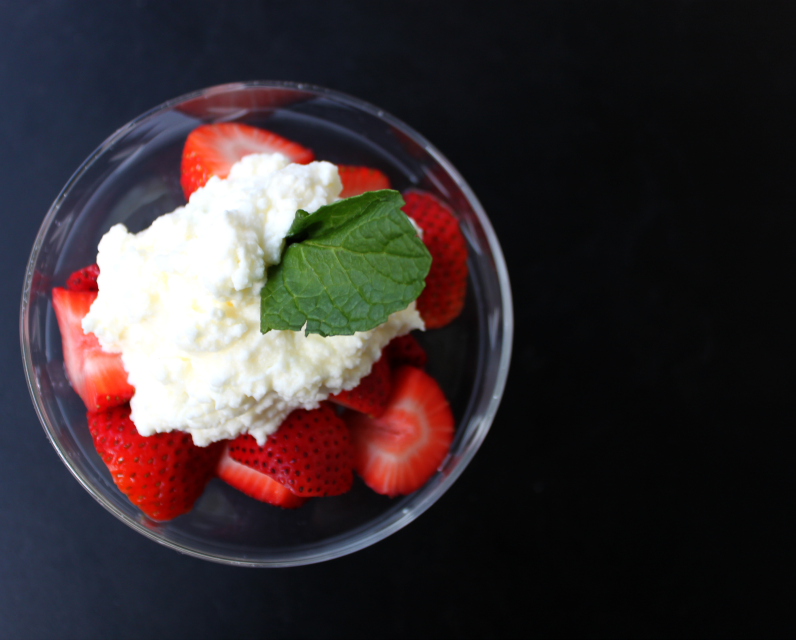 For this dessert, I had Mike infuse the whipping cream with fresh mint leaves (which basically just means he put a bunch of leaves into unwhipped whipping cream and covered it for a number of hours) while I was at work so that when I got home, I could just remove the leaves, whip the cream and eat it with strawberries.
I encourage you to find your favorite flavor combo for National Strawberries and Cream Day! Tell me what you come up with.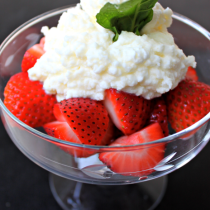 Strawberries With Mint-Infused Cream
Ingredients:
1 pint strawberries, leaves removed and berry cut in half
1/2 pint heavy whipping cream
Bundle of fresh mint leaves
1/4 cup confectioners' sugar
Directions:
In a bowl, combine heavy whipping cream and mint leaves. Chill, covered, for 4 hours.
Remove the mint leaves from cream, combine whipping cream and confectioners' sugar in the bowl of a stand mixer, and beat on medium until peaks form.
Spoon strawberries into bowls, top with whipped cream.
Leave a Comment