National Quiche Lorraine Day | Quiche Lorraine (with spinach)
I spied National Quiche Lorraine Day on my food holiday calendar and immediately thought of the different ways I could change up the Frittata Florentine I posted back in December (courtesy of Love and Olive Oil). And then, womp, I suddenly remember, as if this is a new thing for me, that frittatas and quiches are different. Although I much more prefer frittatas, especially when my cast iron skillet is involved, I suppose a quiche will do. (It kind of has to, right?)
By the way, if you don't know the differences between the two, here is a brief rundown:
Frittatas originate in Itay and quiches originate in France
A quiche has a pastry base, most often a pie or tart crust
Cream is a main component of quiches, making it more like a custard
Eggs get top billing in a frittata and they have little, if any, cream
Frittatas are started on the stovetop and then finished in the oven; quiches are baked the entire time
There is your lesson for today.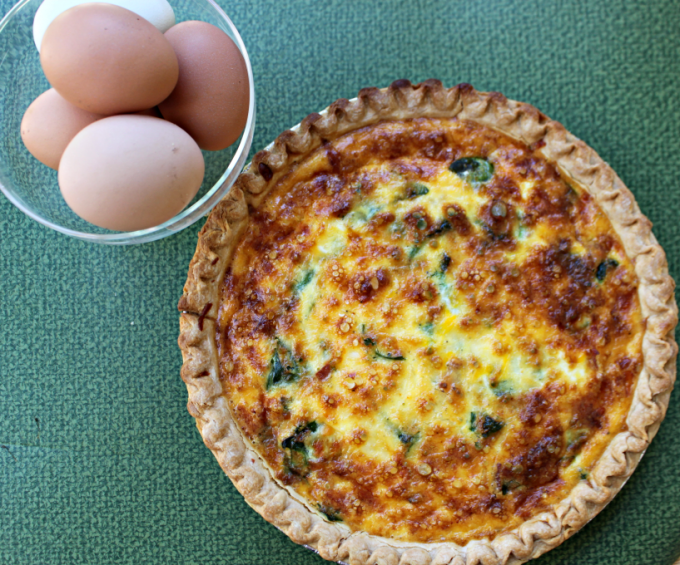 As much as I wanted that frittata I was formulating in my mind, the food holiday calls for quiche and so I will deliver a quiche. Although a traditional Quiche Lorraine consists of cream, bacon, and eggs, modern day interpretations add more to the mix such as cheese, onions, herbs, or what I did – spinach, red bell peppers, and chorizo.
I wanted a little bit of everything that I had in my kitchen and found to be desirable in a quiche. It worked out well for both my husband and I as we each devoured a hulking slice of quiche alongside my grandmother's famous potatoes. It was the perfect, filling breakfast to take us through until our plans for a late dinner. Well, we had "breakfast" at 11:30am, but still.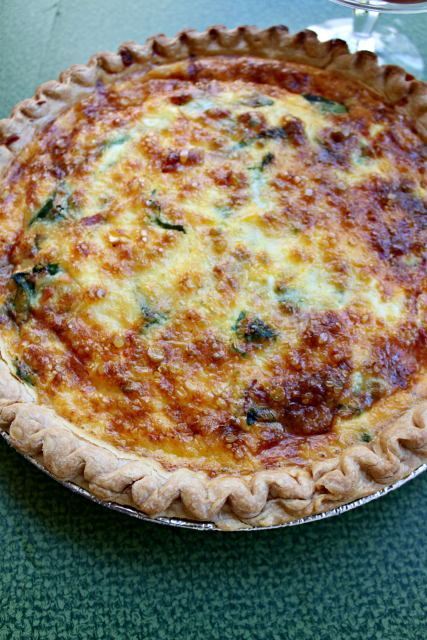 Given the turkey bacon and chorizo, there isn't a need for any additional salt. All of the flavors blend really nicely together, it's a beautiful egg pie and can be as versatile as you want it. A big custard-covered fork cheers to National Quiche Lorraine Day!
By the way, this quiche was made with farm-fresh eggs that we got from a good friend of ours. What a difference!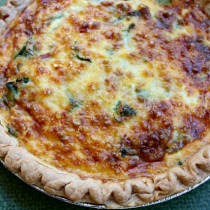 Quiche Lorraine (with spinach)
Ingredients:
9 inch frozen pie crust
5 large eggs
2 cups heavy cream
Pinch each of salt and pepper
1/4 cup onion, diced
1/4 cup red bell pepper, diced
2 slices of turkey bacon, diced
1 chorizo link, diced
1 cup baby spinach, chopped
1 cup shredded white cheddar cheese
Directions:
Preheat the oven to 375 degrees F.
In a large bowl, beat the eggs, cream, salt, and pepper together to combine. Set aside.
Sprinkle the rest of the ingredients in the bottom of the pie crust, then pour the egg mixture on top. Bake for 45 minutes to an hour, or until the egg mixture is set.
One Response to "National Quiche Lorraine Day | Quiche Lorraine (with spinach)"

Leave a Comment