National Sausage Pizza Day | Spicy Multi-Sausage Pizza
If you look back at the pizza recipes I've made, you'll see a commonality: spicy! My husband and I love the spice and honestly, we have to use the multitudes of peppers that keep cropping up in our garden. There's so many! My husband, the green thumb.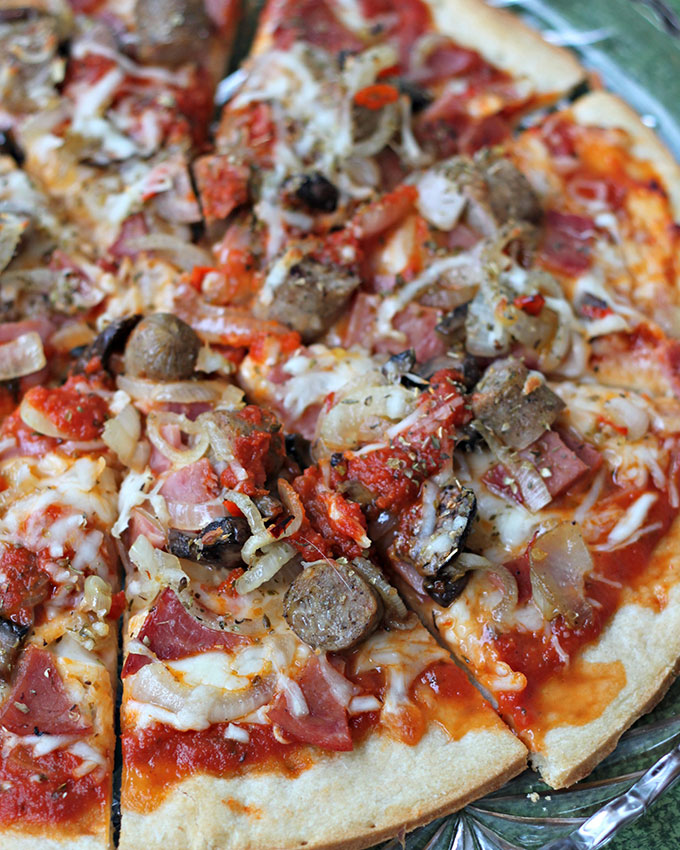 We have many thai chilies on this pizza, I must say. Sometimes we put so many peppers, our noses get watery and we look (and sniffle) like we've been crying. What can we say: we are very serious about our food, it overjoys us so much, we get teary eyed.
Generally, when it comes to pizza, we like to use up whatever we have in the house. Sometimes it's a hodgepodge of food things that just end up working, thankfully. This time around we used multiple kinds of pork. We have some breakfast sausage, some ham pieces, chopped salami, and even some kielbasa pieces.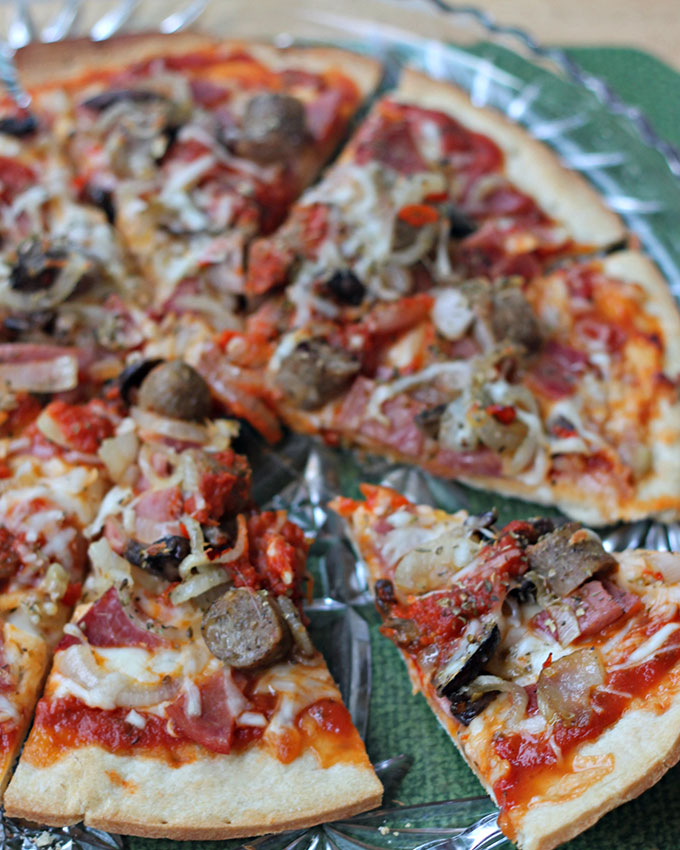 A conglomeration of awesome, just baked on some pizza crust. It was a wonderful dinner night for sure.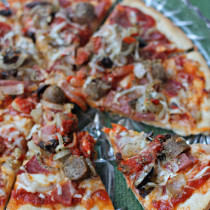 Spicy Multi-Sausage Pizza
Ingredients:
1 thin-crust pizza crust
1/3 cup red pasta sauce
1 cup shredded mozzarella cheese
1/2 a kielbasa link, sliced
3 links al Fresco Country Style Chicken Sausage, sliced
1/8 cup ham slices, chopped
1/3 cup salami slices, chopped
1/2 Tbsp olive oil, plus more for drizzling on the crust
1/2 medium onion, sliced
3 red thai chilies, finely diced
Pinch each of salt and pepper
1/2 tsp red pepper flakes
1 Tbsp dried oregano
Directions:
Preheat oven according to pizza crust directions. Drizzle olive oil over the top of pizza crust. Set aside.
In a small sauté pan over medium hear, cook kielbasa sausage slices and chicken sausage. Set aside. Do the same with the ham slices.
In another sauté pan over medium heat, heat up the 1/2 tablespoons olive oil. Add onion, chilies, salt, pepper, and red pepper flakes, sautéing until translucent. Set aside.
To assemble, simply spread the pasta sauce over the crust, leaving a one inch border. Top with mozzarella cheese, meats, and grilled onions and peppers. Sprinkle oregano over the top.
Bake at the temperature and time indicated on the crust package.
One Response to "National Sausage Pizza Day | Spicy Multi-Sausage Pizza"

Leave a Comment