National Gumbo Day | Rabbit and Andouille Sausage Gumbo
Happy National Gumbo Day!
I was just in New Orleans a couple of weekends ago for Megan's wedding (recap upcoming at some point)! In the city of gumbo, I couldn't believe that I then had to make gumbo for the food holiday just 15 days later. Really, universe? I've never made gumbo before, and I didn't need NOLA to tell me that gumbo takes years to perfect, but with the reminder, I knew I had some work to do.
First, I needed something that wasn't shrimp (my husband is allergic, which makes me sigh in all the feelings of pity for the poor guy), but I also wanted to do something a little different than the non-seafood fall back of chicken and andouille sausage. Although a classic, Mike and I have had a hankering for a rabbit dish lately. I first had rabbit at Graffiato in Washington, DC. A restaurant from Top Chef contestant Mike Isabella, it was thanks to the flawless execution of the pappardelle with braised rabbit, lobster mushroom and fennel pollen that sealed my fate forever.
Rabbit and Andouille Sausage Gumbo, it is!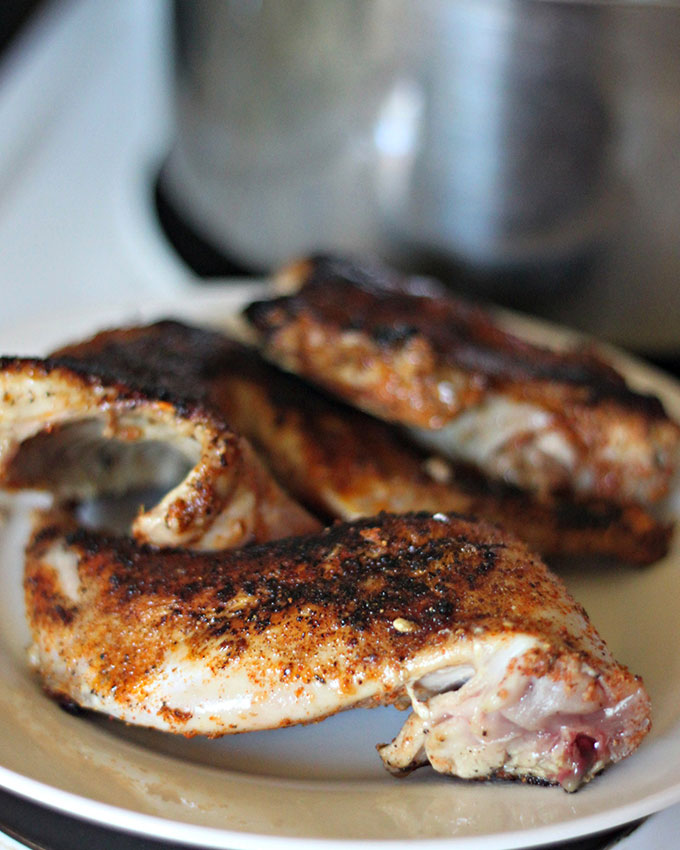 I had a couple of pots going at once yesterday. One for the roux, which I think I let cook just a tad too long, and one to brown the rabbit. First, with an in depth spice mix, the rabbit was covered and placed in oil to seal in those immense flavors. I made extra of the spice mix for other things because it's too good to not preserve.
After everything was in the pot, including the brown roux, I just let it sit on low for a couple of hours. We went to Whole Foods, perusing every single aisle and spending an erroneous amount of time, and when we got back home, the house smelled fantastic. At 4pm, we couldn't take it any longer so we made rice, topped it with the gumbo, and ate, gushing about the flavors, but at the same time thinking of ways to make it better, the time I'd have to put into perfecting it – which also includes heightening my love for gumbo in general – and the different ingredients we can use in the future.
The truth is, you can do everything by the book. You can make a great roux, you can use premium ingredients, and you can stand over your stove all day, but gumbo is an art and you just have to continue to work at it to get better. Have fun!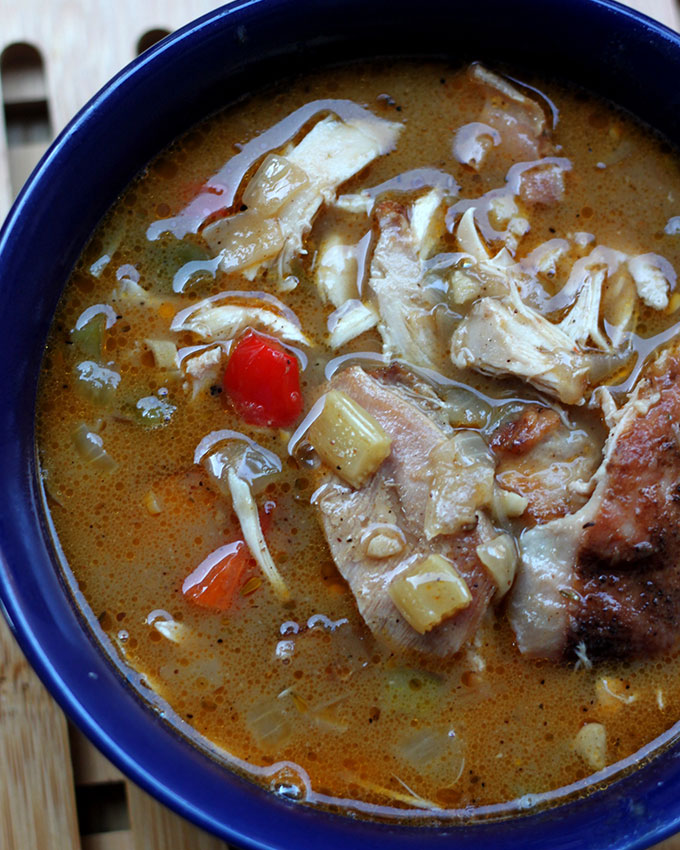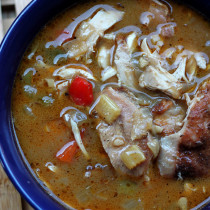 Rabbit and Andouille Sausage Gumbo
Ingredients:
1 1/2 pounds rabbit
2 links andouille chicken sausage
1 cup vegetable oil
1 cup all-purpose flour
2 medium onions, chopped
3 celery stalks, chopped
1/2 green bell pepper, chopped
1/4 red bell pepper, chopped
3 garlic cloves, minced
3 bay leaves
4 thyme stems with leaves, tied
2 Tbsp spice rub, recipe below, separated
8 cups water
Salt and pepper, to taste
Spice Rub
3 Tbsp paprika
1 Tbsp ground red pepper
1 Tbsp chili powder
2 Tbsp black pepper
1 Tbsp garlic powder
2 Tbsp onion powder
3 Tbsp salt
1 Tbsp dried oregano
Directions:
Heat a little bit of oil over medium-high heat. In the meantime, season rabbit with 1 tablespoon of the spice rub. Once the oil is very hot, place the rabbit in the pot and brown on both sides, about 4 minutes each side. Remove from pan and set aside.
In a dutch oven set over medium-high heat, add the vegetable oil. When the oil is very hot, slowly and carefully add the flour, along with a little bit of salt and pepper (about a pinch each), whisking constantly. Continue to whisk until your roux has developed a medium brown color. Reduce heat to medium.
Add the onion, celery, bell peppers, and garlic to pot with roux, stirring to combine for about 5 minutes. Add bay leaves, thyme, and 1 tablespoon spice rub. Add rabbit and andouille sausage. Add the water and mix contents of pot together well.
Bring to a boil, then reduce to simmer and cover. Allow to cook for at least one hour, or until all flavors have combined and rabbit is tender. Mine sat for 5 hours.
2 Responses to "National Gumbo Day | Rabbit and Andouille Sausage Gumbo"

Leave a Comment