National Pizza Pie Day | Rocky Balboa Pizza
Maybe it all started with that cookie dough that comes in tubes. What kid doesn't get sick from eating too much of it at some point? I enjoyed the dough more than the end result, that's for sure. One time I tried uncooked pizza dough and was in for a rude awakening.
However, I got a clue, never had uncooked pizza dough again, and soon came to love watching pizzas being made. Dough starts off so small compared to what it can become. I love that it grows, stretching as you move through the process. It's pretty fun to make!
This Rocky Balboa pizza didn't have the greatest start. I made my own dough that I thought I failed at so right before guests came over, I had my husband run to the grocery store for some *gulp* pre-made pizza crust.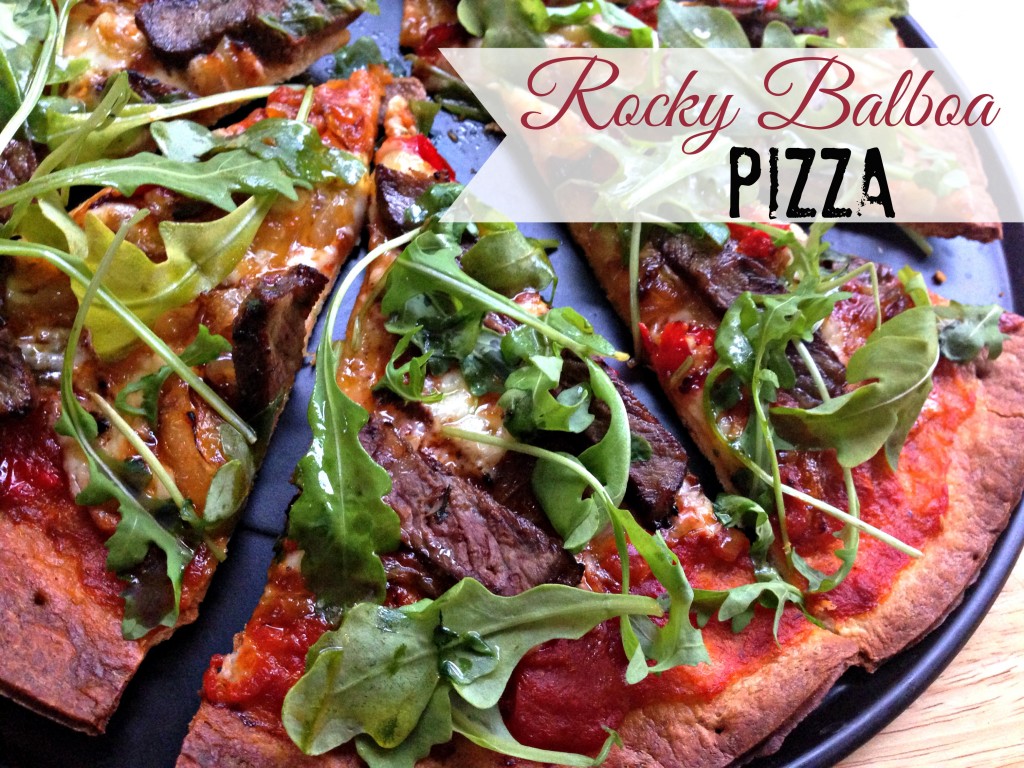 Well, my dough ended up being fine (I was just impatient for it to expand and thought it was done for). Thank goodness I saved my dough because then I was able to make 2 pizzas!
The inspiration behind this pizza comes from Graffiato, the restaurant from Top Chef contestant Mike Isabella, that we dined at during Thanksgiving vacation in Washington, DC. It was easily the best pizza I've ever had. I had been dying to recreate my own at home because I'm pretty sure I can't afford to just fly up to DC whenever I have a hankering.
The amount you include of each ingredient is really up to you. That's the beauty of pizza- there are a million and one different combinations to enjoy. I hope this is one of them for you.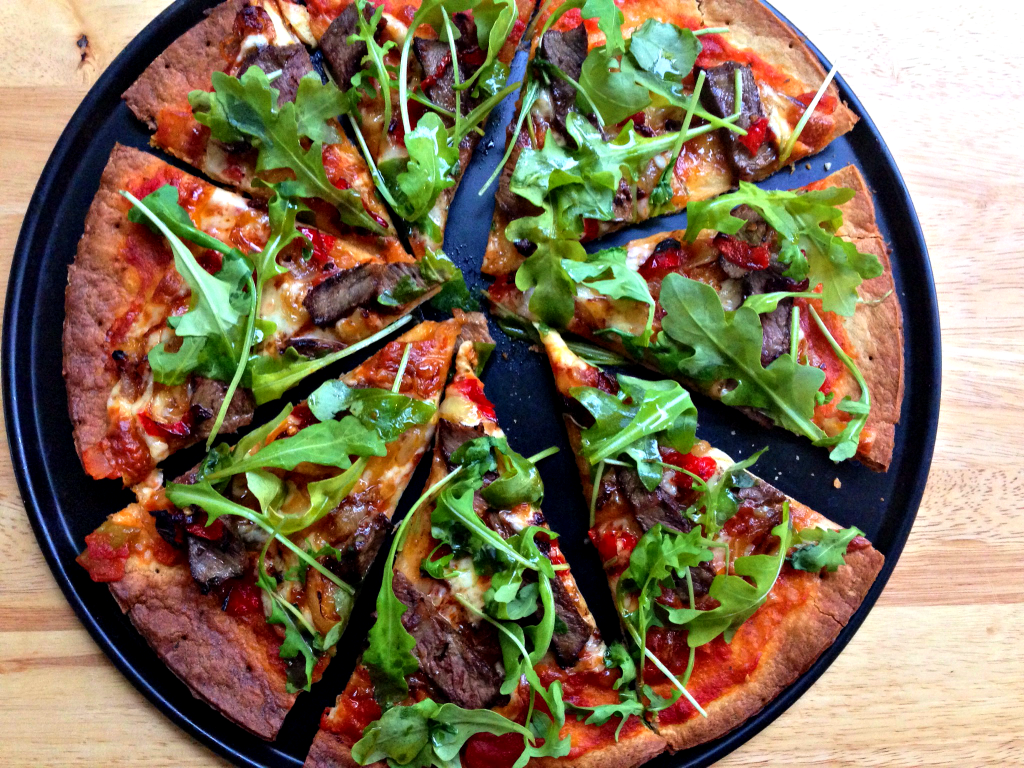 National Pizza Pie Day | Rocky Balboa Pizza
Recipe Type: Pizza
Author:
Prep time:
Cook time:
Total time:
Serves: 3-4
Ingredients
1 12-inch pizza crust (or make your own; I like [url href="http://www.thekitchn.com/weekend-cooking-homemade-thinc-45499″]this recipe[/url])
2 tbsp olive oil, separated
1 pound hanger steak
Chimichurri steak seasoning
1 medium onion, sliced
Marinara sauce, pizza sauce, or homemade pasta sauce, whichever you prefer (I made homemade pasta sauce earlier in the day and used some left overs for the pizza)
6 slices provolone cheese
3 habanero peppers, sliced
Handful of arugula
Instructions
Preheat oven to temperature indicated on pre-made pizza dough label, or 500*F if using the homemade dough recipe linked to above.
Heat 1 tbsp of olive oil on a grill pan over medium-high heat.
In a small bowl, whisk chimichurri steak seasoning and a little bit of olive until combined. Brush onto each side of the hanger steak. Grill steak in pan until just under desired doneness. Remove and set aside for 5 mins. Slice thin.
In a small saute pan, cook onions in a little bit of olive oil until caramelized and slightly browned. Add habanero slices in the last couple of minutes. Remove from heat and set aside.
To assemble the pizza, drizzle 1 tbsp of olive oil onto crust. Top with sauce, provolone slices, sliced steak, habanero peppers, and caramelized onions.
Bake for the time indicated on the pizza crust package, or 10 mins if you're using the homemade crust linked above.
When pizza is done, remove from oven, top with arugula and a slight drizzle of olive oil.
Tomorrow: National Cream Cheese Brownie Day
4 Responses to "National Pizza Pie Day | Rocky Balboa Pizza"

Trackbacks/Pingbacks

Leave a Comment