National Peach Melba Day | Peach Melba Cobbler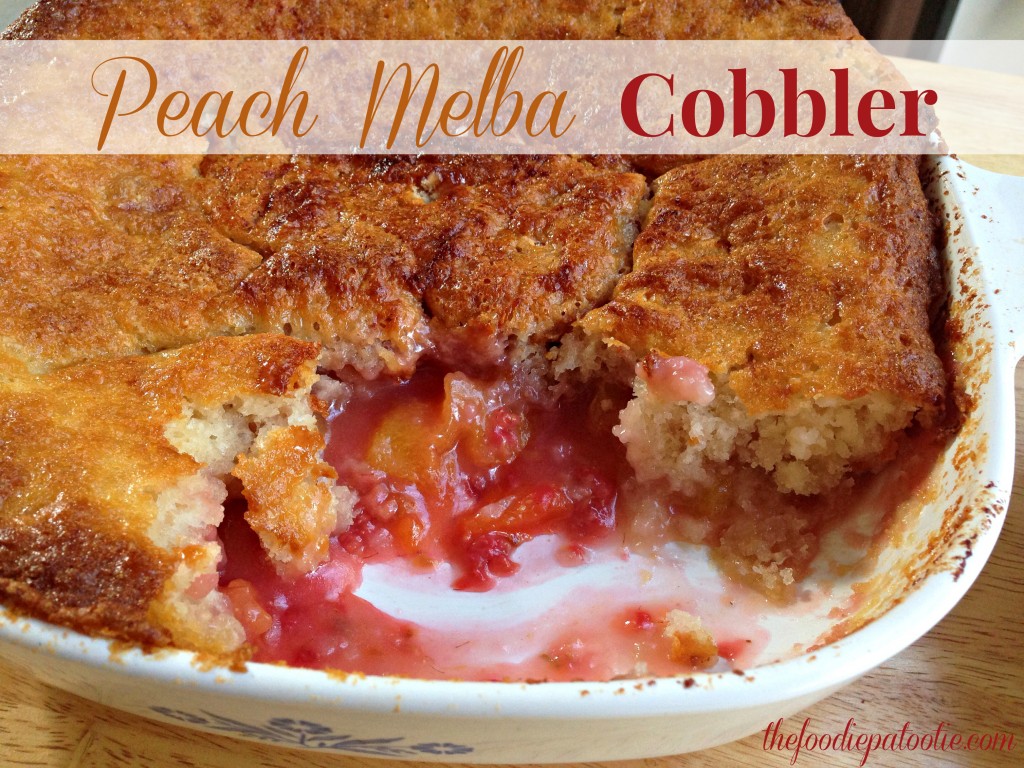 Excuse me while I lick my computer screen. 
.
.
.
.
.
.
Okay, I'm back. Yes, I have left over Peach Melba Cobbler, but fresh out of the oven is always the best.
My husband actually came up with this recipe idea. We were sitting on the couch and I was drawing a brainstorming map (because that's what I do with all these food holidays), and Mike simply says, "What about making it into a cobbler?", just like that, as if he is the cook in the family.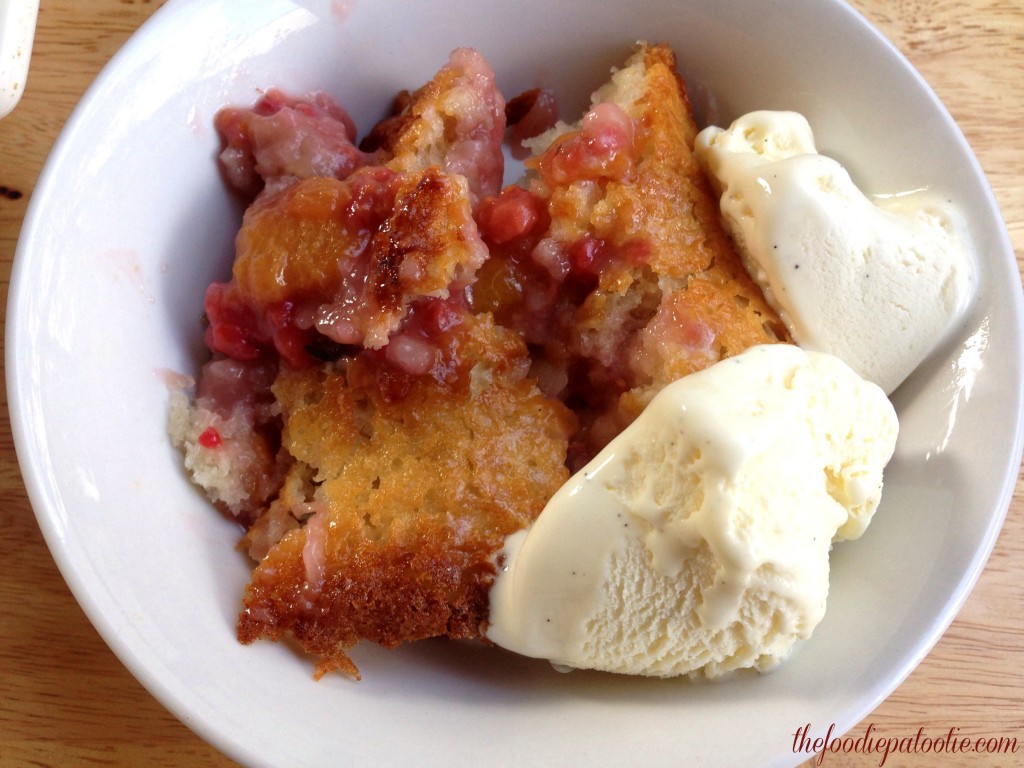 I associate cobbler with winter and bundling up in a blanket to relax on the couch with a book. Although it has been breezy and a perfect 75 degrees outside lately (with the exception of the brief 2 day cold spell we had), I was very much looking forward to making this dish to enjoy this past weekend.
It's sweet and tart, with elements of warmth from the honey, thyme, and cinnamon. A Peach Melba is usually just peaches and raspberry sauce on top of vanilla ice cream. With this cobbler right out of the oven, I scooped some ice cream on top and enjoyed. Really, really enjoyed. It was almost shameful.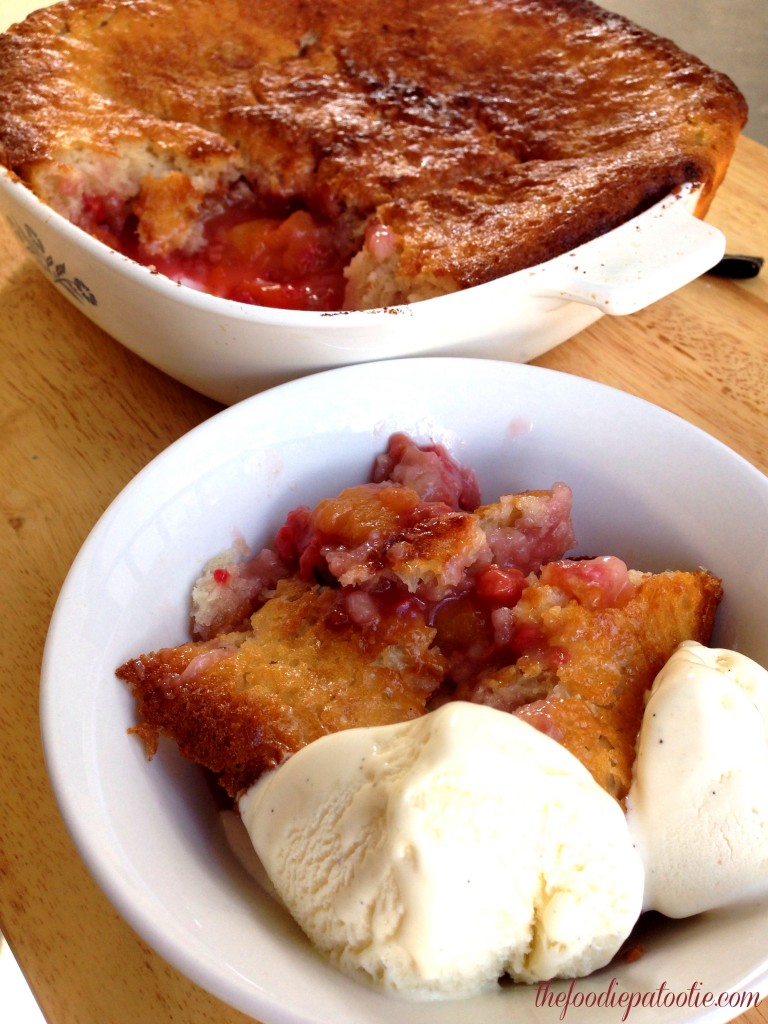 National Peach Melba Day | Peach Melba Cobbler
Recipe Type: Dessert
Cuisine: French
Author:
Prep time:
Cook time:
Total time:
Serves: 8
Ingredients
1/2 stick unsalted butter
[b]Batter[/b]
1 cup self-rising flour
1 cup sugar
1 tbsp baking powder
1 cup milk
Pinch of salt
[b]Fruit[/b]
3 peaches, peeled and sliced
1/2 pint raspberries, cut in half
1 cup sugar
1 tbsp lemon juice
2 tbsp water
1 tbsp honey
1 tsp cinnamon
1 tsp thyme, minced
1 tbsp vanilla extract
Instructions
Preheat oven to 375*. Place unsalted butter in 8″ square baking dish and melt in oven. Remove pan from oven once melted.
Sift together flour, sugar, baking power and salt. Add milk and stir to combine. Pour into baking dish.
In a medium saucepan, combine peaches, raspberries, sugar, lemon juice, water, honey, cinnamon, thyme, and vanilla extract. Bring to a boil and pour over batter. *Do not stir.*
Bake 40-45 minutes, or until topping is light and golden brown. Top with vanilla ice cream.
DID YOU KNOW: The Peach Melba was invented in the late 1890's by a French chef in honor of Australian soprano, Nellie Melba. As the story goes, Nellie didn't eat a lot of ice cream because she believed it to damage her vocal cords. However, she would eat the Peach Melba since it wasn't as cold as just plain ice cream by itself. (Nellie probably would have liked this cobbler.)
Tomorrow: National Hot Pastrami Sandwich Day
7 Responses to "National Peach Melba Day | Peach Melba Cobbler"

Trackbacks/Pingbacks

Leave a Comment