National Curried Chicken Day | Curried Chicken for #SundaySupper
It's January 12th. But it's more than just National Curried Chicken Day and yet another day down in my National Food Holiday Challenge, but it's Sunday Supper's 2nd birthday. Welcome to our virtual birthday party!
In 2013 I focused mainly on local restaurants and so I wasn't too much of a participant in Sunday Supper, but I continued to follow along every week and check in on what the regulars were doing and how the group was growing. It's hard to believe that it's only been two years, yet it's hard to believe that it's already been two years.
Today we are making any dish and sharing our favorite Sunday Supper memory. My favorite moment was sharing my spinach dip recipe. It's a favorite at family gatherings, parties with friends, bridal and baby showers, and just to munch on in the middle of the afternoon at home. I was met with great feedback and encouragement, really saw what Sunday Supper was about and how supportive this group is, and it remains one of the posts with the most traffic at my site.
Today for National Curried Chicken Day and in celebration of Sunday Supper, I have Curried Chicken Skewers to share.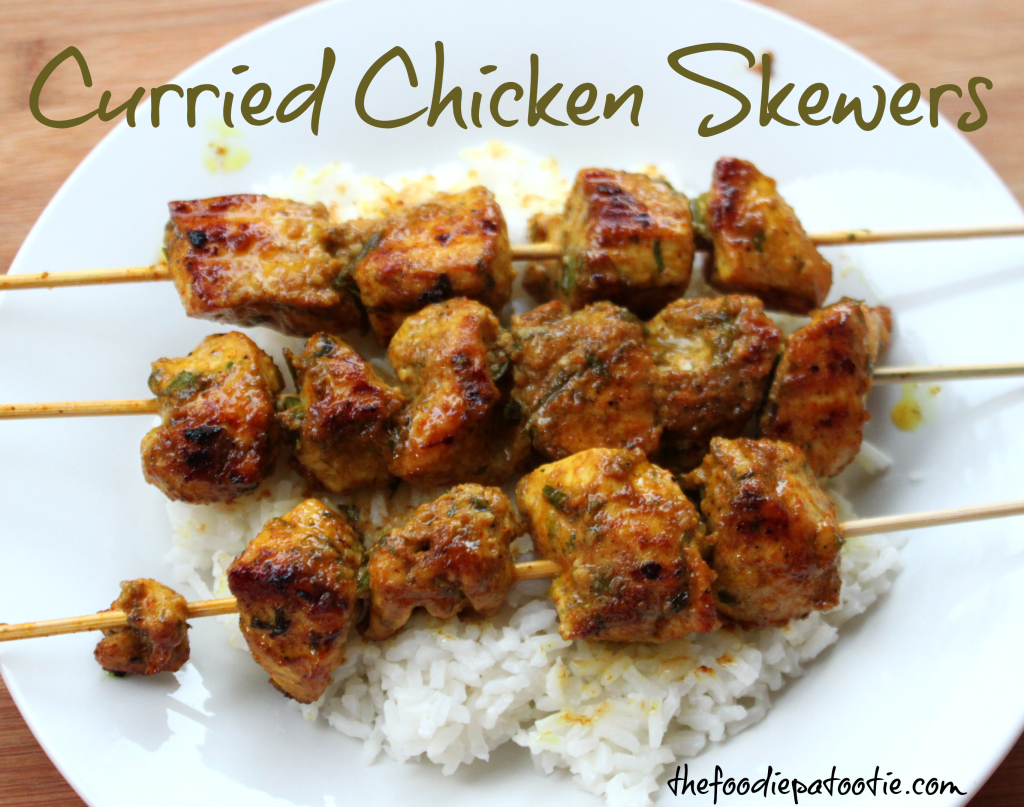 My favorite place for curry in Tampa is at Wat Mongkolratanaram (or as us Tampanians affectionately call it, Thai Temple). My husband and I go very often. He heads for the curry line while I stand in the noodle bowl line and then we meet back up and find a bench to enjoy our food at.
When I saw curried chicken on the food holiday calendar, I was so excited because I hadn't made curry anything before and I had always wanted to try. Mike has also been growing a lot of herbs on our back patio and I was finally going to have a chance to use up some lemongrass.
A lot of spices and herbs were involved, but the prepping and cooking were easy and with the addition of some sticky rice, we had a new favorite in our house, just like that.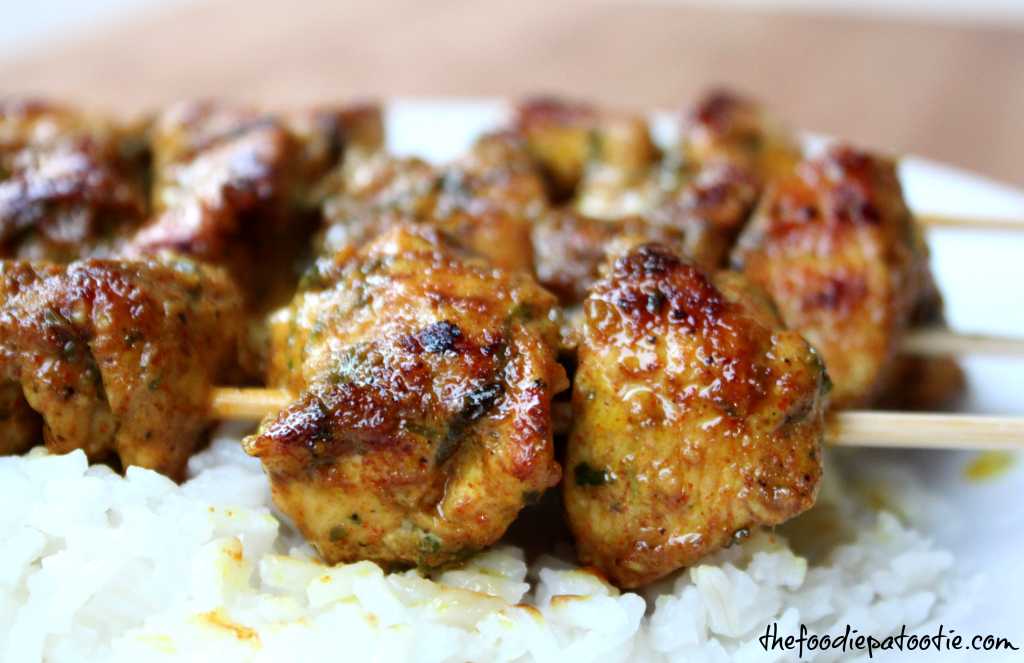 National Curried Chicken Day | Curried Chicken for #SundaySupper
Recipe Type: Poultry
Author:
Prep time:
Cook time:
Total time:
Serves: 4
Ingredients
Wooden skewers
2 lbs boneless, skinless chicken breast, cut into chunks
4 cloves garlic, minced
Juice from 1/2 a lemon
1 tbsp soy sauce
1 tbsp honey
2 tbsp canola oil
1/4 cup chicken stock
2 tbsp chopped cilantro
2 tbsp chopped lemongrass
1/2 tsp crushed red pepper
1/2 tsp paprika
1/2 tsp ground ginger
1/2 tsp coriander seeds
1 tsp curry powder
Pinch of black pepper
Instructions
Soak wooden skewers in water for at least 30 minutes.
In a large bowl, combine chicken pieces with all ingredients. Cover and let marinate for at least 1 hour. Remove chicken from bowl and create skewers.
Grill chicken skewers on medium for 8-10 minutes, turning once in the middle of cooking.
Serve with sticky rice.
Tomorrow: National Peach Melba Day
Now check out the rest of the Sunday Supper participants for this week below. Go to their blogs, read about their favorite #SundaySupper moment, and show them some love.
Brilliant Breads and Breakfast Fare:
Amazing Appetizers and Cocktails:
Spectacular Soups and Salads:
Enticing Entrees:
Decadent Desserts:
Join the #SundaySupper conversation on twitter on Sunday! We tweet throughout the day and share recipes from all over the world. Our weekly chat starts at 7:00 pm ET. Follow the #SundaySupper hashtag and remember to include it in your tweets to join in the chat. Check out our #SundaySupper Pinterest board for more fabulous recipes and food photos.
Would you like to join the Sunday Supper Movement? It's easy! You can sign up by clicking here: Sunday Supper Movement.
77 Responses to "National Curried Chicken Day | Curried Chicken for #SundaySupper"

Trackbacks/Pingbacks

Pingback: Chicken Shami Kebab

Pingback: Blue Cheese Walnut Tarts | Magnolia Days

Pingback: Homemade Brioche | Masala Herb

Pingback: Imagination Stew #SundaySupper turns 2! - Cindy's Recipes and WritingsCindy's Recipes and Writings

Pingback: Blood Orange Gin Fizz #SundaySupper - The Girl in the Little Red Kitchen

Pingback: Caramel Peanut Butter and Jelly Bars | Pies and Plots

Pingback: Quinoa and Buffalo Chicken Salad #SundaySupper Turns 2 - In The Kitchen With KP : In The Kitchen With KP

Pingback: National Curried Chicken Day | Curried Chicken ...

Pingback: Banana Pudding Parfaits #SundaySupper

Pingback: Luscious Fruit Salad #SundaySupper

Pingback: Birthday Macaron for a #SundaySupper - 2 Years and Going Strong!! - A Kitchen Hoor's Adventures

Leave a Comment