National Meatball Day | Teriyaki Quinoa "Meatballs" for #SundaySupper
First, I rarely make meatless meals. Everything usually comes with beef or more often, chicken. Since I'm part Cuban, you can imagine that I love me some pork also. This Sunday Supper meatless theme almost threw me for a loop. Today is both National Meatball Day and National Crabmeat Day. "Meat" is in both of these! I thought I wouldn't be able to participate, but then I thought a little harder. Who says I can't make meatless meatballs? Nobody, that's who. The Teriyaki Quinoa "Meatballs" that I'm featuring today will do just fine.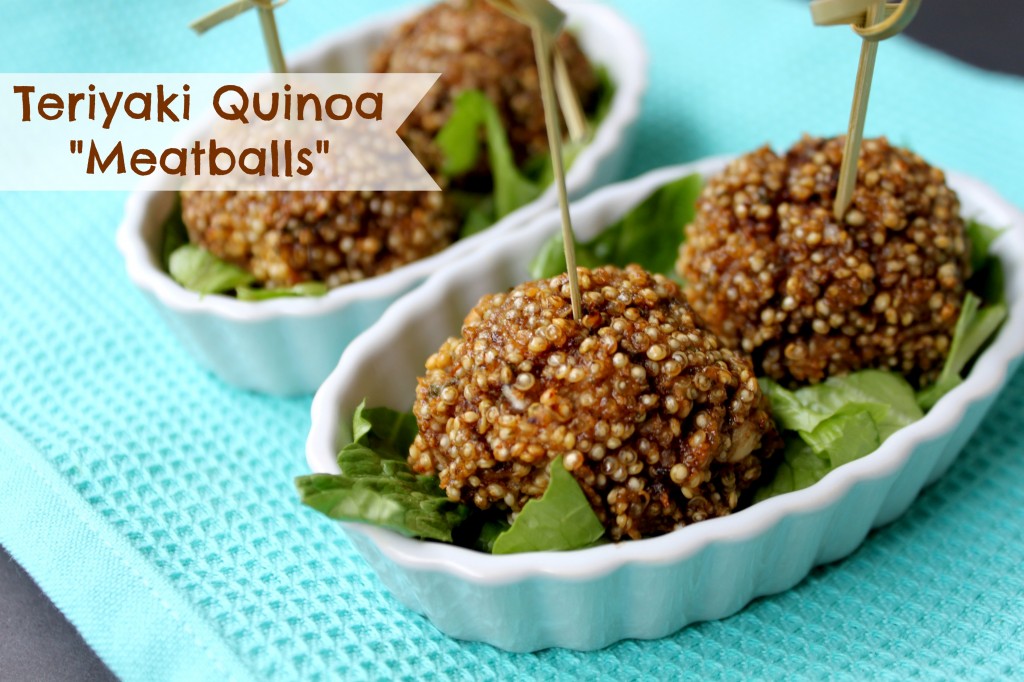 I had the privilege and pleasure of meeting Donatella Arpaia yesterday, a chef known for her meatballs. While they are most definitely not meatless, being in her presence made me excited all over again for my quinoa meatballs. As an Italian, meatballs are a way of life. At each Sunday pasta dinner at my grandfather's house you can find a very large pot of homemade sauce with homemade meatballs, Italian sausage and hardboiled eggs. He makes those meatballs small enough to where we all play go fish with the spoon to find them. After dinner, while we all rest up in the living room before dessert, I've been known to sneak away to make an open-faced meatball sandwich topped with freshly grated Pecorino Romano.
Needless to say, the quinoa meatballs are totally different than what I'm used to, but the sentiments behind the meatball remain the same. Any mention of meatball, any at all, and I'm instantly transported to pasta dinner at the Buggica house where we all form a line around the kitchen island and yell at the person at the front to hurry and find their toppings so we can get on with dinner, followed by loving ridicule of the chef (my grandfather). It's how the Italians define family fun. 🙂
This is also only my second time eating quinoa. Can you believe that?? I've never cooked it before, and I don't tend to order it when I'm out and see it on a menu. I was happy to be able to form a meatball that didn't completely fall apart, and absorbed the teriyaki glaze very well! These are perfect with a meal, as an appetizer, or even as a snack.
National Meatball Day | Teriyaki Quinoa "Meatballs" for #SundaySupper
Cuisine: Vegetarian
Author:
Prep time:
Cook time:
Total time:
Serves: 16 meatballs
Ingredients
[b]Quinoa "Meatballs"[/b]
4.7 ounce box of quinoa (I used Nature's Earthly Choice, Mushroom and Vegetable Medley)
1 shallot, diced
3 garlic cloves, minced
1 large egg
1/2 cup breadcrumbs, or more
Pinch each of: black pepper, paprika, chili powder, dried oregano, dried parsley
3 tbsp teriyaki sauce
1 tbsp brown sugar
Instructions
[b]Quinoa "Meatballs"[/b]
Preheat oven to 450*F. Prepare quinoa according to package directions.
Transfer quinoa to a medium bowl and let cool almost to room temperature. Add all ingredients to the bowl and mix well. You might need to add more breadcrumbs for the right consistency and to be able to roll a "meatball".
Shape the mixture into balls and placed them on a lightly sprayed baking sheet. Cook for 8 minutes. Remove from oven and brush with teriyaki glaze. Return to the oven and continue to cook for 4-7 minutes, or until the meatballs are crispy.
[b]Teriyaki Sauce[/b]
Whisk teriyaki sauce and brown sugar together. Brush over meatballs at the 8 minute cooking time.
Also today: National Crabmeat Day
Tomorrow: National Blueberry Popover Day
Now, check out the other Sunday Supper participants and what they are cooking up below!
Salads, Soups, Stews and Starters
"Meat"balls
Pastas, Pizzas and Casseroles
Burgers
Tacos & Everything Wrapped
Other Main and Side Dishes
Join the #SundaySupper conversation on twitter on Sunday! We tweet throughout the day and share recipes from all over the world. Our weekly chat starts at 7:00 pm ET. Follow the #SundaySupper hashtag and remember to include it in your tweets to join in the chat. Check out our #SundaySupper Pinterest board for more fabulous recipes and food photos. Would you like to join the Sunday Supper Movement? It's easy. You can sign up by clicking here: Sunday Supper Movement.
57 Responses to "National Meatball Day | Teriyaki Quinoa "Meatballs" for #SundaySupper"

Trackbacks/Pingbacks

Pingback: Mediterranean Tomato Tart | Magnolia Days

Pingback: Black Bean and Avocado Flautas for #SundaySupper | Supper for a Steal

Pingback: Spicy Vegetarian Meatballs #SundaySupper : Mess Makes Food

Pingback: Olive Tapenade #SundaySupper — MealDiva

Pingback: Beet and Goat Cheese Tacos with Avocado Cream #SundaySupper - The Girl in the Little Red Kitchen | The Girl in the Little Red Kitchen

Pingback: Sunday Supper: Meatless Meals

Pingback: Vegan, Gluten Free Breakfast Bars | Pies and Plots

Pingback: Tofu and Peas Curry (Tofu Matar)

Pingback: Pasta Patate #SundaySupper | Webicurean

Pingback: Radicchio and Gorgonzola Tortelloni with Butter and Walnuts

Pingback: Vegetarian 'Meatball' Recipes

Pingback: Mushroom and Lentil Cottage Pie for #SundaySupper #MeatlessMeal - A Kitchen Hoor's Adventures

Leave a Comment