National Blueberry Popover Day | Blueberry Lemon Popovers
I go back and forth on some of these food holidays. Sometimes I like when the food holiday is so specific, such as today's with National Blueberry Popover Day, because it eliminates the guessing. I mean, I know what I'm tasked with making now and I just have to think about the small update I want to make to it, if any.
Sometimes, though, I feel by being so specific, I can get stuck. This is particularly true for baked items. So, I simply added lemon to these popovers to change it up slightly.
Conversely, I have a love/hate relationship with those food holidays that aren't specific at all. For these days, my thinking starts more from scratch and I have a more difficult time conceptualizing a dish (hence why I turn to the interwebs for inspiration, because we are all in this together, right?). But then again, only having the direction of "chocolate" (as you'll see on October 28th) makes me push myself to come up with a concept and something I can execute. Conceptualization is my biggest challenge.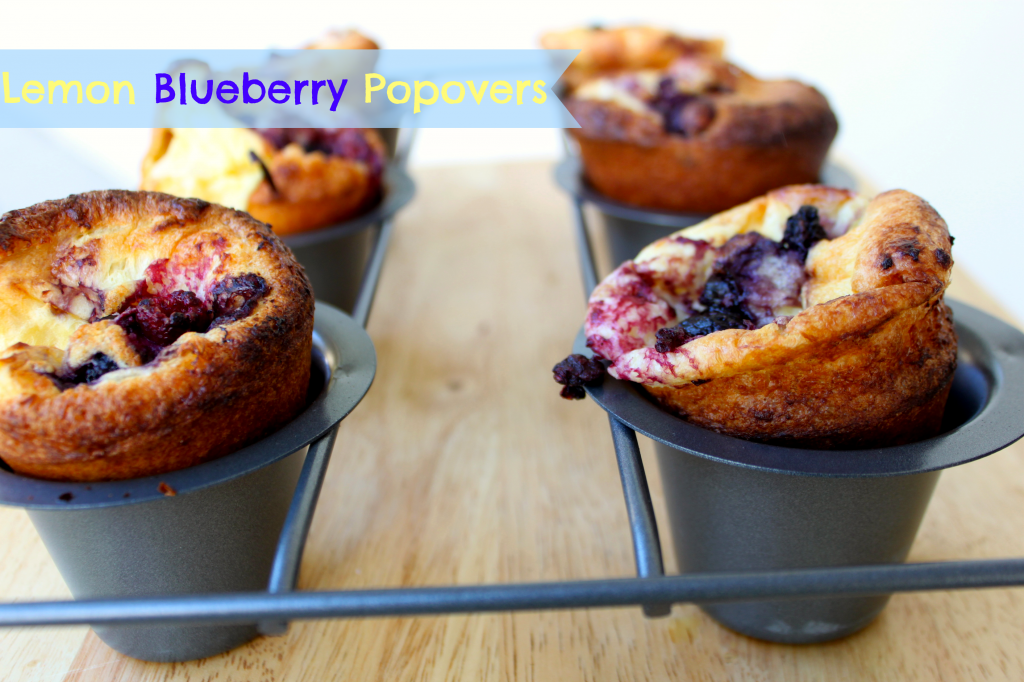 I think ultimately my feelings on these food holidays just always depends on my mood at the moment. No matter what though, I get more and more excited to be on this personal mission. It does make me push myself and learn new things and get more comfortable with baking. Bring it on, 2014. I'm done being pitiful now.
Anyway, this is my first time making popovers (and the crowd roared!!!) and I have to say how awesome they were. Really, very yummy. I was nervous because popovers just always seemed like a weird science project. Before now, I never thought of the science behind them, but really- you have to follow the path to the popovers. Without these steps, you may be doomed for failure…like my first batch may or may not have been.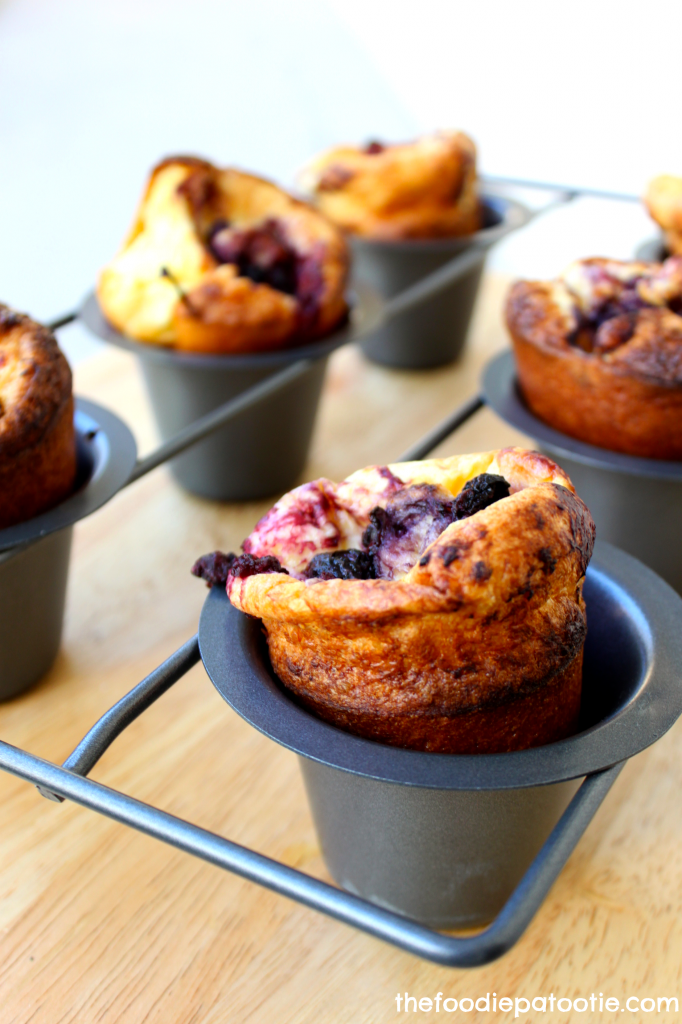 As it turns out, popovers are not hard if you pay attention. They are simple, really, and made with love, just like everything should be.
National Blueberry Popover Day | Blueberry Lemon Popovers
Recipe Type: Breakfast
Author:
Prep time:
Cook time:
Total time:
Serves: 6 popovers
Ingredients
1 cup milk
2 large eggs
1 tbsp + 1 tbsp unsalted butter, both melted and kept separate
1 cup all-purpose flour
1/4 tsp salt
Zest from 1 lemon
Juice from 1 lemon
1/2 cup frozen blueberries
Instructions
Preheat oven to 450*F. In a large bowl, add the milk, eggs, and 1 tbsp melted unsalted butter with a whisk until combined. Add the flour, salt, zest and juice, whisking until slightly frothy.
Place the popover tin in the oven for a couple of minutes to warm. After removing from the oven, pour the remaining 1 tbsp of melted unsalted butter evenly among the 6 popover cups. Then fill up each cup halfway with the batter. Top each cup evenly with blueberries.
Bake popovers for 15 minutes at 450*F and then reduce heat to 350*F and bake another 15 minutes, or until popovers are well browned. [b]**Very important not to open the oven while baking or your popovers will deflate.**[/b]
Turn popovers onto a rack and slit with a knife to let steam escape. Serve immediately.
Tomorrow: National Oatmeal-Nut Waffles Day
12 Responses to "National Blueberry Popover Day | Blueberry Lemon Popovers"

Trackbacks/Pingbacks

Leave a Comment