National Lobster Newburg Day | Lobster Newburg
In addition to National Waffle Day and National Pecan Day, it's National Lobster Newburg Day. Welcome to Tuesday!
I've never made Lobster Newburg before, but I've had my eye on the prize for quite some time. It looks like the perfect breakfast or dinner. Reminiscent of eggs benedict, I actually did enjoy this for breakfast. Lucky me!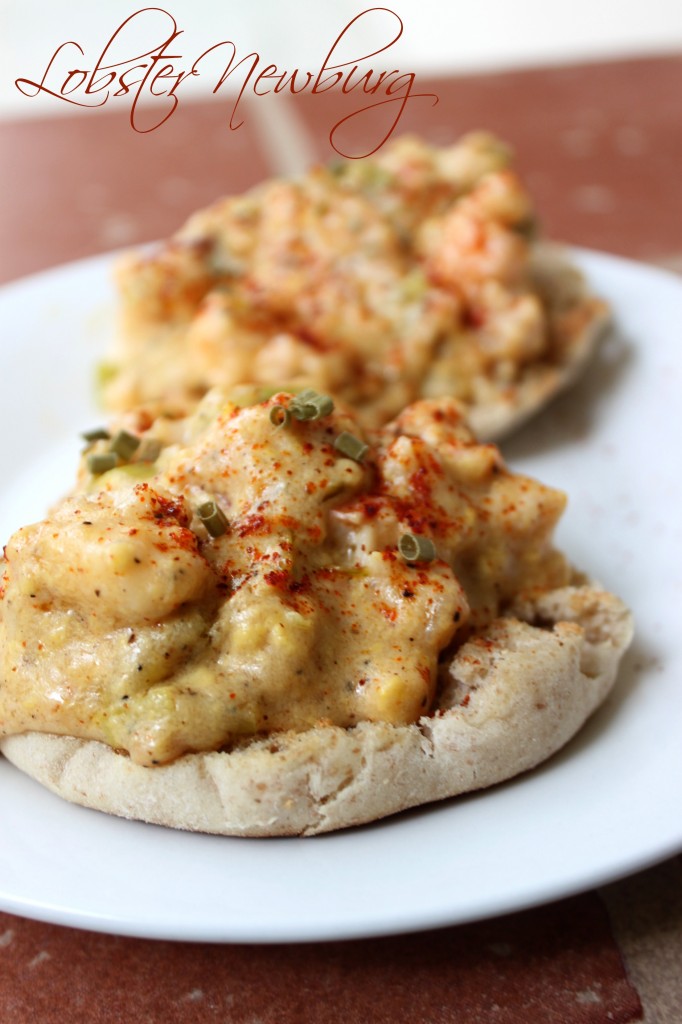 I used lobster tail meat because it was on sale, but any lobster meat will do.
There is a standing debate between my husband and I- what is the best shellfish? Well, my answer is shrimp, but unfortunately, Mike is allergic so he doesn't know what he's missing out on. Then, for me, it's a tossup between crab and lobster. I guess I'd have to say that I like lobster better if you are using butter for both, but plain, crab wins. So I think that means they truly are tied.
Anyway, whenever I have to make lobster (you know, because it's SUCH a chore…NOT), I'm very happy. You can be happy too by making this. #Truth
National Lobster Newburg Day | Lobster Newburg
Author:
Prep time:
Cook time:
Total time:
Serves: 2
Ingredients
8 ounces cooked lobster
2 tbsp unsalted butter
1/2 tbsp minced garlic
1/4 cup leeks, chopped
Salt and pepper, to taste
1 tbsp flour
2 egg yolks
1 cup whole milk
3 tbsp dry sherry
1 tsp cayenne
1 tsp nutmeg
English muffins, toasted
Instructions
In a small bowl, beat the egg yolks. Set aside.
Melt butter in saute pan over medium-high heat. Add minced garlic and leeks, cooking until leeks are slightly translucent, about 4 minutes. Stir in flour, salt, and pepper. Add whole milk and cook until bubbling, and then cook 1 more minute.
Take a tablespoon of the mixture and whisk together with the beaten egg yolks. Return all to the pan and continue to cook until thickened and slightly bubbly.
Stir in sherry, cayenne, nutmeg, and cooked lobster. Serve over toasted English muffins.
Also today: National Waffle Day; National Pecan Day
Tomorrow: National Spinach Day
2 Responses to "National Lobster Newburg Day | Lobster Newburg"

Leave a Comment