National Spinach Day | Lemony Spinach
When we first started dating, back in 2006, Mike had me and some friends over to hang out. He made this Fettuccine Alfredo that I haven't seen since (no matter how many times I request it, darn it). I haven't forgotten about it.
My husband is a pretty good cook. He made these delicious Sloppy Joe's the other night and he's known for being pretty awesome with anything on the grill- lobster, steak, veggies- you name it.
Even with all the yums he's made before, there is one dish he makes that I've never had better elsewhere. And you're going to be surprised by it. It's sauteed spinach. Yep, sauteed freaking spinach.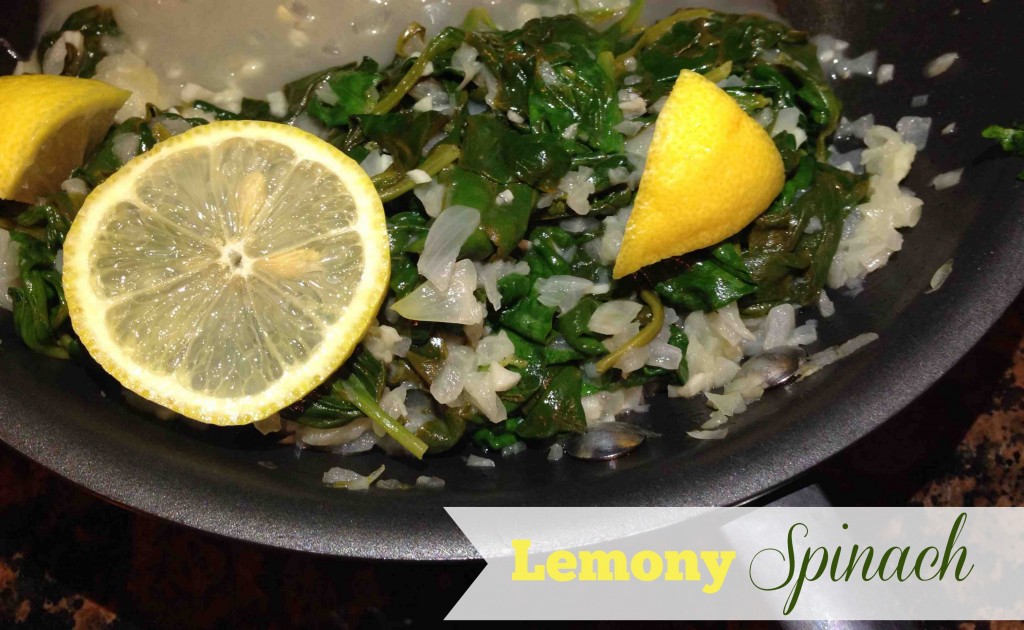 It wasn't that long ago that he first chose to make spinach as a side dish one weekday night and since then, it's the food I request most from him. The difference with this request is that I actually get it. Oh happy day!
I was shocked that a simple side dish such as spinach could easily rank as the best spinach I've ever had. The recipe, if you can even call it that with its limited ingredients, consists of lemon, onions, garlic, butter, salt, and pepper. That's it.
Oh, and love. He puts a lot of love into the spinach. I can't make it the same as him. Of all things, I can't even make a simple sauteed spinach as good as my husband. But I can't complain because, after all, I'm the one getting to eat it. Sometimes, he'll make an entire pan just for yours truly. Those are some of my favorite dinners.
Just a note: This recipe has a lot of onion and garlic, but you can tone it down to your liking. 🙂
National Spinach Day | Lemony Spinach
Author:
Cook time:
Total time:
Serves: 2
Ingredients
6 ounce spinach
3 garlic cloves, minced
1/2 a small onion, chopped
1/2 tbsp butter
Salt and pepper, to taste
Lemon juice, to taste
Instructions
Grease the saute pan with butter. Saute onions and garlic until fragrant and slightly translucent.
Add spinach. Liberally apply lemon juice, place 1/2 tbsp butter on top of the pile of spinach to melt and cook through, and season with salt and pepper. Do not stir. Cover spinach and cook for 3-4 minutes, or until done to your liking.
Remove lid, stir thoroughly, sprinkle with more lemon juice. Let stand for one minute before serving.
Tomorrow: National Spanish Paella Day
5 Responses to "National Spinach Day | Lemony Spinach"

Trackbacks/Pingbacks

Leave a Comment