National Clams on the Half Shell Day | Garlic-Wine Clam Pasta
I'm embarrassed to say that I don't like clams. It's embarrassing because I've never even tried clams and I regularly make this statement and also because I'VE NEVER TRIED CLAMS.
But, if you are hoping to hear how my first clam experience was, you won't find that here. Sorry.
No, instead, I just couldn't get over the item of eating these things. I feel like I have to have them fried for the first time, and then maybe- emphasis on maybe- try them without the breading that makes everything better.
Thankfully these littleneck clams didn't go to waste as my best friend's husband loves clams and was able to eat this dish. He also gave his approval which is how this recipe is even up on my blog in the first place.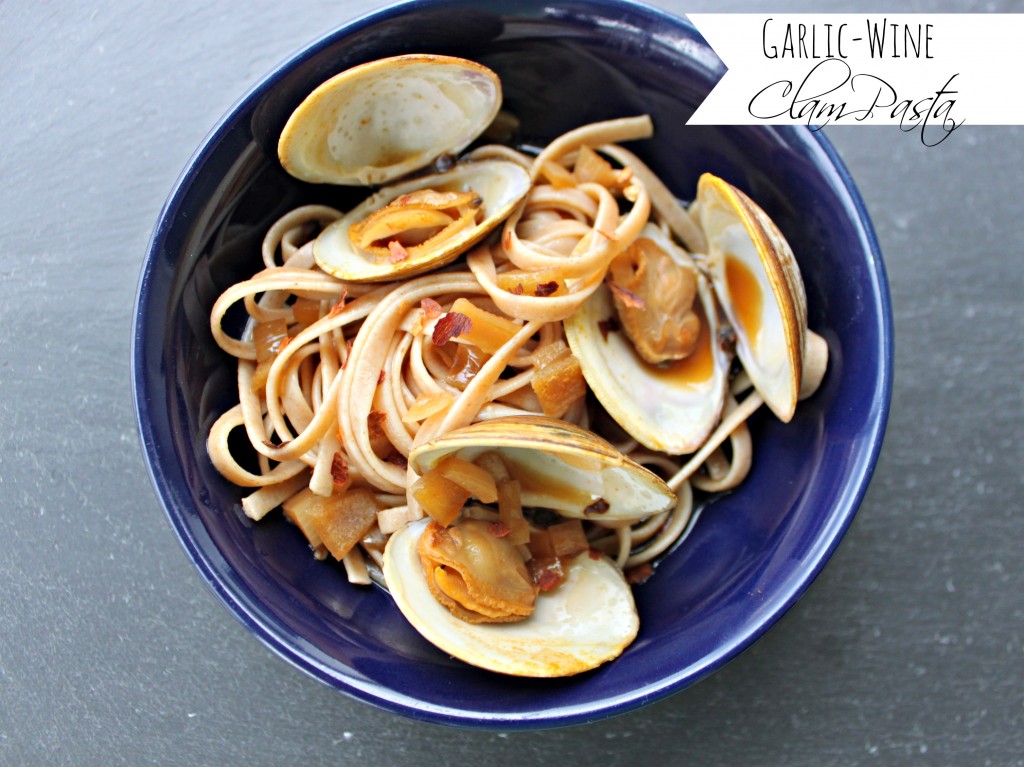 When brainstorming for this dish, I reached out to my friend Leslie for help. After all, she is the person who comes to mind when I think of seafood of any kind, and I know she loves clams. One suggestion from her was crudo style, but that was not going to happen, so I took her other suggestions and used sherry, shallots, lemon, and some slight heat. Thanks, Leslie!
So to the store I went to buy these little guys. First, it was super creepy knowing that the clams are alive when the shell is closed. It's always something I knew, but the realization hit me when I was holding the bag and all I could envision was some mutant clams with pincers breaking the shell open with Hulk-like ferocity.
It was scary.
When I then had to unwrap the clams, I had the same feeling and proceeded with extreme caution. When they were in the pot and I knew I wouldn't have to touch them again, I did a victory dance.
And then when I served this pasta to Craig, and he responded that it was really good, I was pretty sad that I don't eat clams.
National Clams on the Half Shell Day | Garlic-Wine Clam Pasta
Recipe Type: Seafood
Author:
Prep time:
Cook time:
Total time:
Serves: 1
Ingredients
3 littleneck clams, rinsed
1 tablespoon unsalted butter
1/2 shallot, diced
1 tablespoon garlic, chopped
1/2 (14.5-oz) can chicken broth
1/2 cup dry sherry
Red pepper flakes, to taste
Fresh lemon juice, to taste
1/2 package linguini
Instructions
Prepare linguini according to package directions.
In a large saute pan over medium heat, add butter, shallots, garlic, and clams; cook 2-3 minutes or until garlic becomes fragrant.
Add chicken broth and sherry, cooking 6-8 minutes or until reduced by one-half and clam shells are open. Discard clams that remain closed after cooking.
To assemble the dish, place cooked linguini in a bowl, top with clams and desired amount of broth. Sprinkle with red pepper flakes and drizzle with fresh lemon juice.
Tomorrow: National Sourdough Day
2 Responses to "National Clams on the Half Shell Day | Garlic-Wine Clam Pasta"

Leave a Comment