National Chocolate Wafer Day | Chocolate Wafer Ice Cream Sandwiches
Do you want to know what the last thing I want to be doing is when I've been without air conditioning in my home for nearly a week and have a long, relaxing holiday weekend coming up? Make chocolate wafers. That's right, the chocolate wafers featured in this post are pre-made by the local grocery store's bakery, and I'm not ashamed to say it. After all, there is a homemade element to this lovely dessert – the Fig Mint Ice Cream from National Creative Ice Cream Flavor Day!
Tomorrow is going to be awesome. I have sonoran hot dogs, bratwurst, french fries, coleslaw, grilled veggies and more for the holiday. To say that making chocolate wafers from scratch wasn't at the top of my priority list is pretty much spot on. Look at all the other foods I can be spending my time on!
Plus, I could really use some ice cream sandwiches for dessert after my dinner of spaghetti squash a la pasta vodka…or whatever. (That recipe is incoming too.)
Originally, before I realized that I would rather just have my ice cream and chocolate wafers that I didn't have to do anything for besides pay for them at the register, I was researching how to make my own. I came to the conclusion that these look like chocolate communion. And then I tried to remember what the priest says to you at church when you're accepting communion and I couldn't think of it for the life of me, even though I've been going to church since the beginning of time. It was one of those things I had just on the tip of my tongue, yet all I could think of was "may the force be with you", which is clearly not right, but could be if the Catholic Church decided to go that way.
Anyway, folks, I think writing this post this late at night is making me delusional. Enjoy 4th of July and all the delicious food I'm sure is in store for you!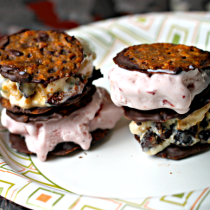 Chocolate Wafer Ice Cream Sandwiches
Ingredients:
Pre-packaged chocolate wafers
Strawberry ice cream
Directions:
Assemble ice cream in between chocolate wafers.
Eat without being afraid to get messy.
2 Responses to "National Chocolate Wafer Day | Chocolate Wafer Ice Cream Sandwiches"

Trackbacks/Pingbacks

Leave a Comment