National Barbecued Spareribs Day | Sweet & Spicy Grilled Spareribs
It's the 4th of July!! There is one main reason to celebrate this day, but also, it's turned into a day of good eats, which is also thanks to the true meaning of independence day and what it's brought to us, so raise your flags and let's have a good one!
Oh this here Independence Day, it's also National Barbecued Spareribs Day. Could you think of a more perfect combination? Well, I have been saying that National Hot Dog Day should've been today instead of July 23 because, right?, aren't most of you out there having hot dogs today? Well, we are too and that recipe will be posted on the food holiday, but we are also making ribs. Glorious ribs. The kind of ribs that fall off the bone and then melt in your mouth. We just had these ribs, along with my Kool-Aid Vanilla Poke Cake, at a family pool party the other weekend. Now, we make them again while hanging out by the pool.
Well, my husband will make them while the rest of us hang out by the pool. What's the expression – don't fix it if it ain't broken? Frankly, Mike makes the best ribs this side of the equator so I'm not going to even attempt to take that title from him. I know it wouldn't happen. I'm just happy being his wife and being able to request these ribs whenever I want.
It's weird – I'm one of the only people in my family who loves spice. The spicier, the better. As my friend and fellow food blogger Leslie (Dash of Les) says, if your nose isn't runny, it's not spicy enough. I totally agree with that sentiment. Granted, it still needs to be flavorful. And these ribs ARE. We made two different ribs for our party, one for spicy lovers and one that would still be considered just a tad spicy to the wimpy man or woman who can't take the heat (I kid, I kid) because, really, spice needs to be experienced by all, even in the smallest of capacities. When we tested the slightly spicy non-spicy option with those family members who don't like spice, they still claimed the ribs were the best they had ever had. That's the recipe that you'll find below. Even the spicy non-lovers in your life will thank you for a beautiful rack of ribs.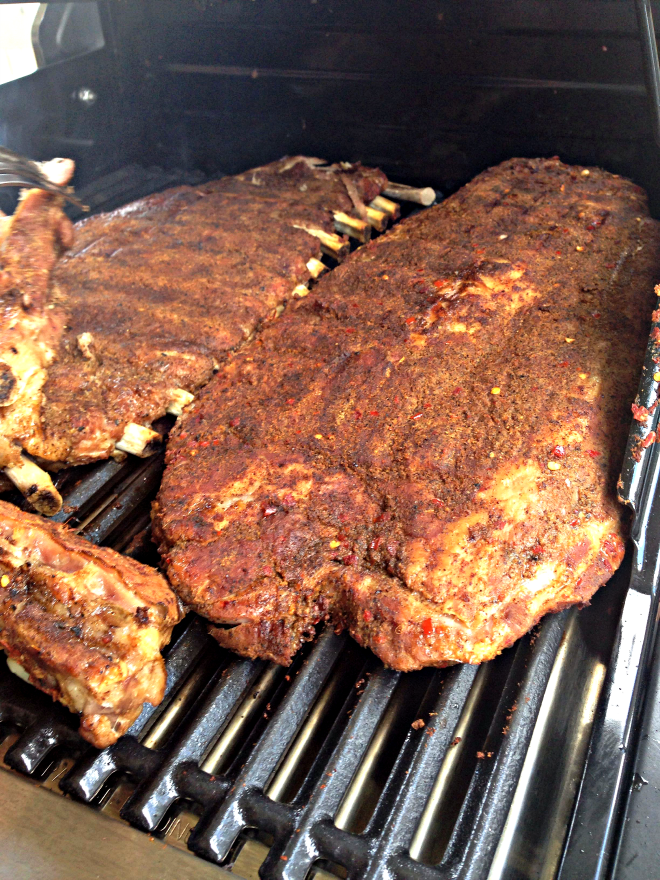 We used a wonderful mixture of spices in our dry rub for this recipe and I'll just say it now – you better have some paprika on hand because we use a lot of it. Mike spends a good amount of time creating the dry rub and then onto the ribs they go with great attention given so as not to waste even the most minuscule spice granule or neglect even the smallest part of rib. Everything gets rubbed down.
Then we wrap the ribs tightly in aluminum foil and allow to sit overnight in the refrigerator. A number of hours before you actually plan on consuming these ribs, we'll remove them from the fridge and bake in the oven, low and slow, to loosen up the meat and get it prepared for the best part – grilling!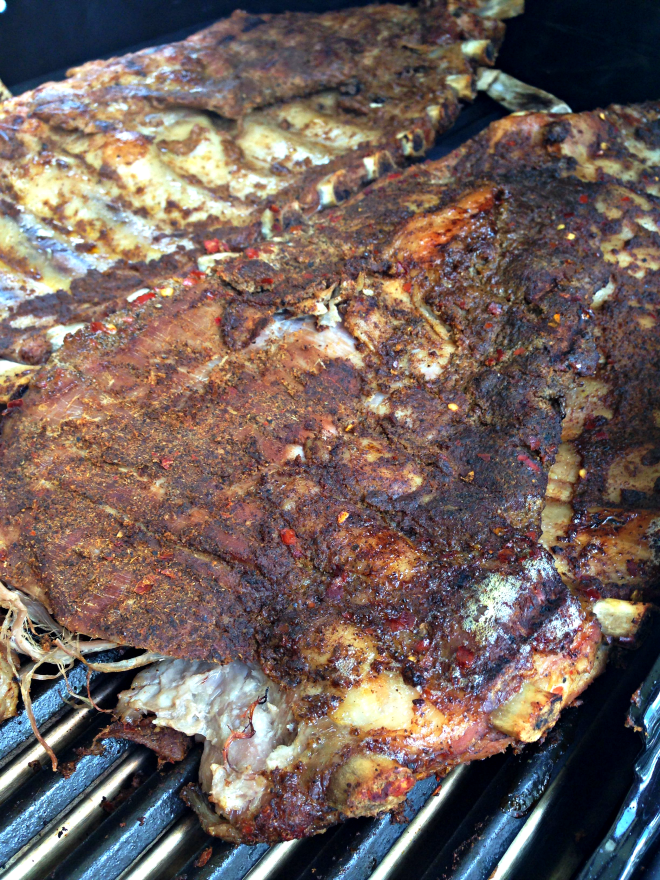 These lovelies will make the party. I know they did at the pool party and another pool party sans ribs won't ever be the same.
It's gonna be luscious.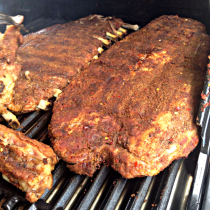 Sweet & Spicy Grilled Spareribs
Ingredients:
3-4 pounds spareribs
15 mustard seeds, grounded
Dash of nutmeg
Drizzle of Worcestershire
1.5 cups brown sugar
1/4 cup kosher salt
1/4 cup smoked paprika
2 tablespoons ground cumin
2 tablespoons hot chili powder
2 tablespoons cayenne
2 tablespoons freshly ground black pepper
2 tablespoons red pepper flakes
Directions:
Combine all spices in a large bowl, mixing thoroughly. Rub generously over both side of the ribs. Create a bowl-like vessel of aluminum foil for the ribs to hang out in. Cover completely with aluminum foil and allow to marinate in the refrigerator for a minimum of 4 hours. Twenty-four hours is ideal.
Heat oven to 250*F. Place ribs, in the same aluminum foil, on the middle rack and cook for three and a half hours.
When you're ready to grill, unwrap and ribs and dip the meat side in the juices that are in the aluminum foil "bowl" and grill meat side down first on a 315-330*F grill.
3 Responses to "National Barbecued Spareribs Day | Sweet & Spicy Grilled Spareribs"

Trackbacks/Pingbacks

Pingback: National Barbecued Spareribs Day | Sweet & Spicy Grilled Spareribs | Mr. Barbeque

Leave a Comment