National Chocolate-Filled Cherry Day | Chocolate Cherry Thumbprint Cookies
I love cherries. Specifically Rainier cherries, but Maraschinos are a close second, even though I read somewhere that they have enough sugar they were once considered candy. I'll take extra cherries in my cocktail, with my desserts, and well, just straight out of the jar sometimes.
When it came to this food holiday, I didn't know what exactly I'd make. I was running low on time and needed a quick recipe that worked. So, I started googling for inspiration.
When I googled "chocolate-filled cherry", results came up for chocolate-covered cherries. Are they interchangeable in the food world and I just don't realize it? I also noticed some sources say it was National Chocolate-Filled Cherry Day and others say it was National Chocolate-Covered Cherry Day. I follow the food holidays on The Nibble so that's why I'm going with the former in this post.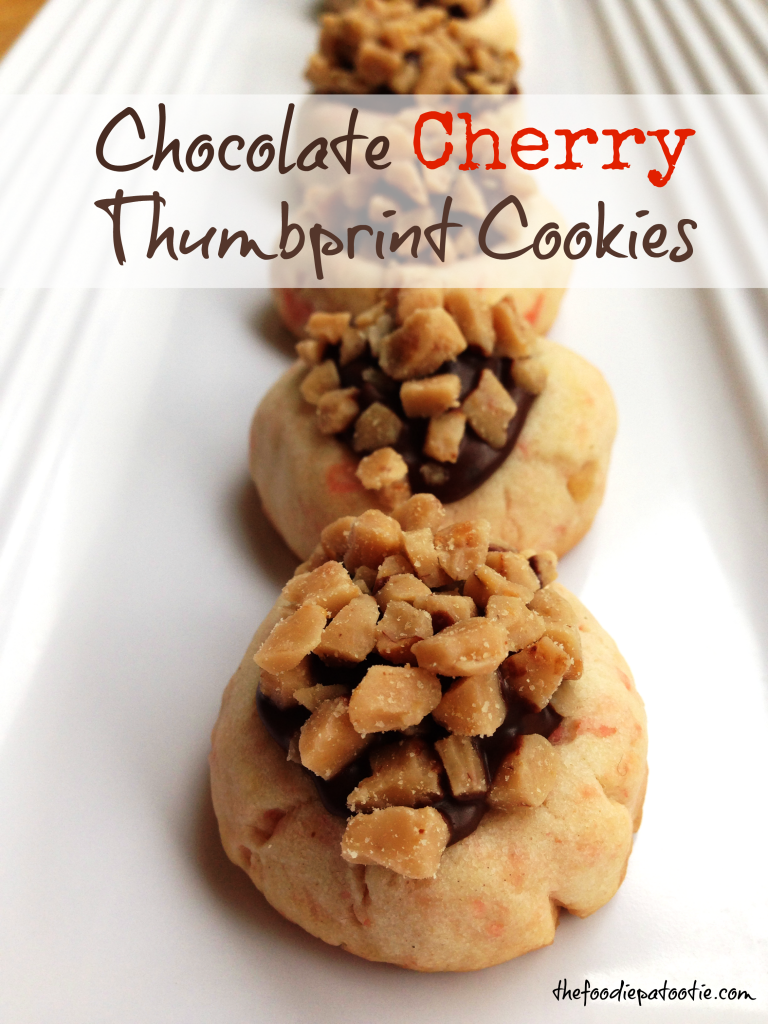 Anyway, the only cherries I had in the fridge were maraschinos and those are impossible to fill because they are falling apart already. Creating a chocolate-covered cherry dessert it is then!
Every Christmas, and sometimes just when the mood strikes, my mom and husband get together and make cookies called Cherry Balls. It's a maraschino cherry inside a ball of vanilla dough, dipped in vanilla icing, and covered with sprinkles. We can make the cookies with our eyes closed. So I decided to make the dough, stick a thumbprint in there, place a cherry in that thumbprint, cover with melted chocolate and then top with toffee pieces. Ta-da!
Done in just 30 minutes, including baking time, it was the perfect midnight snack. (I had to take the picture the morning after when there was some natural light.) 🙂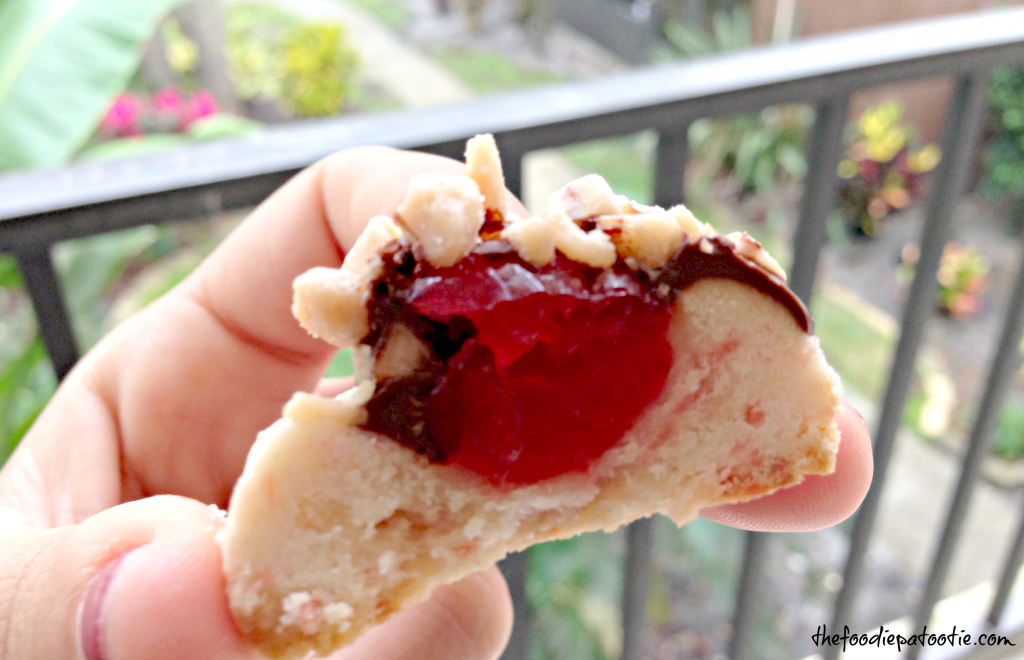 National Chocolate-Filled Cherry Day | Chocolate Cherry Thumbprint Cookies
Recipe Type: Dessert
Author:
Prep time:
Cook time:
Total time:
Serves: 24 cookies
Ingredients
[b]Cookies:[/b]
Jar of Maraschino cherries
1/2 cup softened butter
1/4 cup powdered sugar
1 1/2 cup flour
A pinch of salt
1 tsp vanilla
1 tbsp Maraschino cherry juice
[b]Topping:[/b]
1 cup semi-sweet chocolate chips
1 tbsp oil
Toffee pieces
Instructions
[b]Cookies:[/b]
Preheat oven to 350*F.
Beat butter and sugar to creamy consistency.
Add flour, salt, vanilla and maraschino cherry juice. Mix with fingers until a dough forms.
Pinch off some dough and roll into a ball (should be able to make 24 total cookies). Place ball on cookie sheet. Make thumbprint in the middle and place one cherry in the center.
Bake for 12-15 minutes and then allow to cool.
[b]Topping:[/b]
In small saucepan, combine chocolate chips and oil, stirring on medium heat until melted.
Fill pastry bag or Ziploc bag and cover cherry with melted chocolate. Top with toffee pieces and let set.
Tomorrow: National Spaghetti Day
5 Responses to "National Chocolate-Filled Cherry Day | Chocolate Cherry Thumbprint Cookies"

Leave a Comment