Cru Cellars: Where Wine Wednesday Woos
Meatless Mondays, Taco Tuesdays, Wine Wednesdays.
It's easy to see why hump day brings me two times the happiness. As far as Tampa goes, there isn't a place that I think of as being able to fulfill my Wine Wednesday desires more than Cru Cellars, a South Tampa wine shop and wine bar. Unfortunately, it took me until this past Wednesday to treat myself to wine and dinner with Nichole. As you can imagine, Cru Cellars is well versed in all wines. Just a look at the wine shop will leave you a little breathless.
To begin, I chose the 2011 Ca' Montebello Pinot Nero Rosé from Italy.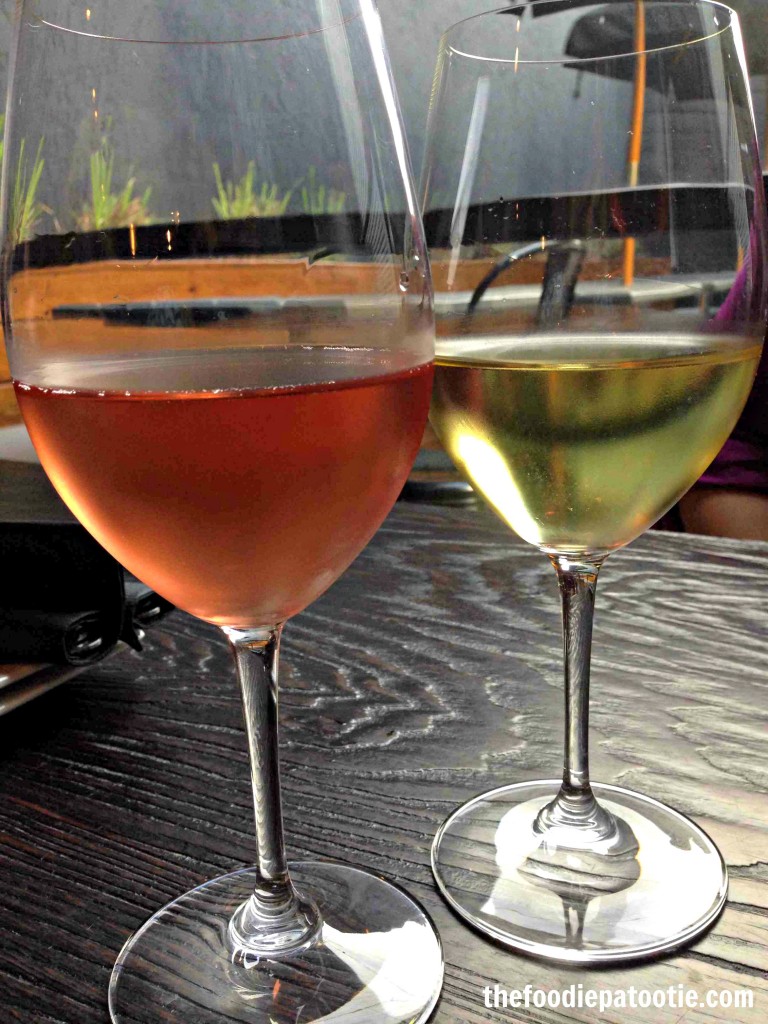 During any and all happy hour excursions, I happen to make more time for food than booze. Cru Cellars has a pretty awesome menu, including small plates such as Potted Pig and Butter Roasted Shrimp, Bruschettas, Flatbreads, Salads and larger plates.
Needless to say, I will be back to Cru Cellars to try some of the dishes that caught my eye. For now, Nichole and I chose three menu items to share.
Roasted Mushroom Orzo: Topped with roasted grape tomatoes and parmesan cheese
This was my favorite choice of the night. Mushrooms are one of my favorite things ever, but I am fully aware of the earthy flavor that can overpower a dish. This orzo was perfection in a bowl. It was creamy, earthy, cheesy, with a delightful bite of al dente pasta.
Steakhouse Flatbread: Sliced steak, roasted garlic spread, roasted tomatoes, goat cheese, caramelized onion, fresh basil, and balsamic reduction
The Steakhouse Flatbread wasn't the first item that my eye locked on. I originally wanted to order the Roasted Mushroom flatbread with pesto, parmesan and goat cheese, and while I would have devoured both this and the mushroom orzo, Nichole reminded me that having more of a variety would probably make our meal (and consequently, this post) more enjoyable and diverse.
I had actually picked the Roasted Mushroom flatbread because it has goat cheese, but once I saw that the Steakhouse had both goat cheese AND balsamic, the Roasted Mushroom became a silly notion. All of the flavors on the Steakhouse combined really well, but I resisted eating it all so I could have left overs (which were excellent the next day, BY THE WAY).
Truffled Pommes Fritas: with Basil Aioli and Jalapeno Catsup
It took us a little while to decide on the third item we would try. It was between these fries, Roasted Garlic Hummus, Chilled Shrimp, Avocado, and Arugula salad, and the Cru Burger. I kind of wish that we had gone with one of the other options because the fries weren't as great as everything else we'd had so far, but that's okay.
The truffle flavor was almost non-existent. I've mentioned before that I am not a big fan of a strong truffle taste, but that I always like to order truffled items because having a slight flavor can make a big difference in the dish. However, these were just like regular fries. The sauces were unique and pretty tasty, though. The Jalapeno Catsup was very hot, a thumbs up from me.
Cru Cellars also has a Farmer's Platter menu that sounds amazing and is a must-try on my next visit. Mix and match any of the cheeses, cured meats and bites listed. They have 13 different cheeses, 4 meats and 3 bites. All Cheese & Cured Meats are served with jam, caramelized nuts and crostini.
Like Cru Cellars on Facebook | Follow Cru Cellars on Twitter
10 Responses to "Cru Cellars: Where Wine Wednesday Woos"

Leave a Comment