A Perfect Sunday Afternoon for Piquant Brunch
If you have been following this blog for any length of time, you know that I love Piquant in Hyde Park. I first visited Piquant during a Dishcrawl Hyde Park tour, then I visited with some foodie friends, and then I went for many a brunch with family and more friends, and THEN I was all like, "Hey Chef Riviera, do you think that Piquant can do some desserts for my wedding?" and then she said yes and then I had an entire dessert table with Piquant goodies, which are the best goodies in Tampa, by the way, and then we worked together to make Piquant our last, but certainly not least, stop on our Tampa Brunch Tour. And that's where this post comes in.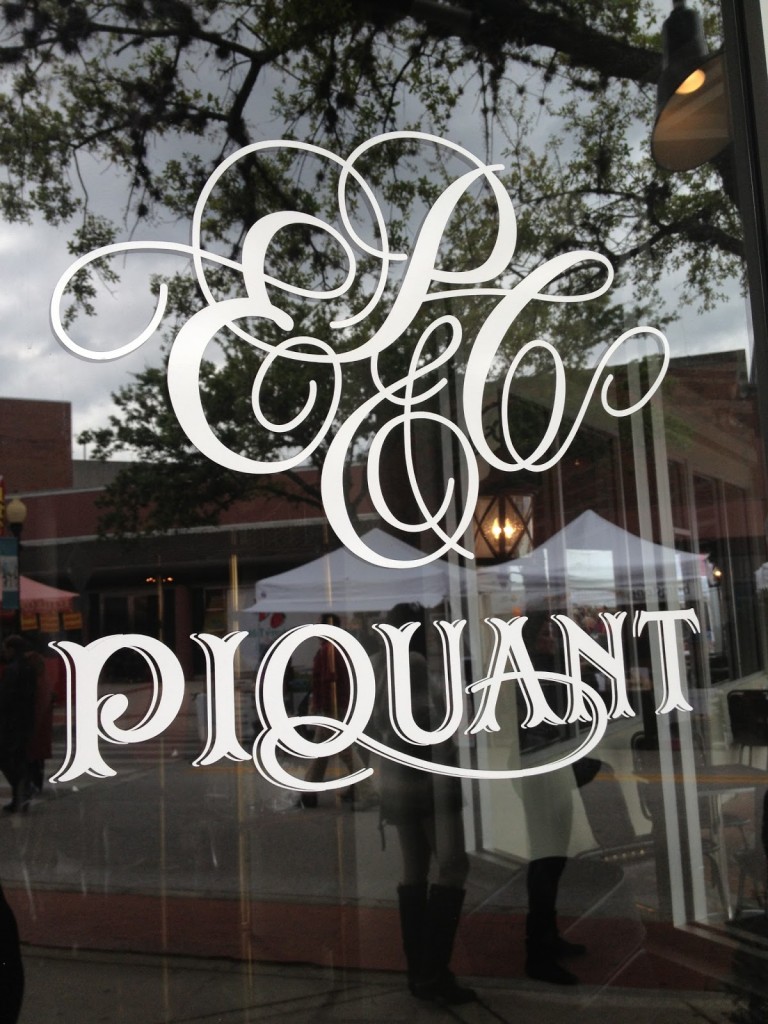 Piquant is elegant and calming and without them, who knows where my mom and I would take visiting loved ones, and also local family and friends who haven't been blessed by Piquant's food. It's my favorite brunch spot, as much for the atmosphere as for the location, graciousness of the Chefs, and the delicious morsels of awesome that I shove into my mouth every single visit.
It's something special, that's for sure.
First, we each received a Bloody Mary to try. During previous stops this brunch tour, I've gone for the Mimosa or other breakfast cocktail over the Bloody Mary because for as many times as I've tried to like the Bloody Mary, I just couldn't. Enter: Piquant's Bloody Mary.
Although Piquant does not have a cocktail menu yet, they allowed us to preview what is sure to be a popular item. Chef Jordan Hoeffner, a self-proclaimed lover of all food and innovative bartender, wowed me with her hand crafted Bloody Mary. The vodka is infused with Thai Bird chilies and then horseradish, Worchester, Sriracha, Cholula, citrus juices and other ingredients are mixed to create an even more powerful sip.
We had a skewer featuring a traditional Spanish olive, a cherry tomato that's smoked and pickled in-house, and a chorizo-stuffed pepperdew. The glass is then rimmed with a balsamic reduction, cajun seasoning and Sriracha salt. Impressive on its own, but then Chef Hoeffner went one step further and created an edible Bloody Mary. For the celery stalk is not merely just a garnishment here, it's a vessel to hold the solidified Bloody Mary liquid that's formed from molecular components that are too far above my head to understand. Basically, you get Bloody Mary two ways: drinkable and edible. Two thumbs way up.
Duck & Waffles: Pumpkin waffle & southern fried duck confit. Served with a bourbon maple glaze, Fire in Your Mouf' hot sauce, and crispy sage leaves
Although I was busy sipping on my Bloody Mary (and shaking my head in wonderment at the fact that this is the only Bloody Mary I've ever liked), the words DUCK & WAFFLES did not escape my eye. Duck is a newer meat to me and I've continued to enjoy it, having never had a bad taste yet. And, although I'm not only an anti-waffle person but also a semi anti-pumpkin person, this was one of my favorite dishes of the brunch.
The sauces were sensational, the entire duck confit was lust worthy – yeah, I said it – and the pumpkin waffles were more pleasant than I ever imagined possible.
Crab "Oscar" Benedict: Bechamel, asparagus tips, lump crab, lemon hollandaise
Would you believe me if I said that I've never had a crepe before? I KNOW, it's so unfortunate for me, right? (I'm learning this food thing as I go.) Piquant's crepes are what I would imagine a French crepe tasting like in France. After all, Piquant knows their techniques and flavors.
I loved this dish. The asparagus had the perfect amount of bite and the lump crab with the lemon hollandaise…well, has a better combination ever existed?
Sausus Feuilletes: All natural beef sausage rolled in a puff pastry and served with red wine ketchup and chardonnay mustard
The Sausus Feuilletes is really a fancy word for hotdog. Or, rather, pig in a blanket. After all, it is beef sausage and some kind of dough that we are talking about here. Piquant, though, is not satisfied with just a normal pig in a blanket (and neither would we be, quite honestly). Instead, they up the ante with an all natural beef sausage and crispy, delicate puff pastry and then serve with red wine ketchup and chardonnay mustard.
If on the menu, don't miss out on the Sausus Feuilletes, or the accompanying dips. It was hard to pick a favorite, but I think the chardonnay mustard won.
Black & Blue Benedict: Two poached eggs, roast beef, caramelized onions, mushrooms, hand-crafted thyme scone, blue cheese hollandaise
Next I tried the Black & Blue Benedict, a dish I was hesitant about if only because I am not a blue cheese fan. But, it wasn't overpowering, and the roast beef, caramelized onions and mushrooms just made me such a happy gal. The thyme scone boosted the flavor and left me wanting more.
Goat Cheese Omelet: Goat cheese, cantimpalo chorizo, cilantro, caramelized shallots
The dish I was most excited for was this Goat Cheese Omelet. I've had the dish before, but I still cannot get over how much I love it. It's a favorite of mine, and as the only previous Piquant visitor besides Megan, I wanted to make sure we ordered it so everyone else could know what I know about the perfect omelet with perfect insides. Seriously, goat cheese by itself is wondrous, but then you add chorizo and shallots and immediately elevate this omelet into something otherworldly.
As much as I love everything Piquant has to offer, I have never visited and not had the Goat Cheese Omelet. Whether it's because I order it, or I force a dining companion to order it so I can steal half a bite of it, it's a Piquant staple for me.
Bouillabaisse: Classic seafood broth seasoned with orange peel and fennel. Topped with poached grouper, bay scallops, shrimp and clams. Served with Rouille – A tasty potato and roasted red pepper cream
 Although there were positive reviews on this dish around the table, I chose to skip it since I'm not a very big seafood person. Also, I was too busy being BFF with goat cheese.
The French "Redneck": Croissant, sausage gravy, crispy shallots, maple syrup
 When The French "Redneck" first hit our table, none of us were sure what to make of it. Sure, the combination of croissant, sausage gravy, shallots and maple syrup sounds pretty good, but how do you dive into it and also, how can you make it a "pretty" dish?
The answers are that you just do and you just don't. You do just dive into the dish (and then subsequently finish every dollop of spare gravy) and you don't make it "pretty" because it's not a pretty dish, because it's a down south, gritty (though not in texture), home grown dish that is best when just consumed. Consumed without apologies and without caring that you dropped a piece of the combination on your shirt. In fact, you may just save that piece for later.
As a final treat, Piquant brought out six cronuts for the table. I split a Raspberry with Leslie and totally reveled in the fact that I had a piece of raspberry jam on one corner of my mouth and a dusting of powered sugar on the other. I do not care. I've had the pleasure of trying both this raspberry cronut and a plain one, which really just means that it has regular sugar on it without filling and is anything except "plain".
The cronut craze is still in full swing so make sure to call ahead for an order to ensure you are able to get some. You aren't the only one who wants their hands on some doughy, flaky goodness.
By the way, the items mentioned above, with the exception of the Goat Cheese Omelet and the Cronuts, were on a specials menu for the weekend, but let it be known that Piquant doesn't produce a bad dish. Order anything, anything at all, and prepare to be amazed.
As always, Piquant, it's been a pleasure.
10 Responses to "A Perfect Sunday Afternoon for Piquant Brunch"

Trackbacks/Pingbacks

Leave a Comment