Sheet Pan Greek Chicken and Vegetables
OXO provided me with the tools to complete this recipe. All opinions are my own.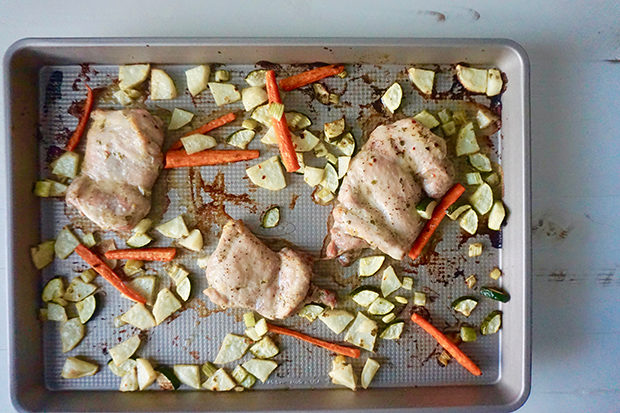 I trust everyone had a great Thanksgiving! We had a very modest dinner with just us three and now it's time to look forward to Christmas and all the meals we'll enjoy leading up.
Thanks to OXO products (a brand I truly rely on in the kitchen) Thanksgiving and Christmas go much more smoothly. Some items you might find useful are the products featured here:
[Bolded are the items I used in today's recipe, but I've used and can recommend the other products as well.]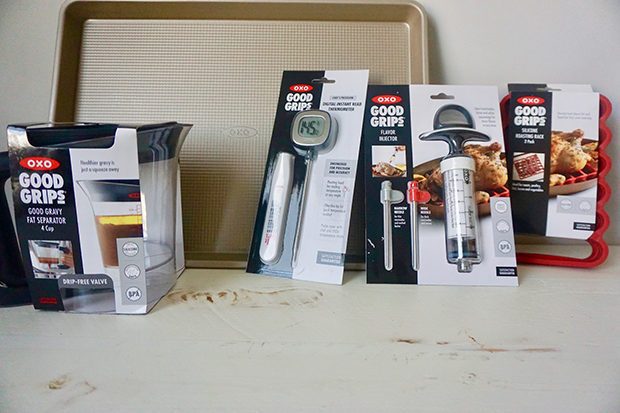 This greek chicken recipe really couldn't be any simpler. Everything is seasoned together and everything cooks together on the OXO Jelly Roll Pan and, best of all, it's done in 30 minutes with prep not adding much more time to that.
These days, when I'm nearly 30 weeks pregnant and have an 18 month old child at my feet, and when I still find it important to do what I can so we can sit down to a meal together, I'm loving recipes that don't require me to be busy in the kitchen for an extended period of time.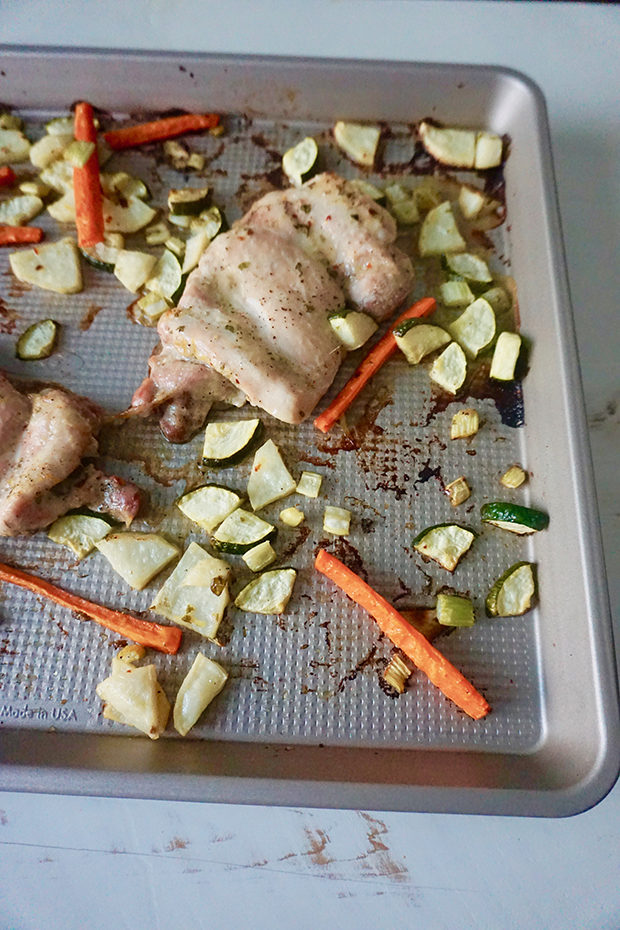 The one thing you could add to the last couple of minutes of cook time to make this a little more Greek is feta cheese, but since I'm not too big of a fan, I kept it simple with oregano and lemon – that's basically it!
I used OXO's Instant Read Thermometer to make sure the chicken was cooked all the way in this timeframe. What you may not know is that I'm not above over cooking chicken. It's somewhat of a fear of mine whenever I'm making chicken that it'll come out underdone and explode salmonella everywhere. It's something I no longer have to worry about with this tool!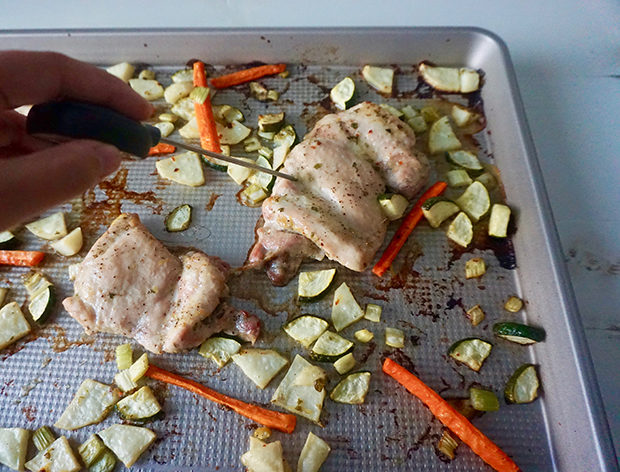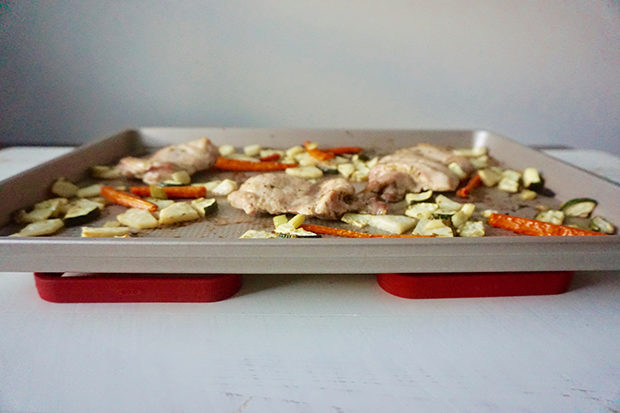 The silicone roasting rack can go right into a roasting pan, but I've used them to set on the counter and place the hot tray on, works great!
Do you have a favorite fast recipe? I'm always looking for new ones!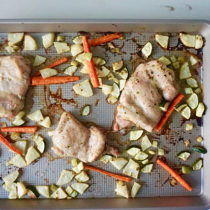 Sheet Pan Greek Chicken and Vegetables
A simple and delicious meal that comes together in no time. Moist chicken and flavorful veggies on one sheet pan.
Ingredients:
2 pounds boneless, skinless chicken thighs
2-3 carrots, peeled and cut vertically into strips
1-2 Yukon gold potatoes, peeled and cut into half moons
1 zucchini
2 tablespoons extra-virgin olive oil
Juice of 1 lemon + more for drizzling over finished dish (optional)
Zest of 1 lemon
Pinch of red pepper flakes
Medium pinch of salt
Pinch of pepper
5 oregano sprigs, stems removed
Directions:
Preheat oven to 450*F. In a large bowl, combine olive oil, lemon juice, lemon zest, red pepper flakes, salt, pepper, and oregano; stir.
Add chicken and vegetables to the olive oil mixture and toss to coat. Everything should be coated with this "marinade." Spread evenly between two baking sheets (if there was extra olive oil mixture in the bowl, pour on top) and roast for 15 minutes.
Toss and flip chicken and veggies and roast for another 15 minutes or until chicken is cooked through.
Remove from oven and squeeze more lemon juice over top along with oregano (optional).
Leave a Comment