Pregnancy Update: 38 Weeks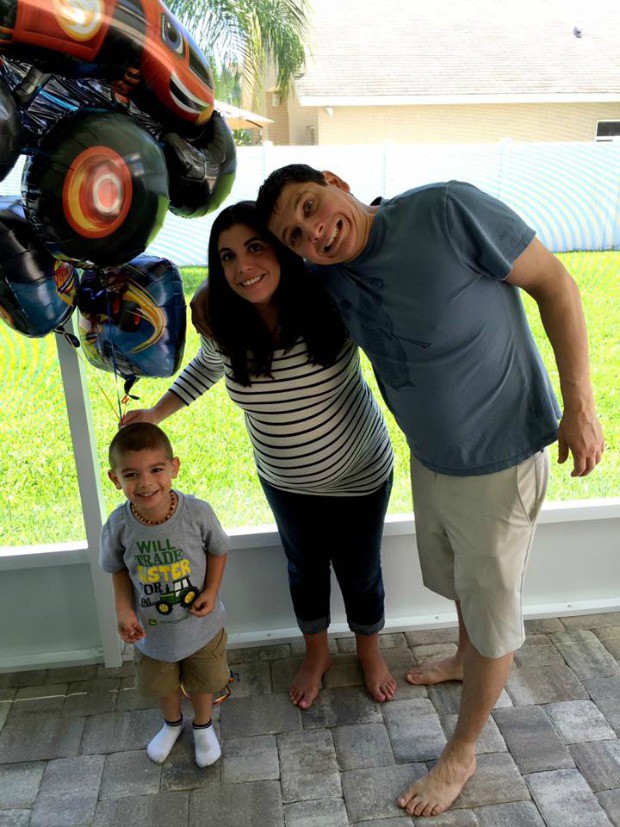 Celebrating my best friend's son's 3rd birthday!
It's the final countdown! (And now you have that song stuck in your head.) (If you didn't, I'm sure you do now, right? Heh heh.)
Just two more weeks until the official due date and on Tuesday, the doctor will check if I'm dilated and if so, by how much. My last appointment left me feeling wonderful. Because I hate visiting the doctor's, no matter what for, I always have some measure of anxiety just walking into the place, but all of the doctors make me feel very comfortable and more than one have commented on the fact that I have had a medically perfect pregnancy. Woooo!
Which means, even with my love of the french fry, I am doing everything right and Max boy is progressing exactly as he should. Labs, those damn urine checks, measurements, blood pressure, weight gain – it's all exactly where it should be. I don't often salute myself for a job well done, but let's just say I pat myself extra hard on the back that day.
In the end, I'll do anything to make sure I'm healthy and therefore, my baby is healthy, even while Chick-Fil-A calls out my name on the regular. Those waffle fries doe!
Other updates/thoughts:
My hospital bag is 100% packed, even down to what I'm referring to as my "big" luxury item because it's probably totally unnecessary, but I hear, great to have: Rose water spray. I tried it out and it was so refreshing and smelled lovely. Plus, it was only $7 for the bottle. Mario Badescu is the best.
I heard a really horrific birth story from a friend the other day and, as terrible as I felt for her ordeal, she was so encouraging and I wasn't actually scared after hearing the details. Thanks, Sara!
The food-making items are still on the nursery floor. Guess I should get to organizing that…
We finally have the car seat installed. Now I feel a lot better. Also, we have a coming home outfit for Max. It's Where the Wild Things Are themed, of course.
The one thing I have wanted to see, but have not, is a Max hand or foot. I feel them squirming around in there, but do I just have really thick belly skin? Is seeing a body part a lot less common than I realize? There are times that he's taekwondo-ing so hardcore in there, I'm thinking that surely a foot is protruding, perhaps even completely through to the outside world, but nothing… Show me the toesies!!
We had our maternity photos done this past Thursday! Can't wait to share!
Other than all that, I hope to get back to making new recipes one day soonish. It takes everything in me to come home and cook dinner, much less photograph and set all that up. Until then, just click on over to my recipes and take a gander!
2 Responses to "Pregnancy Update: 38 Weeks"

Leave a Comment