Pregnancy Update: 37 Weeks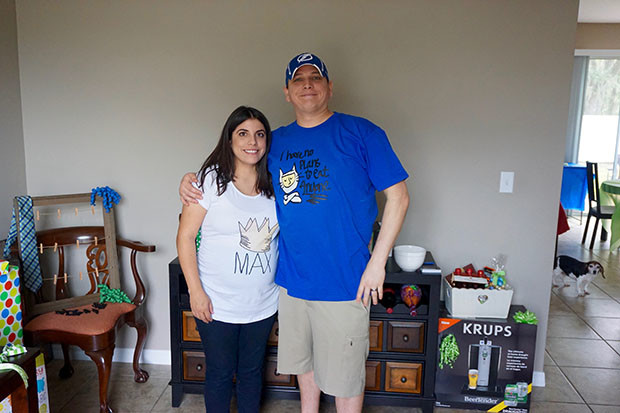 From my shower: 31 weeks along
I'm officially 37 weeks along today. If that's not crazy, I don't know what is.
At this point, the questions I get asked the most are:
Are you so ready to be done? Yes, of course I am! No woman wants to be walking around and laying with this watermelon in their mid-section all day long. But then I follow that up with my statement that I hope reversed any jinx I may have just put on myself: "BUT we want him to cook as close to 40 weeks as we can!"
Are you having contractions? Also yes. But barely. Just some light cramping that happens about once a day. Nothing to pay too much attention to quite yet.
Is the nursery ready? Yes and no. So if baby Max came today, he'd have a place to sleep and soothing sound things and a place to have his diapers changed and plenty of clothes (and I mean plenty, trust me). I also have what I need for breastfeeding. However, my hyper organized self is still reeling at the items I have to organize just for general peace of mind, like all the things I received to make Max's food, and those things that I can't decide if I should have storage for them, or do they go in my diaper bag backpack? Unsure how this works.
Are you working up until delivery? Are you actually going back to work once your 12 weeks FMLA are over? Yes to both!
+ Other than that, I'm amazed that a full size baby is inside my belly. His length is set and now he's just packing on the fat (I hope he has big cheeks like his dad did). I try to imagine what 19-21 inches in length is and how Max is possibly that long, like where does he all go???, and it's hard to visualize. He's most definitely there, though, just kicking my ribs and rolling around like he's having a grand ol' time. 
+ With that being said, I know I'll miss the belly movements. I won't miss not being able to see my feet, but the movements are one of my favorite things. It's funny, but when anyone besides me touches my stomach, Max isn't too much of a fan. He'll stop moving right then and there, unless you're really really patient and wait it out until he starts moving again. Stubborn little thing…I guess that's what happens when you're a product of a Taurus and a Scorpio…
+ I am still trying to imagine how labor and delivery is actually going to go down and I just cannot. It's already too surreal to comprehend; I hope when the time comes I'm, like, transported to another dimension and am all acting outside of myself only to come back to reality when a baby is being placed on me. Just typing that whole thing gave me a stomach ache. Impending labor is scary!! I should note that I have a pretty low pain threshold, which does not bode well for my immediate future. By the way, in just a span of a week, I went from being more scared of an epidural needle and contemplating not even getting one to being more frightened of the laboring process itself, which I guess is a little more normal.
+ Mike and I have official guesses for delivery date. He says Friday, April 29th and my guess is Sunday, May 8th, mostly because I would love to celebrate Mother's Day in the best way possible by being all "I AM WOMAN, HEAR ME ROAR" (literally), but my gut tells me May 2nd. No matter what, it's true what they say: the last month of pregnancy goes by soooo incrediblyyyy slowwww.
7 Responses to "Pregnancy Update: 37 Weeks"

Trackbacks/Pingbacks

Leave a Comment