National Sushi Day | Tempura DJ Sushi Roll
For National Sushi Day, I'm doing things a little differently and reusing a previous post. You see, for National Tempura Day, I visited my most favorite local sushi joint, Takara Sushi & Sake Lounge, where the gracious co-owner Eugenia allowed me into her kitchen to learn to make tempura veggies and my favorite sushi roll, the DJ.
What resulted from that experience was an awesome National Tempura Day with two different recipes. I very rarely do that, having only done so for National Pound Cake Day, and plan on doing the same for National Zucchini Day because I've been given some wonderful recipes from my friends and family to share.
Here is how my time at Takara Sushi & Sake Lounge was:
These pictures may make this look easy. But, it's totally not, and I had to get help several times, but it was so much fun and I can't wait to do it again!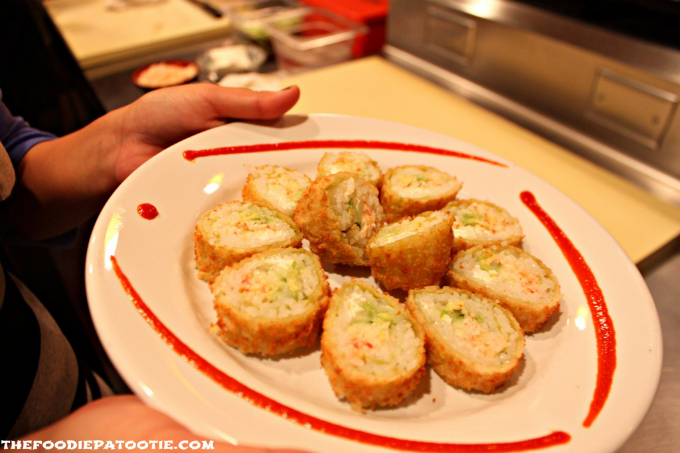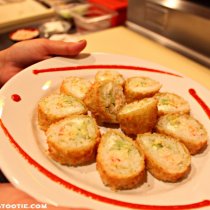 Tempura DJ Sushi Roll
Ingredients:
Crab salad
Avocado slices
Cucumber, julienned
Cream cheese
Soy paper
Steamed white rice
Panko breadcrumbs
Directions:
Lay out a piece of soy paper. Place a handful of rice horizontally in the middle of the soy paper. Smooth out slightly to create an even layer, expanding rice up and down from center.
Place bits of cream cheese over the middle section of the rice, smoothing out slightly.
Position cucumber slices on either side of the rice. Place avocado slices on top of cucumbers.
Lightly wet upper and lower edge of soy paper with water. Roll sushi.
Lightly flour the DJ roll, dip in tempura batter, and roll over Panko breadcrumbs. Fry in hot oil for a minute to a minute and a half until golden brown.
One Response to "National Sushi Day | Tempura DJ Sushi Roll"

Leave a Comment