National Sacher Torte Day | Chocolate Chip Sacher Torte
I woke up really early this morning for some unknown reason. Same yesterday morning. And I've been churning out these blog posts and feeling really productive by the time I even have to get out of bed and start getting ready for work. Then I'm taking the dog on a nice leisurely stroll and catching up on blogs and get to these edible gingerbread terrariums that I was in awe of and I realized that Molly Yeh is the epitome of productive because these adorably perfect terrariums are no freaking joke. And I had this realization when I was under the impression that the succulents in there were real and so I'd have to eat around them (it was early, okay??), but no, they are real…real marzipan, that is! I thought: Okay, Ms. Yeh (soon to be married!!!!!), you tell me who has time for this? 'Cause look at them!!! Really, go look! So, anyway, I'm all walking outside and contemplating my life when I see that these terrariums aren't as difficult and crazy as I had originally assumed. They just take some patience and creativity, so really, they are totally doable!! And look completely intimidating, but they really aren't.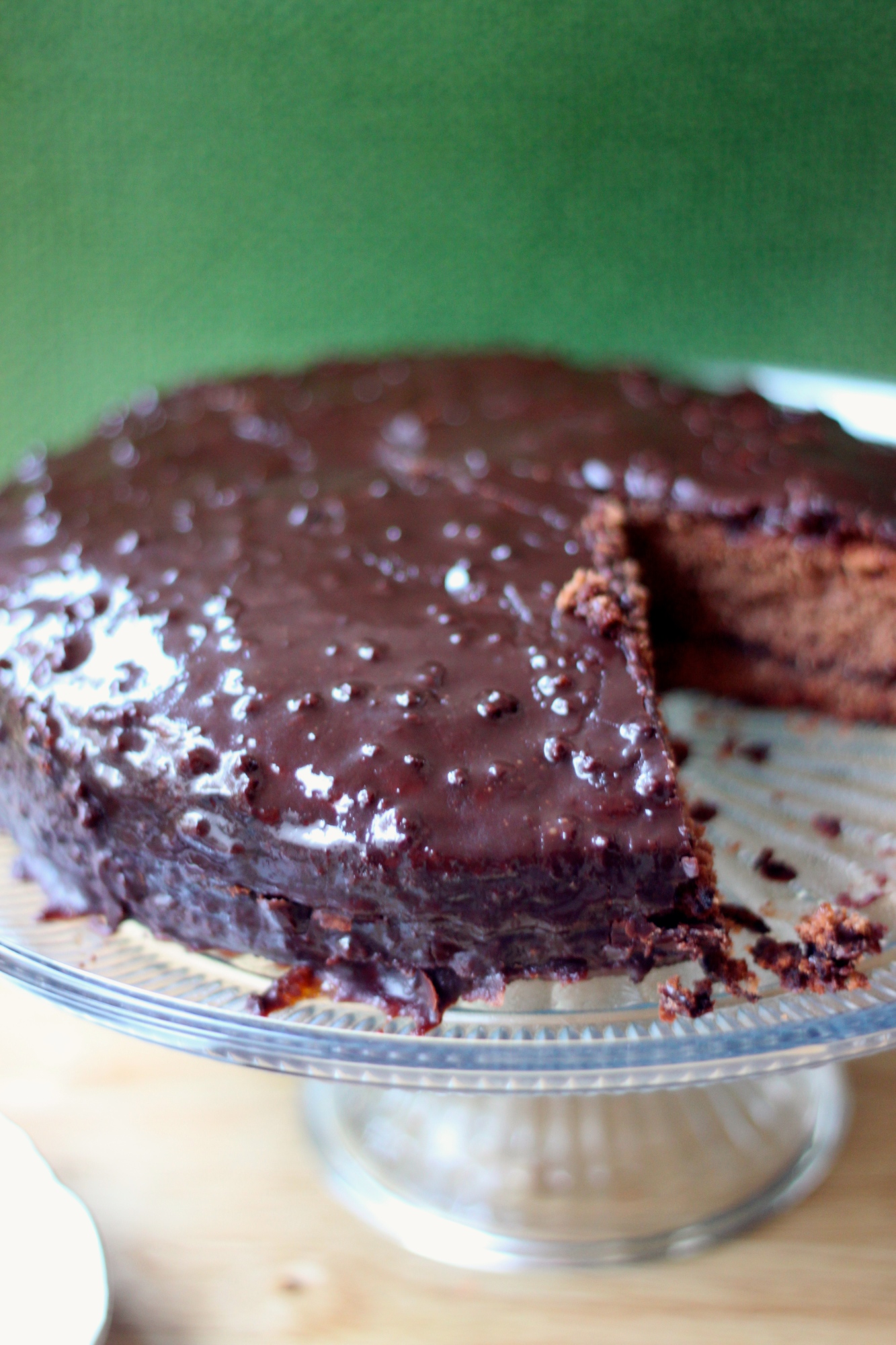 It's like sacher torte. It's a dense (in a good way) cake that you have to be very careful about if you want it to have the look it should have, which is an almost fondant-like quality, a very smooth chocolate icing. Which is why mine is called Chocolate Chip Sacher Torte. There are clearly some chocolate chips in the icing because I pulled the melted chocolate off of the stove too early. Oh well, just think of them as adding a new texture?
To be fair to myself, the cake is spot on. I was so worried about being productive and getting a bunch of recipes done, I didn't care the care needed to make it perfect. But it's perfectly mine, because this is how I roll. Happy National Sacher Torte Day!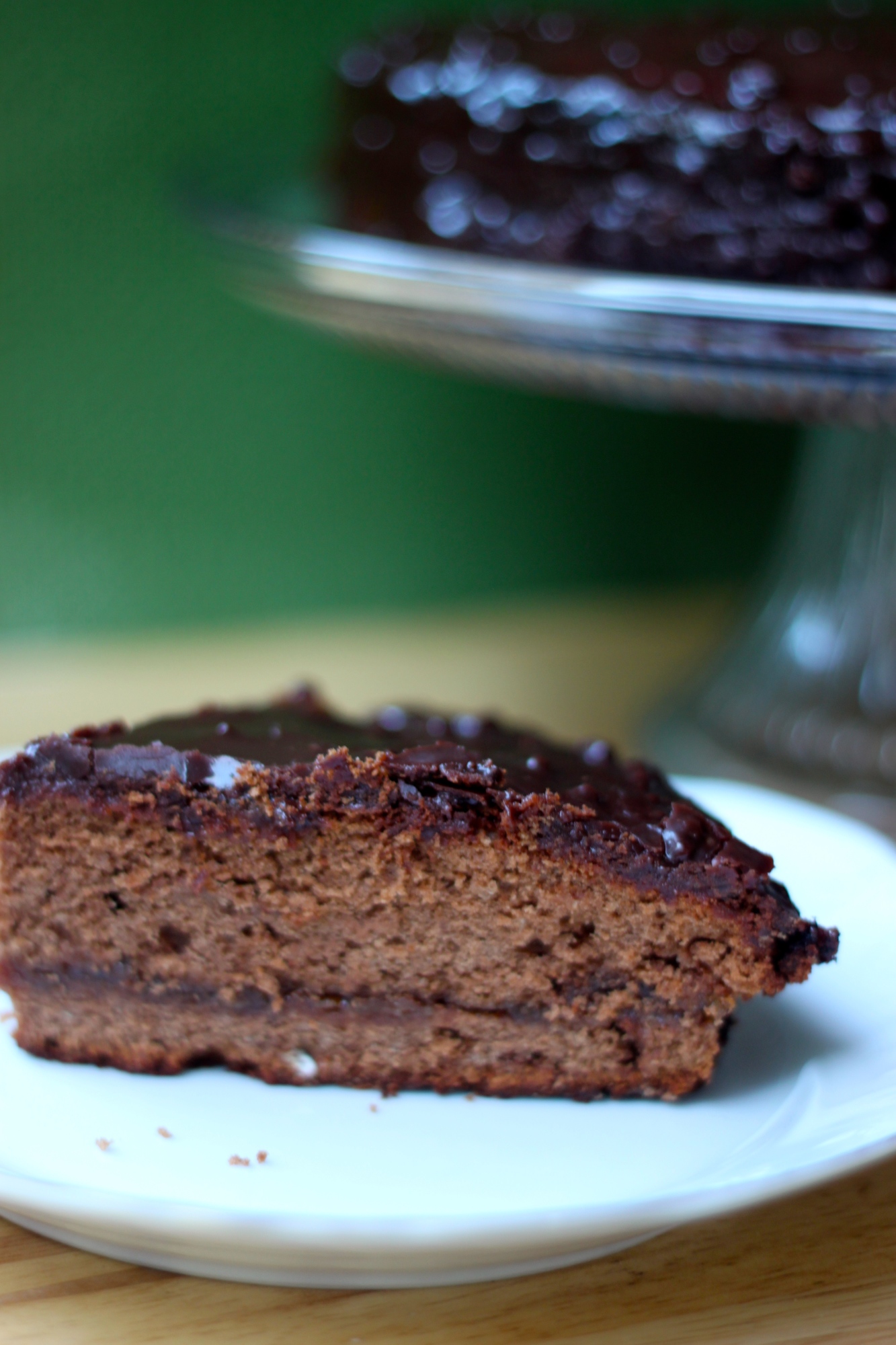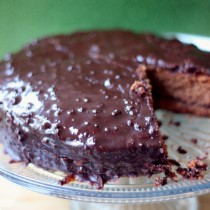 Chocolate Chip Sacher Torte
Ingredients:
Torte
4 1/2 ounces high-quality bittersweet chocolate, finely chopped
9 Tbsp unsalted butter, room temperature
1 cup confectioners' sugar
6 large eggs, separated, room temperature
1 tsp vanilla extract
1/2 cup granulated sugar
1 cup all-purpose flour
Apricot Glaze
1 1/4 cups apricot preserves
2 Tbsp water
Icing
1 cup sugar
1/2 cup water
4 ounces bittersweet chocolate
Directions:
Torte
Preheat oven to 400*F.
Lightly butter a 9-inch springform pan and line the bottom with a round of parchment or wax paper. Dust the sides of the pan with flour and tap out the excess.
Melt the chocolate in a double boiler or in a microwave-safe bowl on medium. Remove from the heat and, stirring often, allow to cool.
In the bowl of a stand mixer, beat the butter on medium-high speed until smooth, about 1 minute. Change speed to low and beat in the confectioners' sugar. Return the speed to medium-high and beat until light in color and texture, about 2 minutes. Beat in the egg yolks, one at a time, scraping down the sides of the bowl. Beat in the chocolate and vanilla.
In a separate, large bowl, beat the egg whites and granulated sugar together with an electric mixer on high speed just until they form soft, shiny peaks. Do not overbeat. Stir 1/4 of the beaten whites into the chocolate mixture to lighten it, then fold in the remaining whites, leaving a few visible wisps of whites. In increments, sift the flour over the chocolate mixture, and fold in with a rubber spatula. Spread evenly in the pan.
Bake for 45 minutes, or until a toothpick inserted in the center comes out clean. Allow to cool on a wire rack for 10 minutes. Remove the sides of the pan, and invert the cake onto the rack. Remove the paper and re-invert on another rack to turn right side up. Cool completely.
To assemble: Using a long serrated knife, trim the top of the cake to make it level. Cut the cake horizontally into two equal layers. Place one cake layer on an 8-inch cardboard round. Brush the top of the cake layer with the apricot glaze. Place the second cake layer on top and brush again. Brush the top and sides of the cake with the remaining glaze. Transfer the cake to a wire rack placed over a jelly-roll pan lined with waxed paper. Let cool until the glaze is set.
At this point, make the chocolate glaze (it must be freshly made and warm). Pour all of the warm chocolate glaze on top of the cake. Using a metal offset spatula, gently smooth the glaze over the cake, allowing it to run down the sides, being sure that the glaze completely coats the cake. Cool until the glaze is barely set, then transfer the cake to a serving plate. Refrigerate until the glaze is completely set, at least 1 hour. Remove the cake from the refrigerator about 1 hour before serving.
Apricot Glaze
In a small saucepan set over medium heat, bring the apricot jam and water to a boil. in a small saucepan over medium heat, stirring often. Cook, stirring often, until the last drops that cling to the spoon are very sticky and reluctant to leave the spoon, 2 to 3 minutes. Strain through a wire sieve into a small bowl, pressing hard on the solids. Use warm.
Icing
In a medium saucepan over high heat, bring the sugar, water, and chocolate to a boil, stirring occasionally. Reduce the heat to medium and cook, uncovered, stirring until the mixture reaches 234*F on a candy thermometer, about 5 minutes.
Remove from the heat and stir to cool and thicken slightly, about 1 minute. Pour over torte immediately.
2 Responses to "National Sacher Torte Day | Chocolate Chip Sacher Torte"

Leave a Comment