A Savory Spice Tasting Menu at Don CeSar's Maritana Grille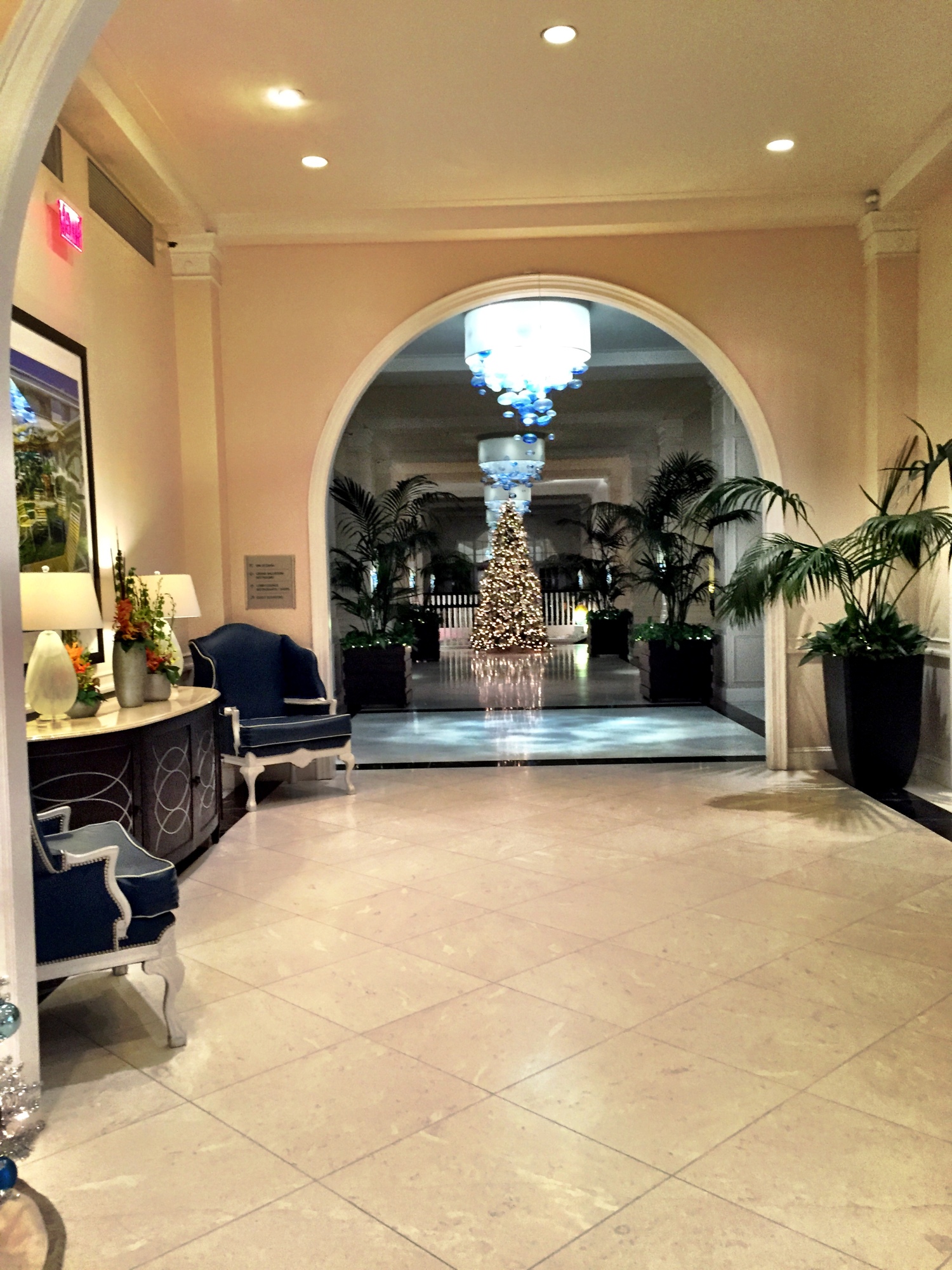 You know when you love two things equally and you have your relationship with one thing and it's separate from the other thing, though equal? Well, my life was like that, but now, it doesn't have to be. I won't hold you in suspense any longer. I had the opportunity to check out the new Savory Spice menu at the Don CeSar's Maritana Grille on St. Pete Beach, and it was a treat!!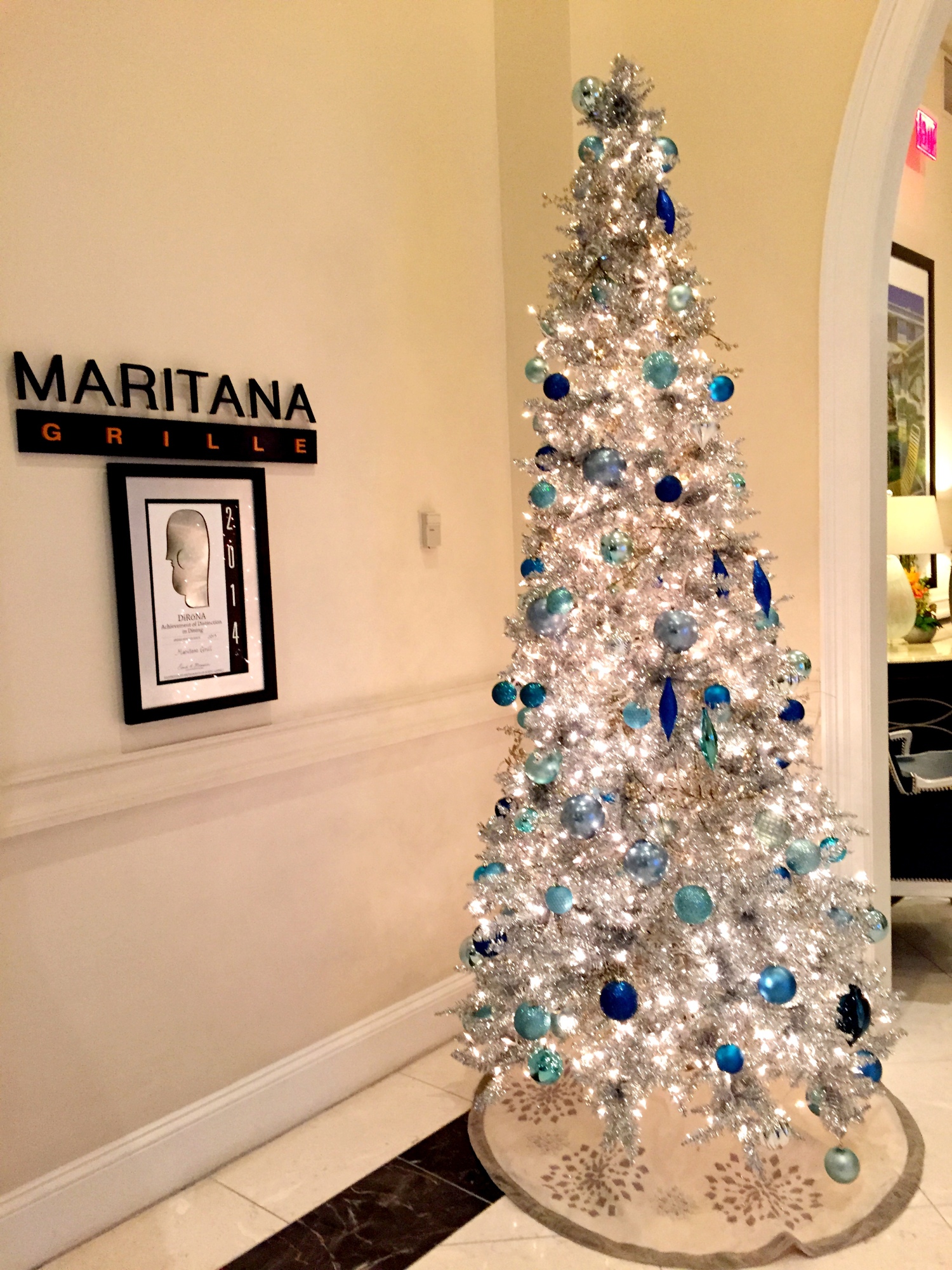 I enjoyed myself even more because Savory Spice has a special place in our home. We buy new, fun spices from there pretty frequently, but also, as we run out of "normal" spices, we make the trip to Savory Spice for more. It's insane, the amount of spices they have there. I checked them out a while back now and I think I was there for half the day with mouth hanging open in the awe of the store. Now, we can't make our homemade popcorn without their Ghost Pepper Salt. Also, Paul (owner) is pretty rad, always coming up with new combinations for us to enjoy, and suggestions on what food to make with them. He's always willing, and excited, to have you try spices, and there's always treats available to try. One of the best things about Savory Spice is that they have printed recipe cards all around the store that you're free to take! My prior post on Savory Spice gives you even more information about the store. Check it out!
THEN I am a huge fan of Don CeSar. I mean, I had an ah-mazing brunch at their Sea Porch restaurant (BAKED HAVANA EGGS, PEOPLE!!!), and an equally great stay that night in a corner room with a view of the beach. This was during our first wedding anniversary weekend (sunset beach recap here) and unfortunately, due to a new job and not enough vacation time accrued, we had to leave the next morning, but I really didn't want to. I had this internal temper tantrum at the unfairness of it all – of not being able to lay on the beach all day, walk the wake so my feet feel the ocean, maybe I would've gotten crazy with some water activities (although I almost killed my husband and I during our honeymoon when we decided to take a catamaran out).
So here's the deal. Savory Spice and Maritana Grille teamed up to create a new tasting menu. And this menu takes the wonderful food you can find at Maritana Grille, like different seafood and specialty meats, and pairs them with exotic and organic spices. Maritana Grille is a staple in Tampa Bay's culinary scene because they are committed to providing locally sourced cuisine; the partnership with Savory Spice reiterates their commitment to everything local.
Maritana Grille identifies as a seafood restaurant, but for those who aren't too fond, there's plenty of other choices for you. Just take a gander at their menu and see for yourself! The four-course Savory Spice inspired tasting menu is very diverse, offering both land and sea options, and if you're a wine lover like I am, you'll get the wine pairing too!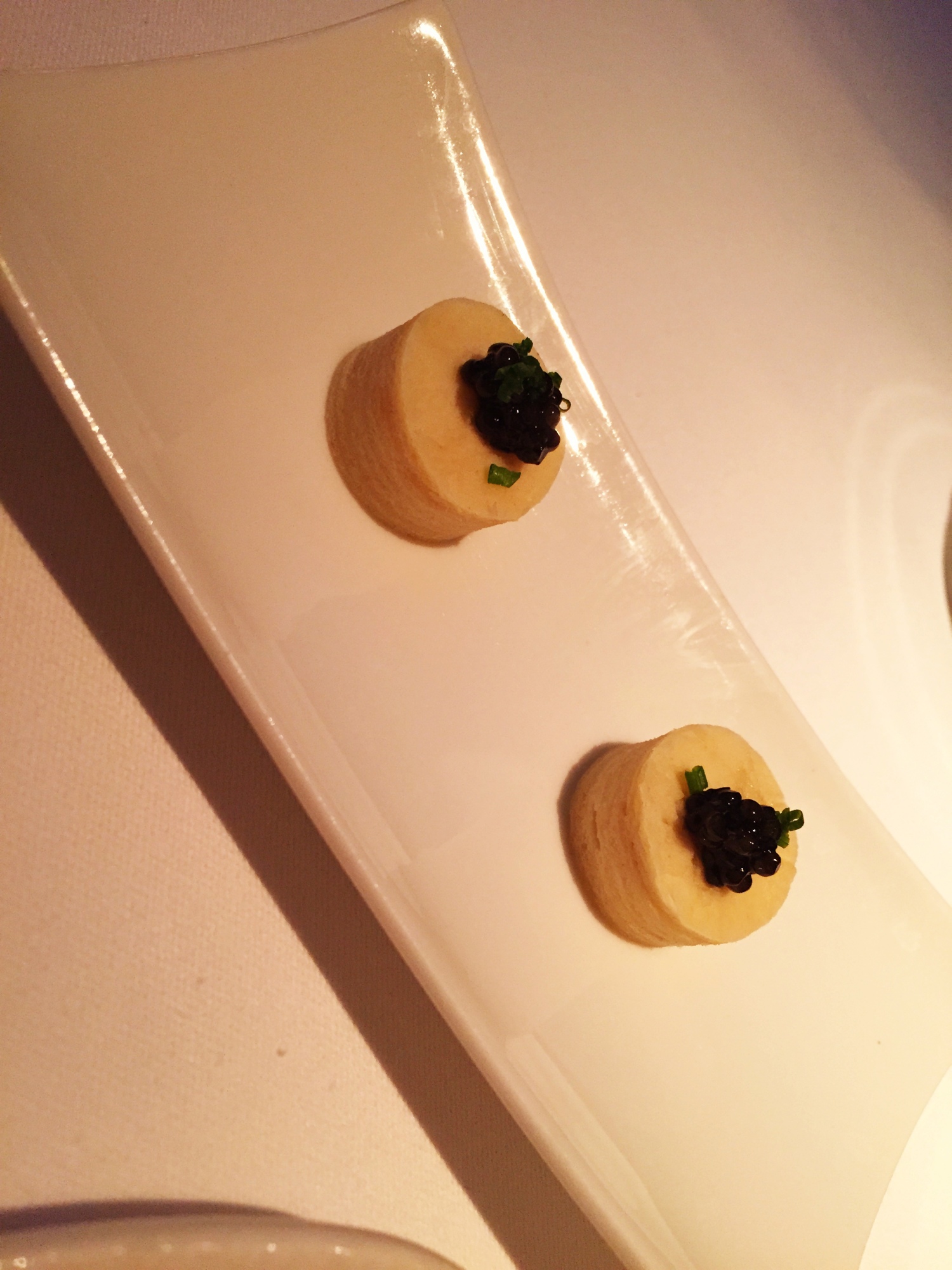 This amuse bouche was like a bite-sized WheatThin. Granted, WheatThins aren't exactly as nice as Maritana Grille is, and I'm kind of embarrassed to be comparing this fancy thing to a snack cracker, BUT that's as close as I can get to describing how it tasted. It's a mini crepe cake with creme fraiche filling and caviar on top.
For the first course, you'll have a choice between Jamón Iberico and Marlin Sashimi.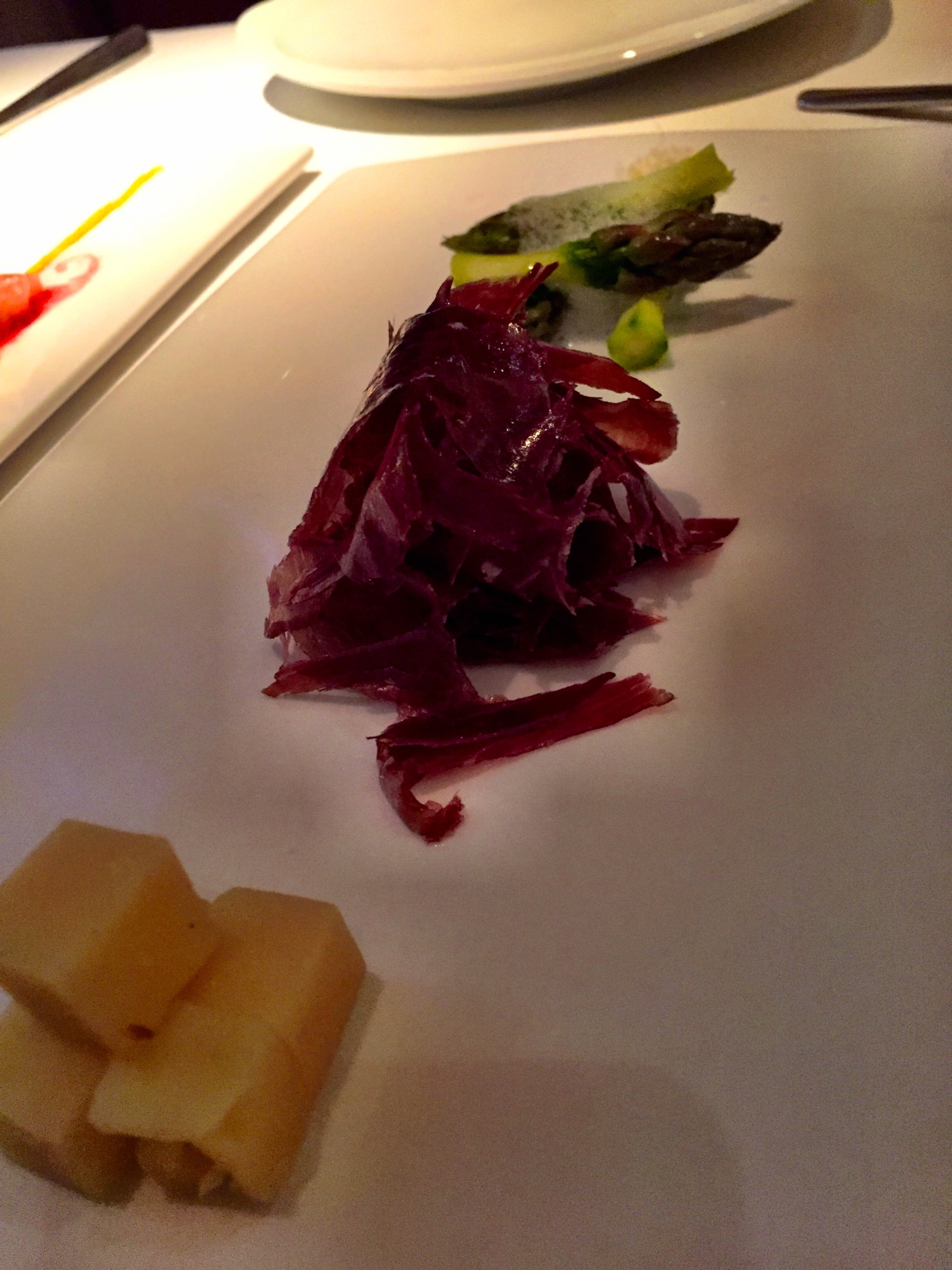 The Jamón Iberico from Spain is considered to be the finest cured ham in the world, retailing for about $100 per pound. I love cured meats. I'm Italian! We have all kinds of cured lovelies that I could eat on a daily basis.
With: occoch mountain, asparagus, radish sprout, lemon emulsion
Savory Spice: melina international olive oil, lemon grass
Paired with: chenin blanc, 'champalou, vouvray, fr 11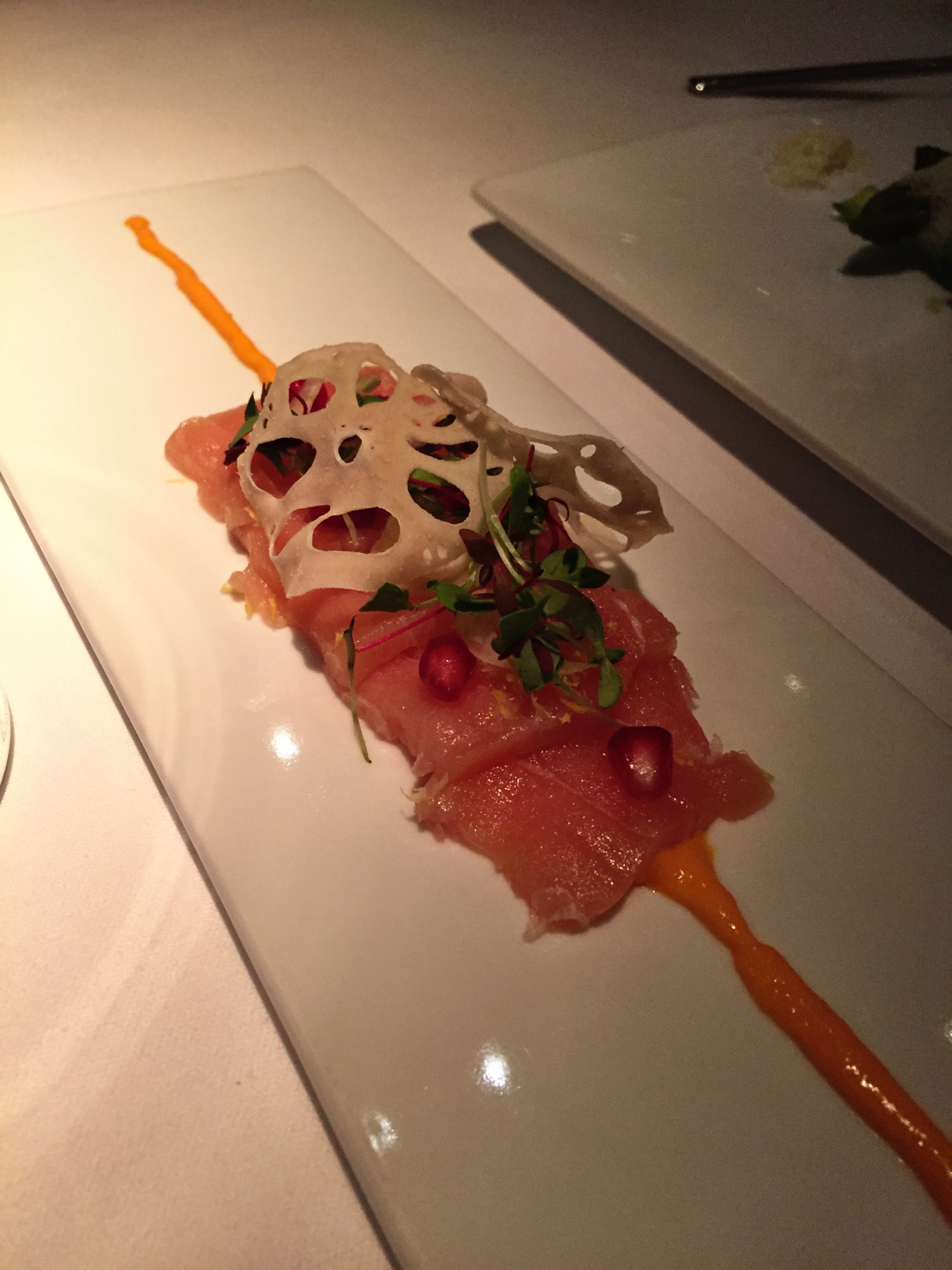 The Marlin was an interesting one as it's unlike anything I've ever had. The only uncooked fish I've had is a couple bites of tuna. I'm not as on the up and up when it comes to seafood as some of my foodie counterparts. (I'm still getting used to scallops.) This marlin was remarkable.
With: chilies, coconut, lotus root, pomegranate
Savory Spice: thai chilies, coconut oil
Paired with: sauvignon blanc, vincent delaporte, sancerre, fr 12
So from the first course, I personally loved the ham, but my husband preferred the marlin. You can't go wrong with either one, there are no bad choices.
Second course, choice of: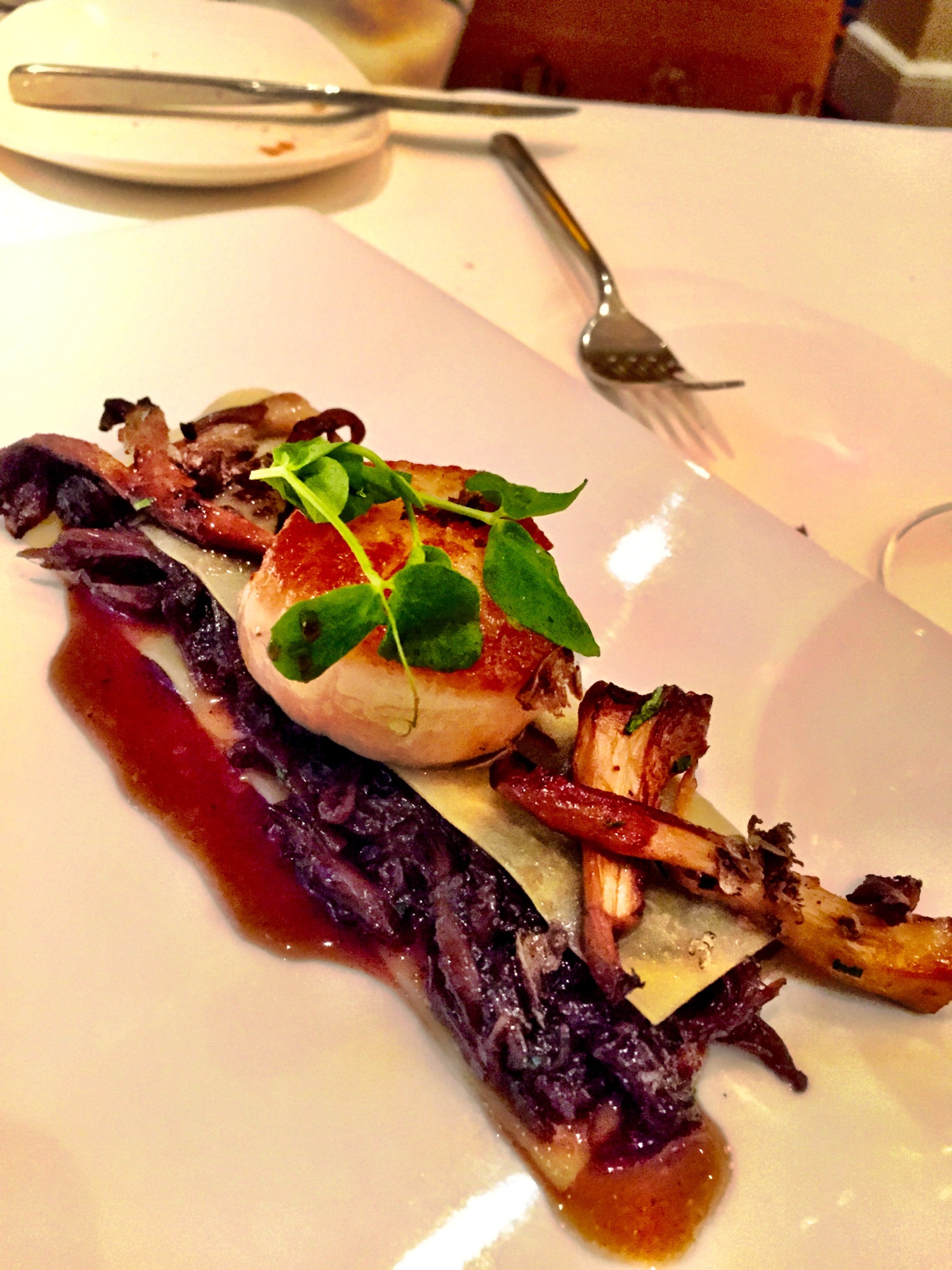 Diver Scallop. Funny I just mentioned scallops 'cause then I ate half of this one (my husband and I split all of the tasting menu). It was the scallop that may very well turn me onto scallops. More importantly, it was over an open oxtail ravioli that was one of my favorite parts of the entire meal. We had oxtail gnocchi the other night from an Italian restaurant in Tampa and it was insanely delicious. Same here. I wanted more and more.
With: ox tail "ravioli", black truffle, chanterelle, cabernet jus
Savory Spice: italian black truffle sea salt, porcini mushroom
Paired with: proprietary blend, craggy range, 'te kahu – gimblet gravels,' hawkes bay, nz 11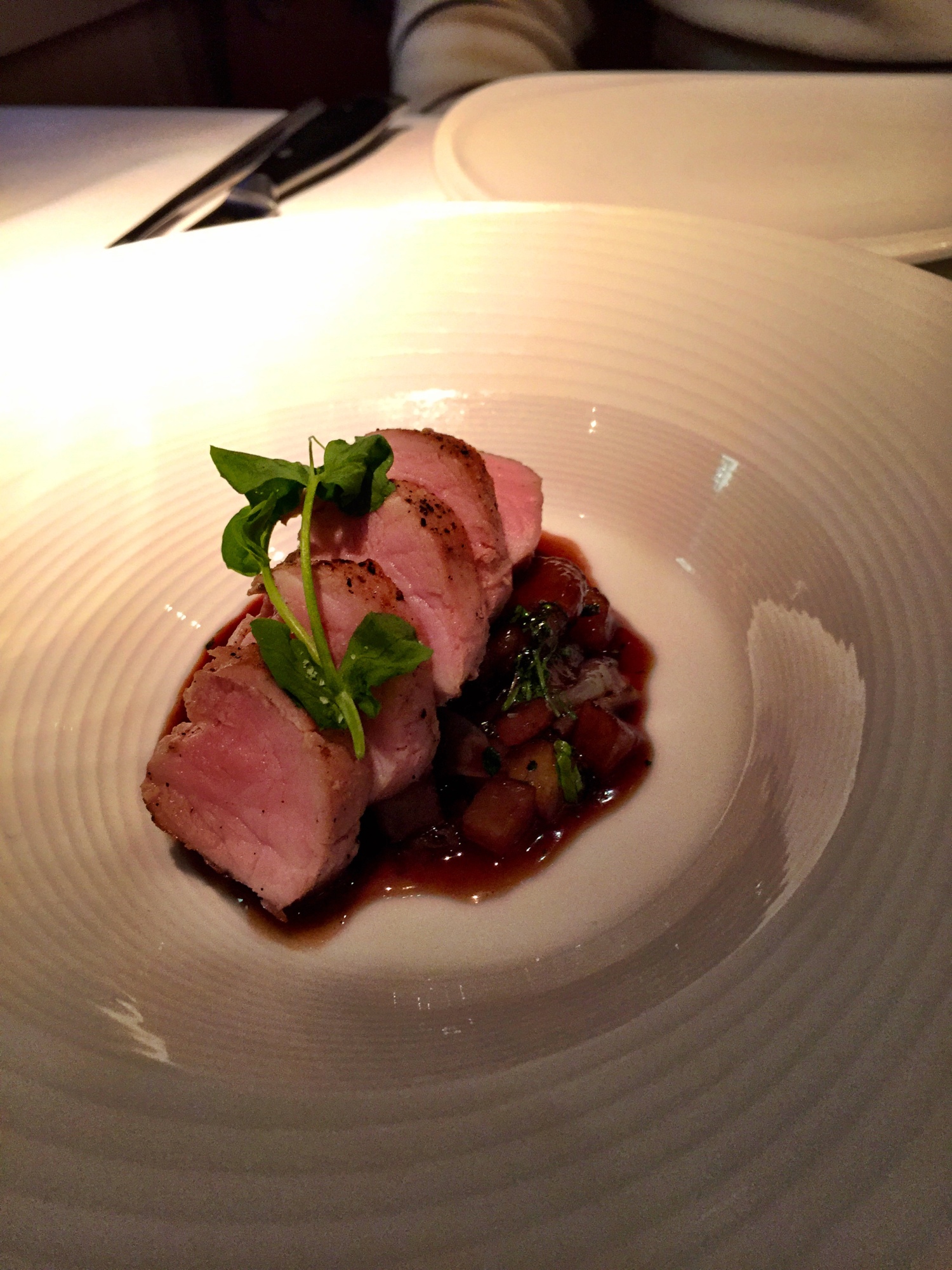 Palmetto Creek Pork. Now this, my friends, was my absolutely favorite dish of the night. First of all, pork is a great meal, so much flavor and pairs well with a lot. Everything about this dish was sheer perfection and basically, I didn't really share this one too much with Mike. I wanted it all to myself.
With: pumpkin gnocchi, quince, brown butter, rosemary, bourbon
Savory Spice: pumpkin spice, star anise
Paired with: zinfandel, joel gott, ca 11
For the third course, you have a choice of: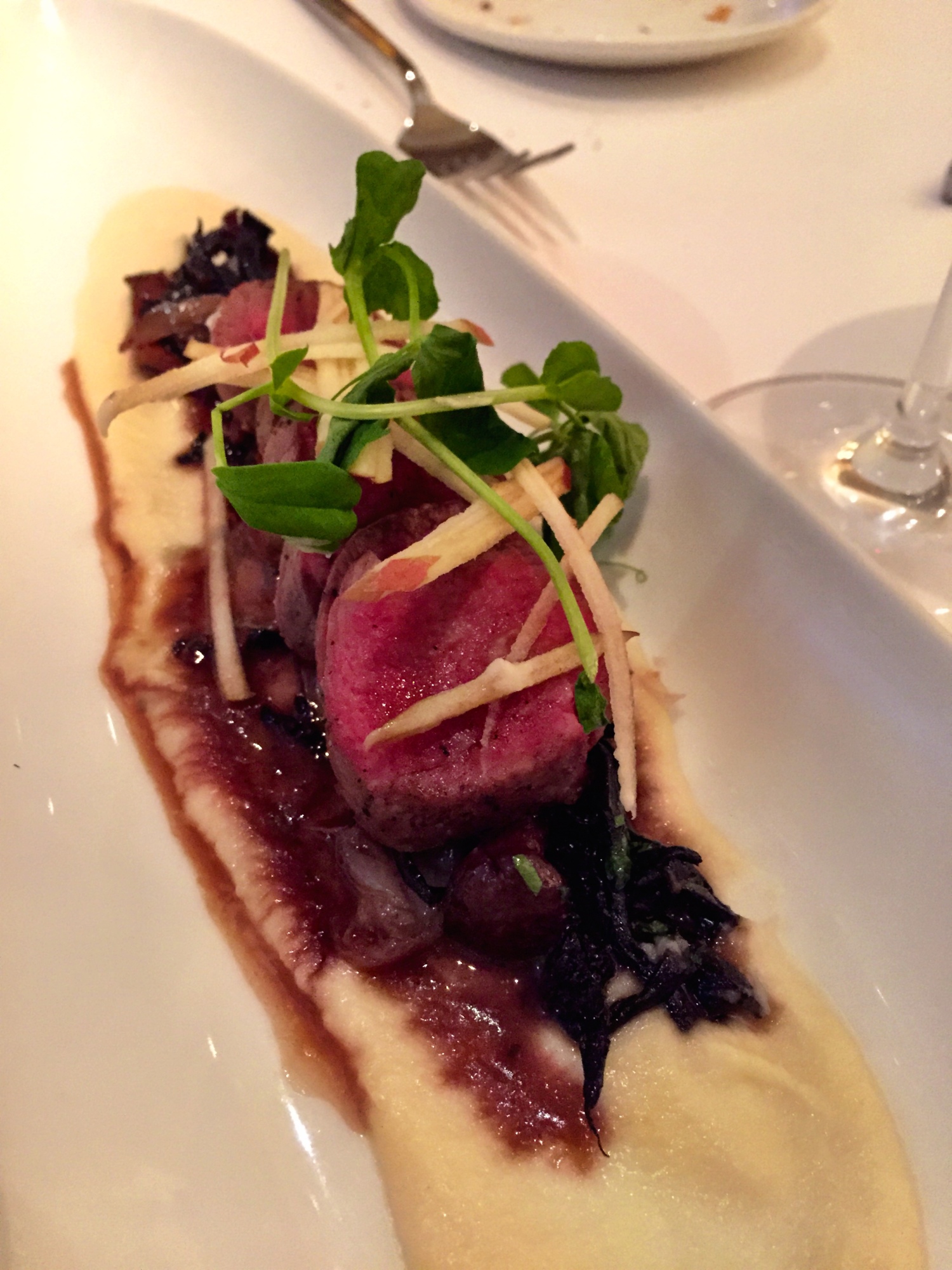 Anderson Ranch Lamb Rack. Truthfully, I wanted to keep this dish to myself too. I didn't want to share delicious. In the end, I believed my husband also deserved to have some, but I wanted to take this dish in my arms and never let go.
With: celeriac, fiji apple, foraged mushrooms, glace onions, sherry
Savory Spice: fennel pollen, maldon sea salt
Paired with: pinot noir, orogeny, 'green valley,' sonoma 11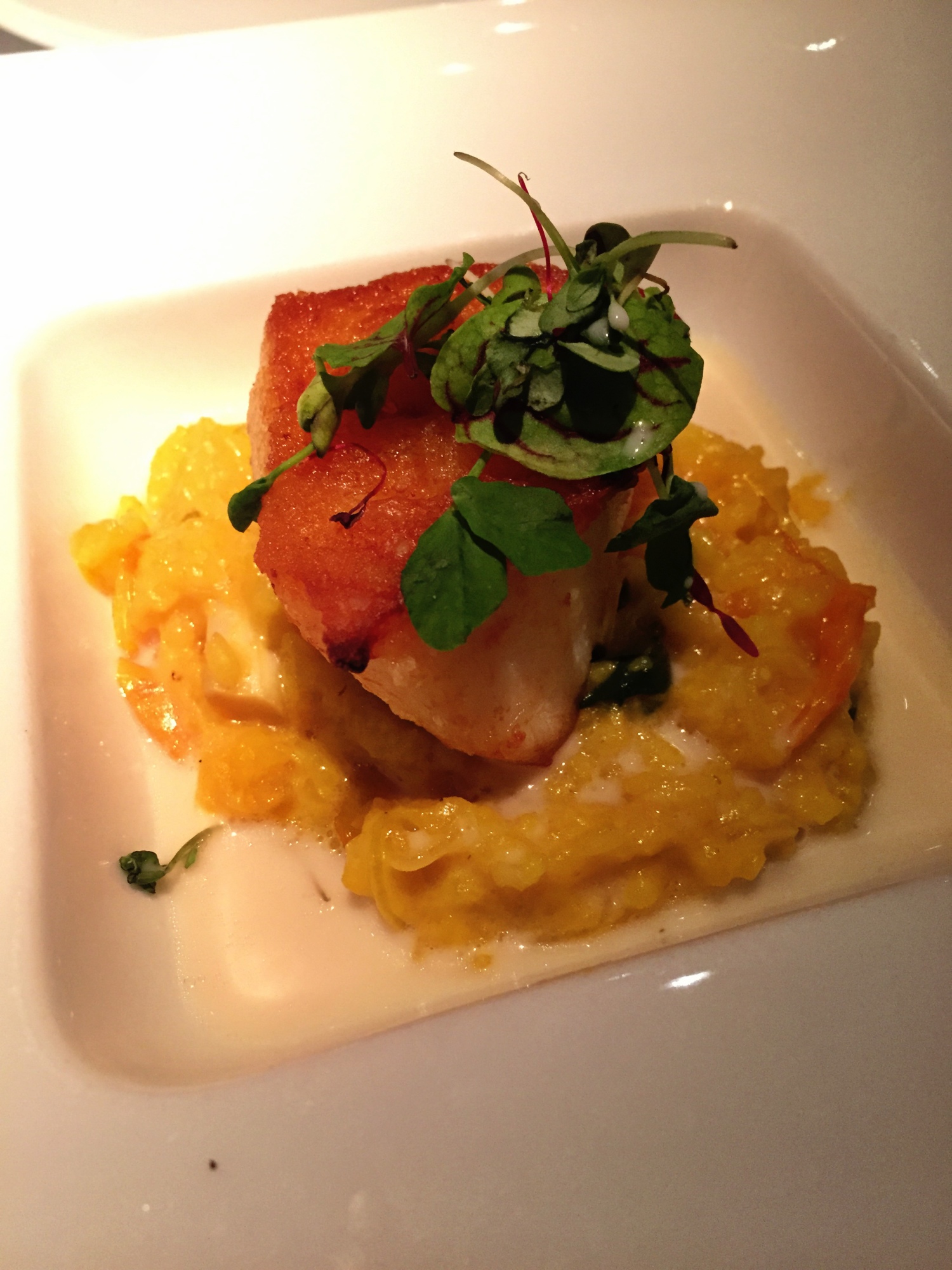 Sea Bass. I've had sea bass before and it's been great. I've also had sea bass before and it's been not so great. You can probably guess that Maritana Grille is the former. Oh boy, are they the former. The fish was so flakey and light, and had a really amazing crust. The bed of rice grits speaks for itself too!
With: anson mills "rice grits", saffron, asparagus, chard tomato, lemon verbena
Savory Spice: saffron, lemon verbena
Paired with: chardonnay, 'antica,' napa valley, ca 09
For the fourth course, choose from: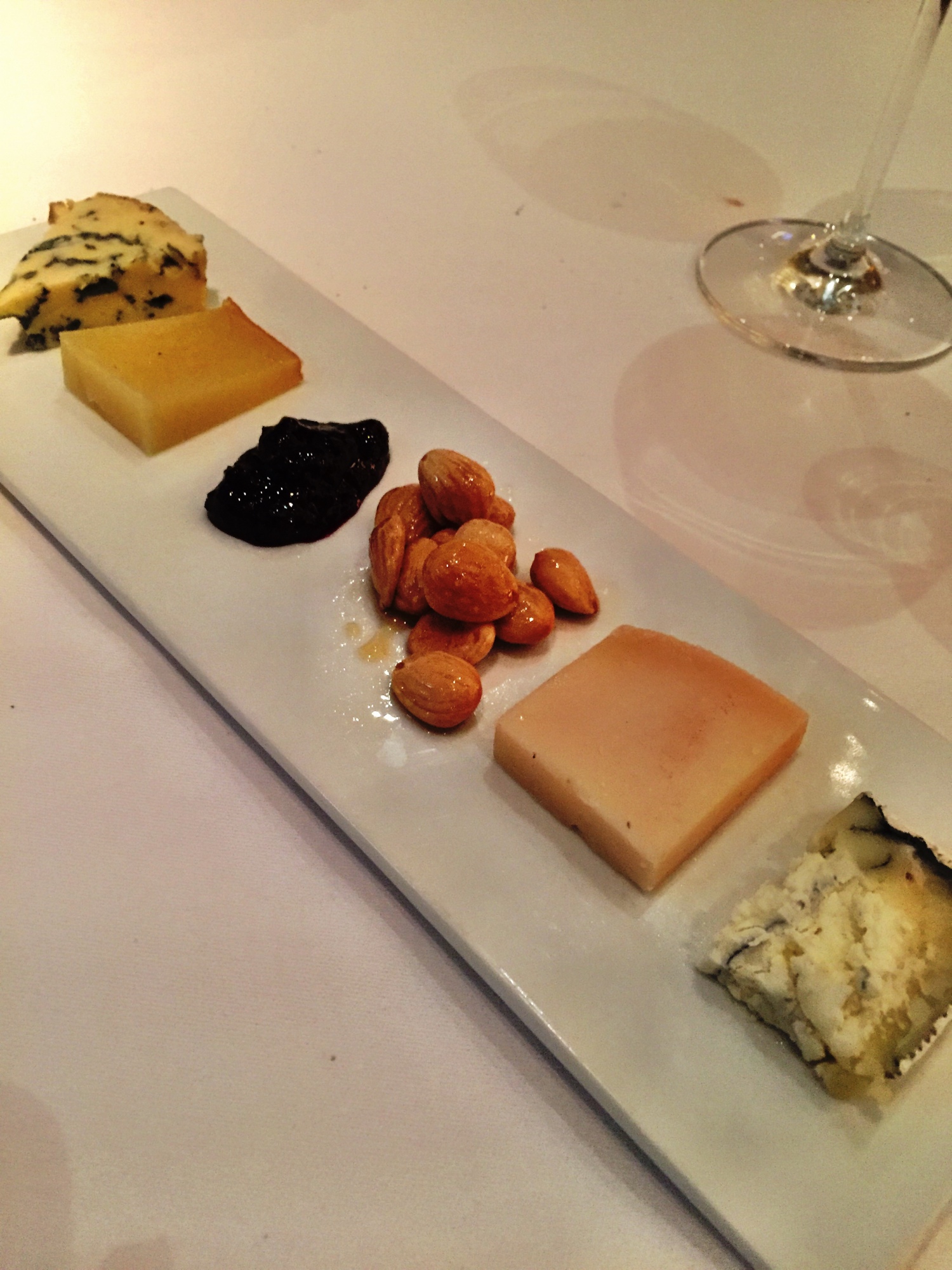 Artisan Cheese with truffle marcona almonds and homemade rose petal jam. Or…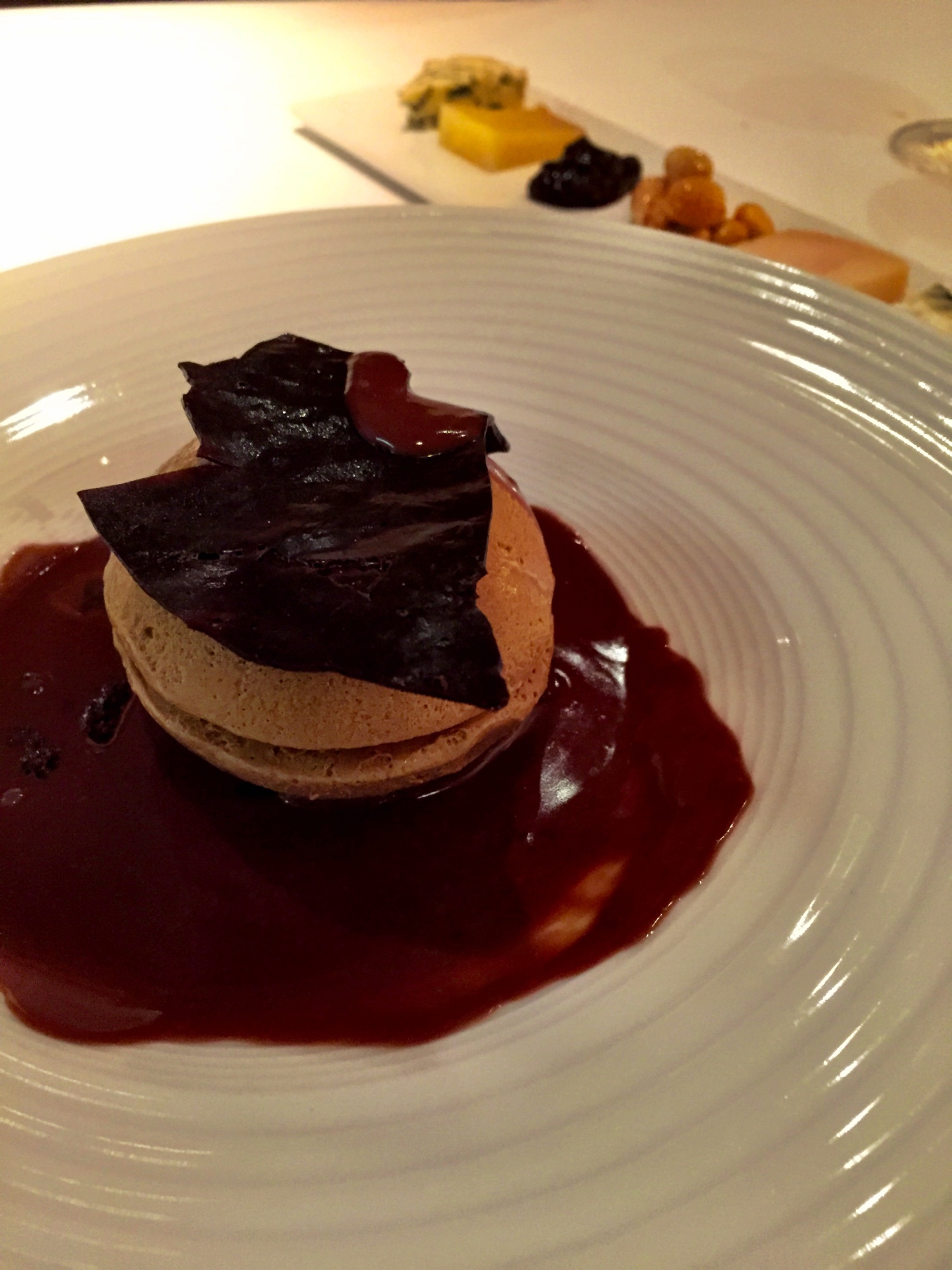 Frozen Espresso Parfait with coffee gelee and spiced hot chocolate.
My favorite was the artisan cheese platter, while Mike preferred the chocolate dessert. It was a close call though, and I usually don't opt for chocolate anything.
The dessert was served with two different kinds of port.
In between two of the entrees, we received some strawberry sorbet as a palate cleanser. I think they should do that and add sorbet to the final course because it was that good.
If you're looking for a date night, family celebration, or business dinner, Maritana Grille's Savory Spice menu is where it's at. So diverse, so refined, yet also familiar and comfortable. It's really a tasting you want to be a part of.
One Response to "A Savory Spice Tasting Menu at Don CeSar's Maritana Grille"

Leave a Comment