National Peking Duck Day | Peking Duck Salad with Orange Vinaigrette
I first tried duck at Seasons 52 in Tampa for an event to promote their autumn menu. I had never tried it before and really didn't want to start, to be honest. However, as a guest at the restaurant and for just being a fan of the place in general, I had to give it a go. And I loved it.
Fast forward to present day and I've had some pretty rad duck wings, duck nachos, and duck tacos. In no time at all, it's gone from having a very "yuck" status to being one of my favorites. Hats off to National Peking Duck Day. I'm sure glad you came along now that I'm more adventurous.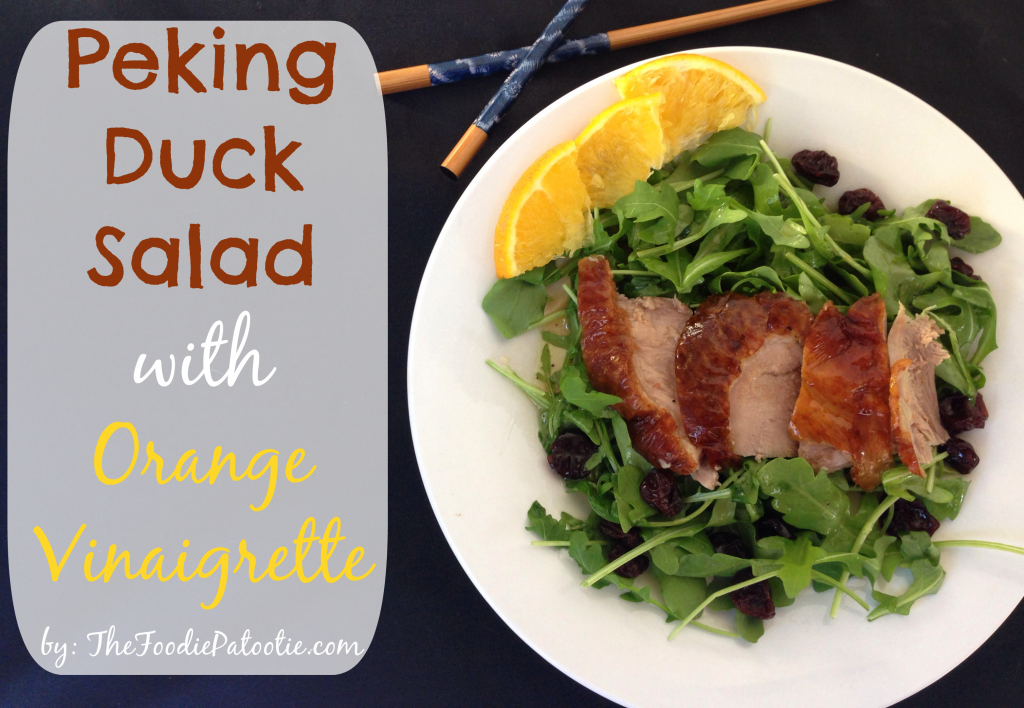 To be honest, I wanted to make my own Peking Duck. I thought that it couldn't possibly be that hard, but when I read what exactly Peking Duck entailed, I got really, really nervous. Sure, I could probably make some crispy duck, but it wouldn't truly be Peking Duck, and I didn't want to pretend like it was. I decided to get Peking Duck from the professionals and then create a salad featuring the bird.
While I was searching for methods, they were all pretty complicated, or at least complicated enough that I just didn't want to try and have it come out awful. You can search for how to make Peking Duck at home, but here are the steps that I left up to someone else:
Pump air under the skin to separate the skin from the fat.
Soak duck in boiling water and then hang up to dry for about 24 hours.
Roast in a hung oven, an oven where ducks hang vertically on hooks above a fire.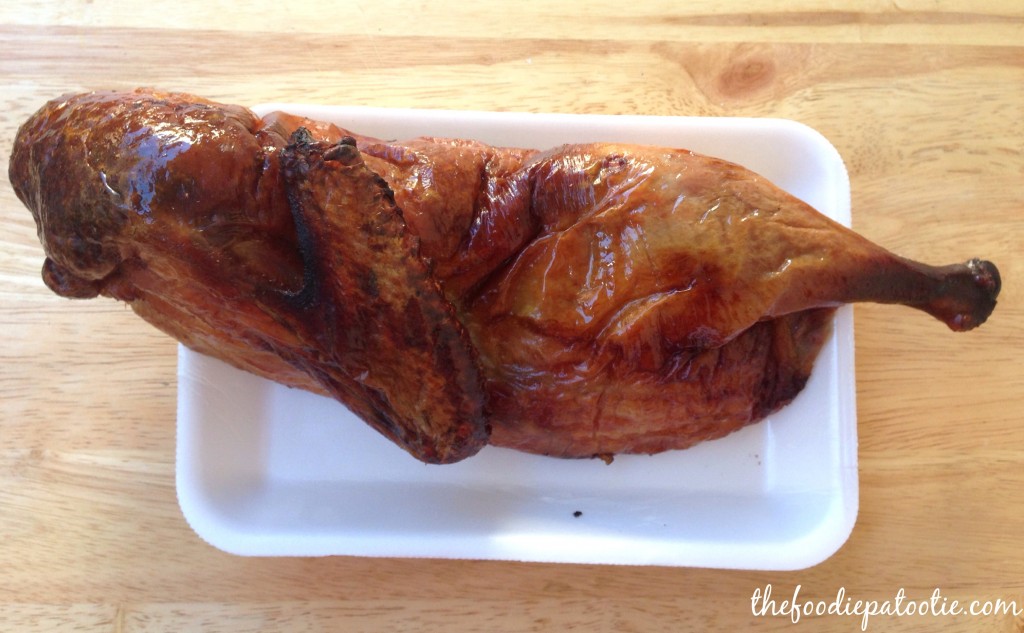 However, I had heard of the best Peking Duck in Tampa being available at an Asian market downtown called Oceanic. I decided to get my Peking Duck from the best (and hopefully you will too the next time you're in the mood!). As a first time shopper, I didn't realize how awesome this place is. I ended up doing $50 in damage, but I got so many things: broccolini, long peppers, habaneros, sugar, flour, chopsticks, aloe drink, candy, sauces and more. This place is unbelievable and either cheaper or comparable to bigger supermarkets. And they had everything there! I will definitely be back.
As we went to the deli, I spied (and snatched up) Singapore Stir-fry with chicken, peppers, and egg, and sautéed bok choy. Most importantly, I saw the hanging ducks, just ready for my consumption. They sell duck in quarter, half and whole sizes, so I purchased the half left over from a previous duck and raced home, giddy all the while.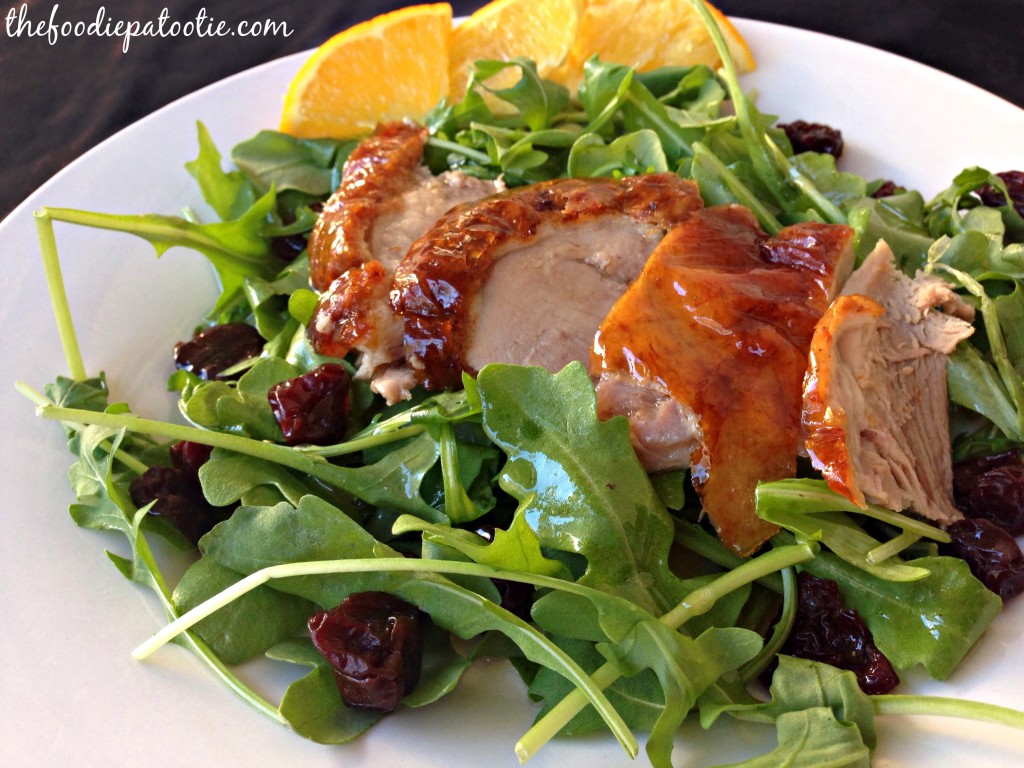 Because I really wanted the duck to be allowed to shine, I didn't create a very elaborate salad. With arugula, dried cherries, and an orange vinaigrette, my lunch was complete.
Have you ever tried duck? What did you think??
National Peking Duck Day | Peking Duck Salad with Orange Vinaigrette
Recipe Type: Salad
Author:
Prep time:
Total time:
Serves: 1 medium salad
Ingredients
Peking Duck, sliced
Arugula
Handful of dried cherries
1 tsp red wine vinegar
Juice from 1/2 large orange
1 tbsp honey
Pinch of salt and pepper
1 tbsp extra-virgin olive oil
Instructions
Arrange arugula on plate or in bowl. Sprinkle dried cherries around lettuce. Place Peking Duck on top of leaves.
To make the dressing, combine red wine vinegar, juice from orange, honey and salt and pepper in a small bowl. Whisk in olive oil. Pour over salad.
DID YOU KNOW: Peking Duck is a famous dish from Bejing, having been served since the Imperial Era, and is now considered a national dish of China. Peking Duck is traditionally served with pancakes, scallions, and hoisin or sweet bean sauce. Peking Duck was first popular among the upper class, but by the mid-20th century, tourists and diplomats had to get their hands on this meat. While Henry Kissinger was visiting China, he was served this duck and it became one of his favorite meals.
Tomorrow: National Popcorn Day
8 Responses to "National Peking Duck Day | Peking Duck Salad with Orange Vinaigrette"

Leave a Comment