National Pancake Day | Oatmeal Wheat Pancakes
Today's topic: PANCAKES!
Pancakes didn't used to be in my list of go-to breakfast foods, but times have changed. After my grandmother's potatoes, pancakes are the breakfast dish I make most often and I know I'm getting the perfect texture down. But I've never had whole wheat pancakes before. Knowing that they could be a little dense, it made me nervous so I took to Sally's Baking Addition, a girl who has a recipe for basically everything. My recipe is adapted from hers.
For National Pancake Day, I almost wanted to remake Aunt Sheila's Blueberry Pancakes, but I'm kind of addicted to the things and make them too much (even for me) and plus, I had a five pound bag of whole wheat flour from King Arthur Flour to use. Why not try for a different pancake?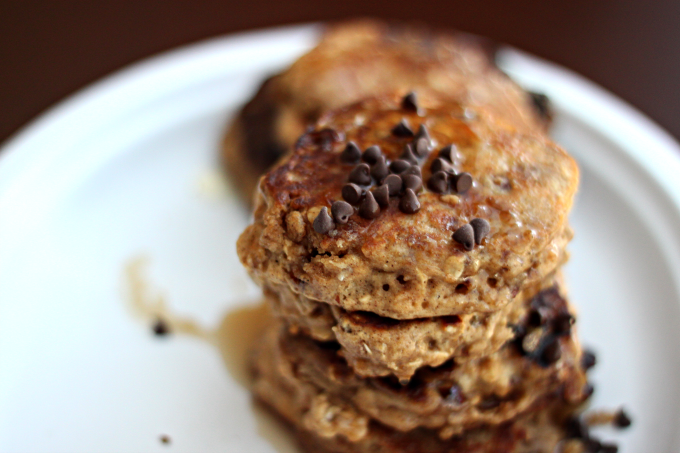 The thing is, King Arthur Flour makes everything awesome. Their flour – from their all-purpose to the cake – is the only brand I use, and it's been that way for quite a while. You won't find better quality by a long shot. On top of that, I love what they stand for. Lemme educate you a little bit about King Arthur Flour, mmkay?
They have a SHOP! Seriously, go look at their goodies, especially their pie boxes. I want it all.
They provide recipes. Eeeee! Their recipes are awesome, you all. Just have a look-see. Lots of categories, all baker tested and made with quality flour, of course.
It's all about the variety, y'all. In case you don't know, baking is a science, it's very important to have the right ingredients in the right measurement and King Arthur Flour can give that! All-purpose, whole wheat, white whole wheat, bread, self-rising, unbleached cake, gluten-free (unheard of!), and more.
KAF loves to teach. They have cooking classes, cookbooks, and they even answer questions from people who are just curious on how to make something or having difficulties with a recipe. They answer these via the phone, email, and chat as part of their Baker's Hotline. This same tips page has many, many how-to articles and videos.
They have a community, enough said!
King Arthur Flour is somewhere I would love to work at part-time, if only I lived where they are! They are 100% employee owned and a certified b-corp. (You can read more about that here.) Being the company they are, they follow a high standard of ethics and adhere to a triple bottom line of people, profits, and planet so the community is a top priority in all they do. Each employee is given 40 hours of paid volunteer time to use every year. Buying their products, I am happy to be supporting a company like this, that values what I value more than the bottom line. They are just really socially responsible. Their product commitment is unheard of.
Did I convince you? My love for King Arthur Flour knows absolutely no bounds.
So, basically, these pancakes are awesome thanks to King Arthur Flour and my girl Sally, who doesn't even know I exist. Oh well. Enjoy, friends!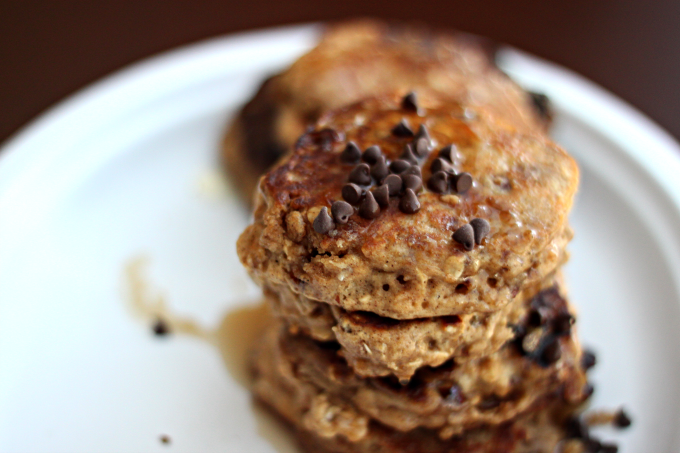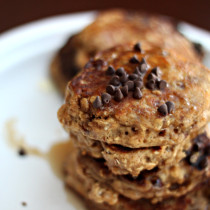 Oatmeal Wheat Pancakes
Ingredients:
1/2 cup quick oats
1/4 tsp salt
2 tsp baking powder
1 tsp ground cinnamon
1 large egg
1 cup milk
2 Tbsp dark brown sugar
1/4 cup heavy whipping cream
1 tsp vanilla extract
Mini chocolate chips for topping
Directions:
In a large bowl, whisk together the flour, oats, baking powder, and cinnamon together. In a separate bowl, whisk the egg and milk together. Add in the brown sugar and heavy whipping cream, whisking until smooth. Add vanilla.
Make a well in the center of the flour mixture. Add the wet ingredients into the center and stir slowly from the inside out until just combined. Anything beyond this level may make your pancakes dense.
Heat a griddle over medium heat and add cooking spray to coat completely.
Drop 1/4 cup batter drops onto griddle, but be careful not to overcrowd the pan. Cook on each side about 1 minute, or until bubbles are starting to form on the pancake. When bubbles are starting to form, flip the pancake over and cook on the other side until cooked through, about 2 minutes. After each batch, respray the cooking spray.
Top with mini chocolate chips and maple syrup.
 Tomorrow: National Chocolate Milk Day; National Corned Beef Hash Day
Trackbacks/Pingbacks

Pingback: 6 Ways to Eat Healthy in 2015

Leave a Comment