National Guacamole Day | Veggie Fajita Bowl
Let's talk fajitas. And let's talk about how much I love fajitas.
Fajitas are one of my favorite foods. It's more than the sizzle sound and the smoke that grabs my attention – it's the big flavor you get from fajitas. But, man, that sizzle is the first thing that captures me, the first thing that captures anyone, I think. When fajitas come out from the back of a restaurant, all eyes and noses follow the dish. It's like this automatic movement that the human race was just born with.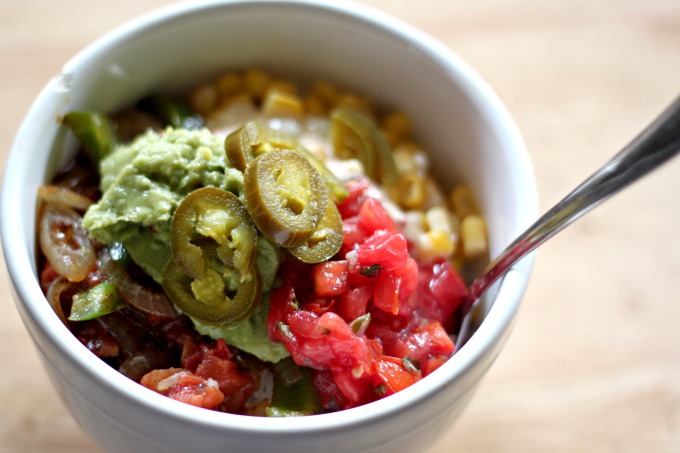 As you can see, fajitas don't only have to be enjoyed in a flour taco shell. Here is a recipe for a veggie fajita bowl that I promise you'll love. I got the inspiration both from my love of fajitas and one of my favorite local restaurants, Green Lemon (formerly, and forever in my heart, The Lime). They make a fantastic fajita bowl with steak or chicken (I always get steak), sautéed onions and peppers, black beans, queso blanco, salad, and guacamole – all on jasmine rice. They do something magical to their fajita bowl, I'm tell you.
I wish my fajita bowl tasted identical, but it didn't. My fajita spices may be different, and I also used corn instead of black beans (not my choice, I just didn't have any black beans in the house – wahh!). But, if you've never had Green Lemon's fajita bowl, you will be more likely to completely swoon over mine. I'm so happy with how this turned out. And you will too, just make it and see!
Happy National Guacamole Day!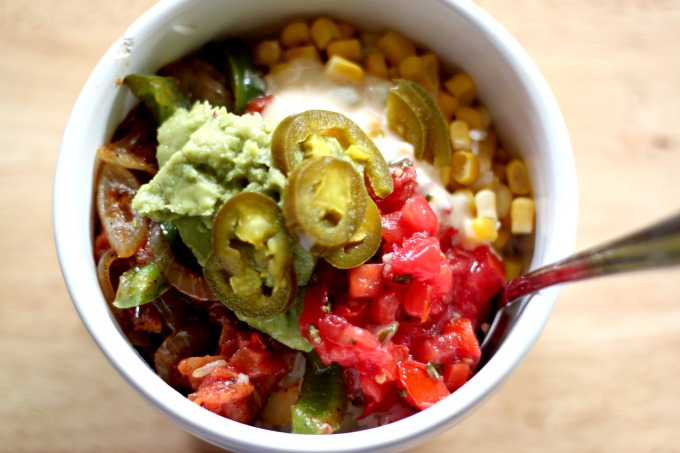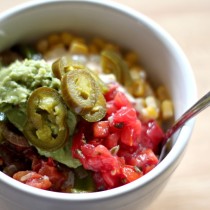 Veggie Fajita Bowl
Ingredients:
3 cups cooked jasmine rice
Cooked corn kernels from 2 medium ears of corn
1 Tbsp canola oil
1 large onion, sliced
1 green pepper, sliced
Fajita seasoning (see recipe below)
1 (10 ounce) can diced tomatoes and green chiles, drained
Scoops of your favorite salsa
Scoops of your favorite queso blanco
Scoops of guacamole
Jalapeño slices
Fajita Seasoning
1 Tbsp cornstarch
2 tsp chili powder
1 tsp salt
1 tsp paprika
1 tsp sugar
3/4 tsp crushed chicken bouillon cube
1/2 tsp onion powder
1/4 tsp garlic powder
1/4 tsp cayenne pepper
1/4 tsp cumin
Directions:
Make rice according to package directions. Meanwhile, cook corn and cut the kernels off the cob.
While the rice and corn are cooking, heat oil over medium in a grill pan. Make your fajita seasoning by combining all ingredients together from the list below and toss with the sliced onions and green peppers until they are all coated. Add to hot grill pan, sautéing until veggies are tender with just a slight bite. Add can of diced tomatoes and green chiles and toss together for 1-2 minutes.
To assemble fajita bowls, scoop rice into each, top with corn and veggies mixed with tomatoes and green chilies. Scoop your preferred amount of salsa, queso blanco, and guacamole (I used about 2 tablespoons each) on the top. Top with jalapeño slices.
 Tomorrow: National Apple Dumpling Day
4 Responses to "National Guacamole Day | Veggie Fajita Bowl"

Leave a Comment