National Espresso Day | Espresso Chip Madeleines
Well, hello, there. It's Sunday morning so I thought you could use some espresso. Also, it's National Espresso Day so, you know, I kind of have to give you some goodies.
Yesterday my husband and I visited this guy's house who's a part of the Tampa Gardening Club. We scored fruits and vegetables and some plants so we can start our own. This guy's backyard is on 4 acres and everything was so well organized – tagged, placed in rows, harvested when needed, and we even ate some fruit straight from his trees. I could've stayed there forever, but instead I came home and made three different kinds of madeleines: espresso, maple syrup, and a fruit, chocolate, and nut variety. It turned out to be a really great alternative to how to spend the day.
Recently, I received the book Madeleines: Elegant French Tea Cakes to Bake and Share by Barbara Feldman Morse to review. It was sort of a lifesaver because I didn't know what I would make for National Espresso Day and Barbara included two espresso madeleine recipes, and truly, the best way to review a cookbook is to try some of the recipes! For today's post, I decided to go with the Espresso Chip Madeleines, a "tea cake" (I just call them seashell cookies 'cause they're so darn cute) that could very well keep you up at night – the espresso is pretty strong in these little things. It's perfect for espresso and chocolate lovers for sure.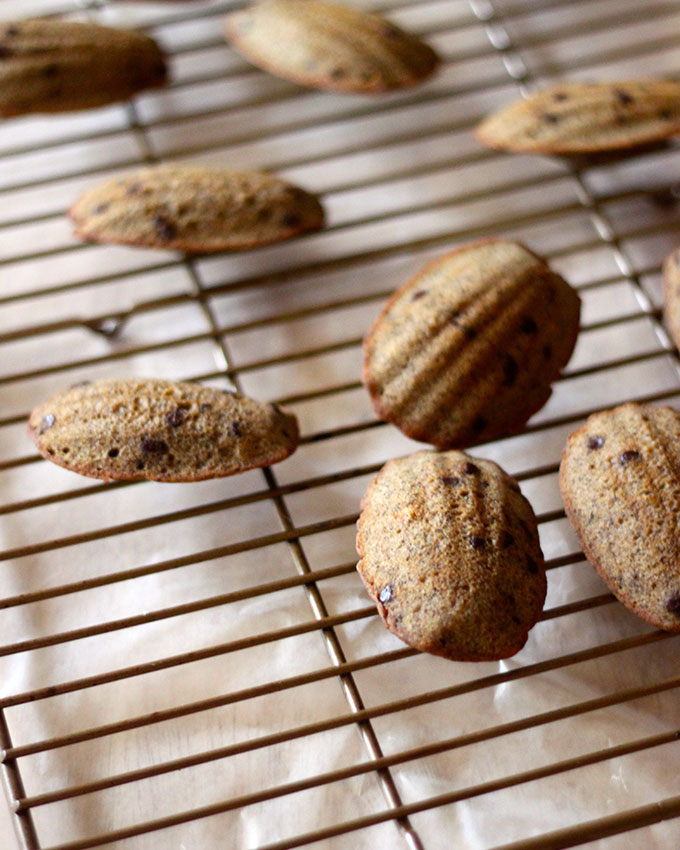 One of the things I love about any cookbook is when it starts with preparation methods. Especially when it comes to baking, I sometimes need to see this so I can understand better. In Madeleines, you can see a simple one-bowl method for preparing a batch of these tea cakes quickly and easily (and sign me up for anything that promises less cleanup, dishes are a product of the devil, I'm convinced). Let's talk about some of the recipe highlights, shall we?
Not Just Plain Vanilla: Chai Tea Madeleines, Eggnog Madeleines, Rosewater Madeleines (I'm thinking eggnog will be perfect around Christmas!)
Morning Madeleines: Lox, Cream Cheese, and Red Onion Madeleines, Cheese Danish Madeleines, Mapley Granola Madeleines
Dark and Deluxe Chocolate Madeleines: Nutella Parfait Madeleines, Molten Madeleines, Kahlua Madeleines
Fruit and Nuts: Almond Macaroon Madeleines, Mendiant Madeleines, Peach and Cream Madeleines
Savory and Appetizer: Brie-Stuff Madeleine Puffs, Crabby Madeleines, Buttery Cornbread Madeleines
Indulgent Madeleines: Black and White Madeleines, Bananas Foster Madeleines, Hazelnut and Frangelico Madeleines
I'm in love with everything about this cookbook. The photography is gorg, the recipes are simple (and all have basically the same base, which is so much appreciated), and there is more variety than I know what to do with. Buy this cook and see for yourself! I'll also have recipes from this book for National Maple Syrup Day (December 17) and National Cocoa Day (December 12)!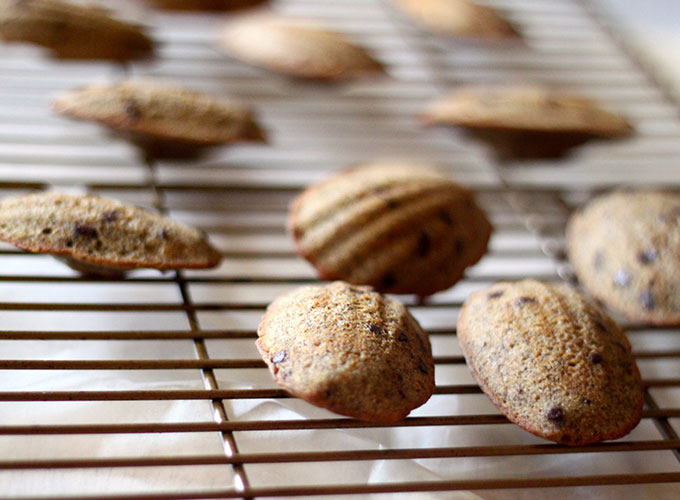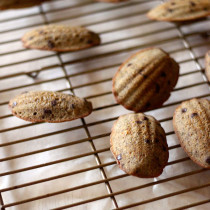 Espresso Chip Madeleines
Ingredients:
1 1/4 all-purpose flour (I used King Arthur)
2 tsp baking powder
1/8 tsp salt
2 Tbsp instant espresso powder
1 Tbsp hot water
5 Tbsp unsalted butter, room temperature
1/2 cup sugar
2 large eggs, room temperature
1/2 cup whole milk
1/2 cup dark chocolate chunks, chips, or mini chips (I used mini chips)
Directions:
Preheat oven to 350*F. Place rack in the center of the oven. Spray madeleines molds with baking spray.
In a large bowl, whisk together flour, baking powder, and salt. In a separate small bowl, stir together the espresso powder and hot water to form a paste.
In a medium pot set over medium heat, combine the butter and sugar. Allow to melt, stirring frequently. Once butter is melted and combined smoothly with the sugar, remove from heat and set aside to cool slightly.
Once butter/sugar mixture has cooled for 3-4 minutes, add eggs, one at a time, whisking well after each egg until completely blended. Add milk and blend well. Pour into bowl with flour.
Whisk all ingredients together until throughly combined. Add espresso mixture, stirring well, and then fold in chocolate.
Fill shell molds with batter until almost full. Gently press batter to distribute it evenly.
Bake for 10-12 minutes, until madeleines puff up and the tops spring back when gently pressed.
Remove pans from oven and let cool on a wire rack for 2-3 minutes, then use a small offset spatula or remove each one individually. Let cool completely.
Trackbacks/Pingbacks

Leave a Comment