National Cashew Day | Cilantro Soy Rice
Let's be real. The best cilantro rice is from Chipotle. I've made something pretty similar, making sure to include delicious cilantro and tangy lime, but without the accompaniments in the form of a stuffed burrito, it's just not the same. But, today, I have to present a recipe with cashews for National Cashew Day.
I'm not too versed in Asian cuisines (my love for everything I Am a Food Blog creates will change that as I plan on making some of her recipes!!) so I honestly did want to make something out of my comfort zone, like pho or a spring roll with cashew dipping sauce. Ultimately, time is my nemesis. (SO EXCITED FOR THE END OF THE FOOD HOLIDAY CHALLENGE!!)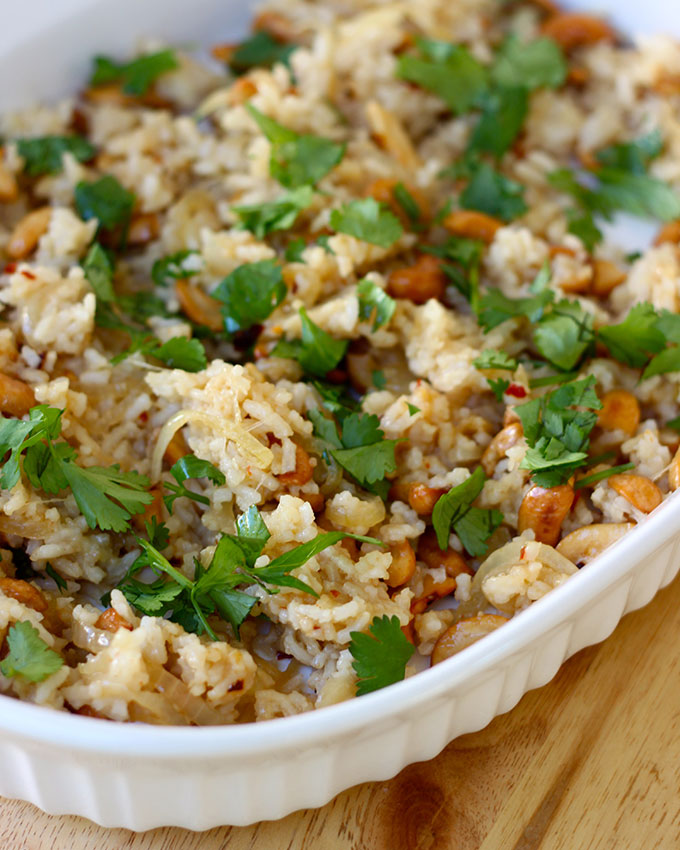 Ahem, anyway, I made a pretty rad purchase the other day. Not that I have time to look through it at this moment, but I am now the proud owner of the textbook from the Culinary Institute of America. The fact is that I would love to go through culinary school, if only to learn those fundamentals and be in the company of others who are as passionate as I am, but seeing as how I don't want to work in a restaurant, be a private chef, or have a catering company, doling out that money for culinary school isn't really in my cards. But, I love to learn. And let's be honest, I took a lot of online courses during my time at USF because I just found it better to teach myself most of the time. I'm pumped to learn some techniques and recipes, plus more, that I may not otherwise ever get the change to be exposed to.
2015 IS GOING TO BRING SO MANY WONDERFUL THINGS, YOU GUYS!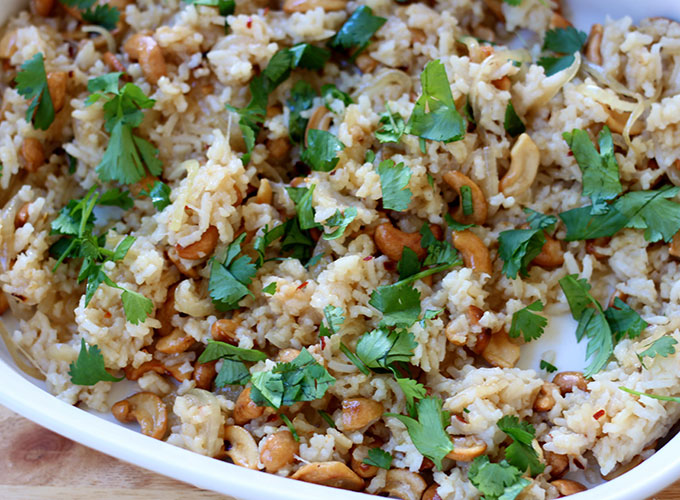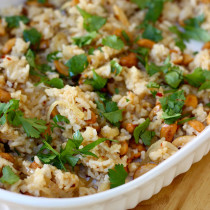 Cilantro Soy Rice
Ingredients:
2 cups cooked white rice
1 Tbsp olive oil
1 medium onion, sliced
2 Tbsp soy sauce
1 tsp red pepper flakes
2 Tbsp chopped cilantro
1/3 cup cashews
Directions:
Preheat oven to 400*F. Sprinkle cashews in an even layer on a baking sheet and bake for 5 minutes, or until toasted.
In a medium saute pan, heat the olive oil over medium heat. Add sliced onions, and a pinch of salt. Reduce heat to medium-low and saute until onions are translucent, about 20 minutes.
In a bowl, combine the rice, onions, soy sauce, red pepper flakes, cilantro, and cashews. Stir and adjust any ingredients as needed.
One Response to "National Cashew Day | Cilantro Soy Rice"

Leave a Comment