National Gingerbread Day | Gingerbread Jar Cake
Believe it or not, I had a very hard time getting motivated about National Gingerbread Day. I like gingerbread, don't get me wrong, and especially when the gingerbread comes in the form of the cute gingerbread men. But, I wasn't sure what I wanted to make because last time, I made a gingerbread bread loaf that completely failed and caved in. And you know when there are so many options like do I make gingerbread cookies? Cake? Ice cream (my original thought)? Muffins? A cocktail?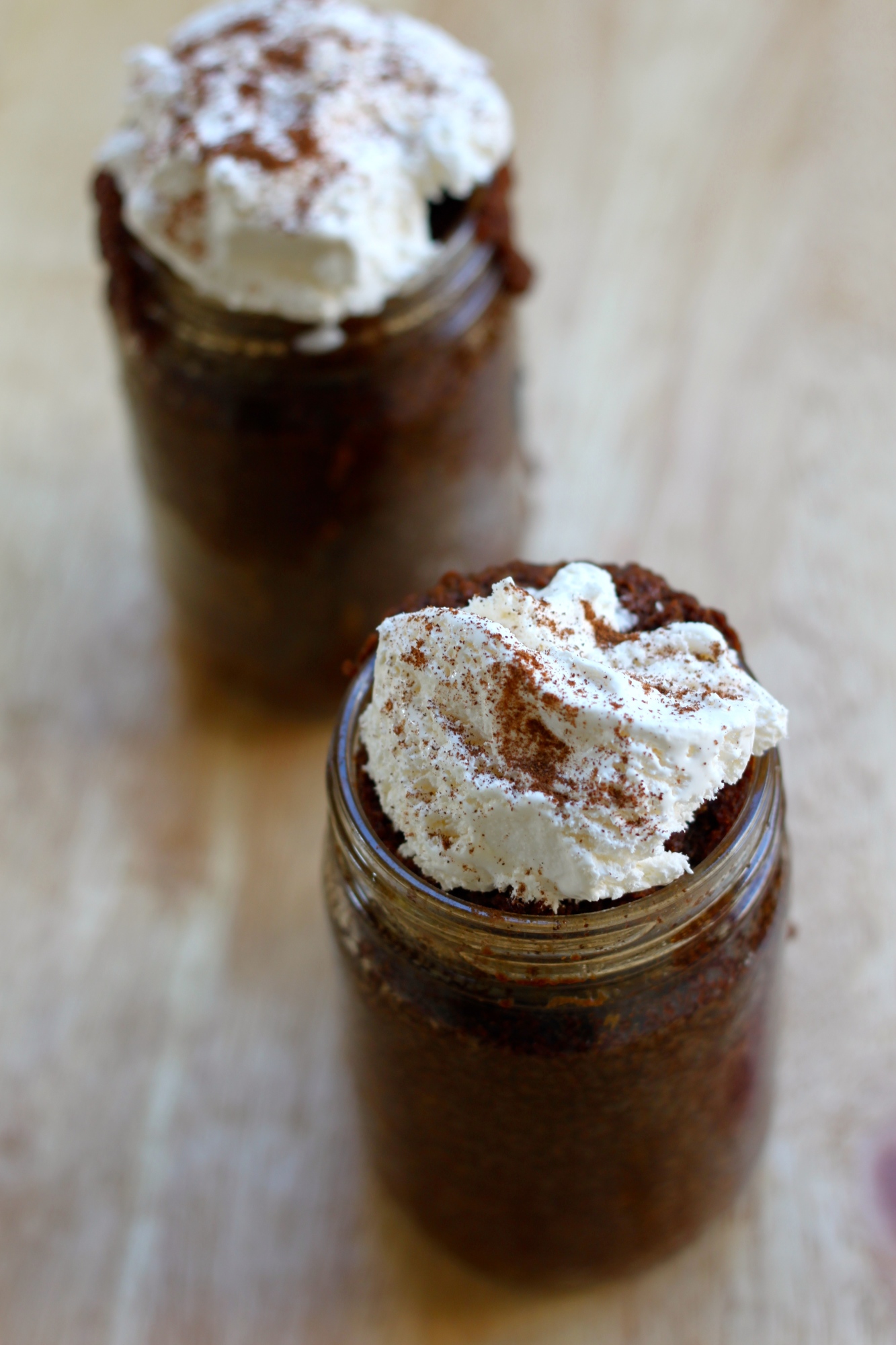 In the end, a gingerbread cake it was, but it wasn't just any ol' cake. I put it in a JAR! 'Cause jar desserts up the ante and automatically makes the dessert 100x better. I had some spillage over the opening of my mason jars because I got really overzealous and was all "this cake won't overflow, no way, no how" but it totally did and I was sad for a little bit, but then I got out the whipped cream for the topping, topped the jar cakes, and licked the spoon. And it helps that the cakes were spongy and awesome and reminded me of pine cones except not the taste, just the season. I don't know what's happening.
Anyway, coming to a conclusion about what gingerbread item to make was bad enough, but then I got behind and didn't make the recipe in time for the food holiday. This post may be appearing on November 21st, but it's actually December 2nd as I type this and I completely fought for my right to backdate the post so really I'm trying to fool you into thinking that I am on top of my game when really, I'm losing my mind being so close to the end of this cooking challenge.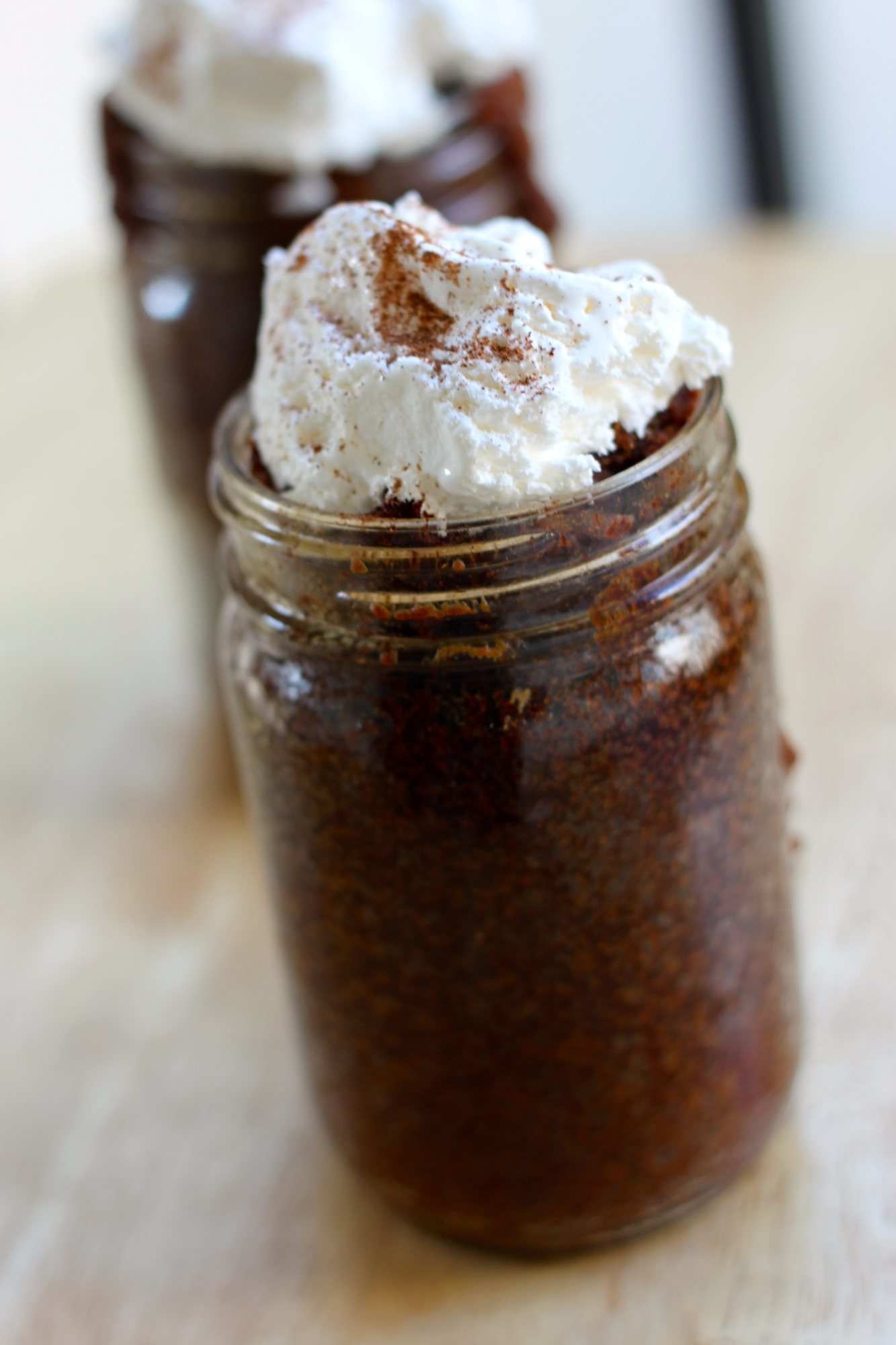 When I was editing these photos, I saw a folder in my iPhoto named 'Gingerbread'. It was my second attempt at the gingerbread bread loaf that I botched before. According to my rules, I could've just failed once and then used the winning second attempt for the second National Gingerbread Day (you know, to show progress, y'all). Turns out, I got pretty annoyed that I had photos ready to go for a gingerbread recipe, but had forgotten about it, argh!!!
Anyway, enjoy! At least having a fail and a success story means I'm growing, right??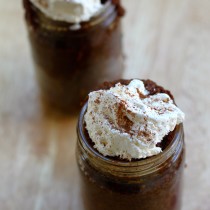 Gingerbread Jar Cake
Ingredients:
1 cup unsalted butter, softened and divided
1/2 cup light brown sugar
1/2 cup molasses
2 large eggs, lightly beaten
2 tsp grated ginger
1 1/2 cups all-purpose flour
1/2 Tbsp ground ginger
1/2 tsp ground cinnamon
1/2 tsp salt
1/2 tsp baking powder
1/2 tsp baking soda
1/4 tsp ground nutmeg
Whipped cream
Directions:
Preheat oven to 325*F. In a large bowl, combine 1/2 cup softened butter with 1/2 cup boiling water; whisk until butter is melted. Add brown sugar, molasses, eggs, and ginger; continue to whisk until smooth.
In a separate large bowl, whisk together flour, ginger, cinnamon, salt, baking powder, baking soda, and nutmeg. In small increments, add flour mixture to brown sugar mixture. Whisk until blended and smooth.
Spoon mixture evenly into 3 lightly greased jars (8 ounces). Place upright in a baking dish and bake for 20-25 minutes, or until a toothpick inserted in the center of the cake comes out clean. Remove from oven and transfer to wire rack to cool completely.
Once gingerbread jar cakes are cooled, top with whipped cream and a pinch of cinnamon.
Leave a Comment