National Coq Au Vin Day | Julia Child's Coq Au Vin
I can spend an entire day, from sunup to sundown, watching cooking shows. I seriously get sucked into one after the other until, before I know it, I've spent a good 5 hours on the couch in front of the TV. I'm not sure if this is a complete waste of time, or if I can justify it as "research".
In any case, perhaps the greatest cooking show star is Julia Child. At least, she's mine (even though I love Giada immensely), and I can remember watching her as a very little girl. I still go online and watch her videos every now and again.
For National Coq Au Vin Day, the choice was easy- I had to make Julia's recipe.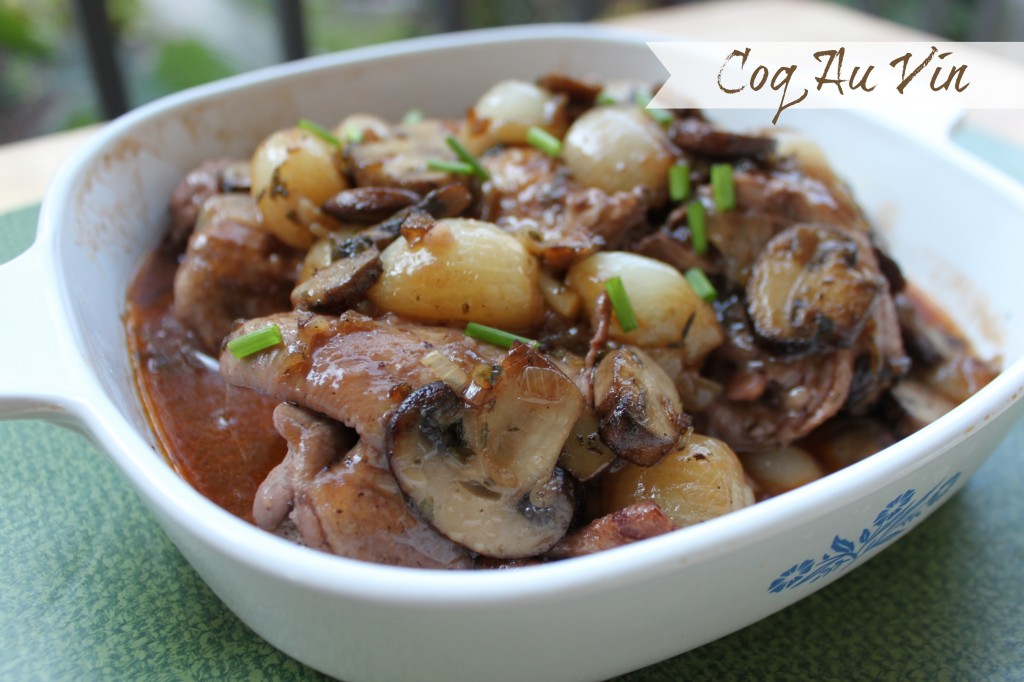 For a while, I thought Coq Au vin was a recipe she created, but it's a classic French dish she just perfected and became known for. As my husband said, it "tastes rich", as in, it costs a lot of money, but that's just not the case. It is, however, rich in flavor.
I will say that when you get ready to make this dish, read the instructions through completely (which you should be doing for any recipe, by the way) because there are onions to braise and mushrooms to saute, both of which require additional steps. And prepare to be in the kitchen for a good majority of your afternoon.
Most of all, prepare to be amazed.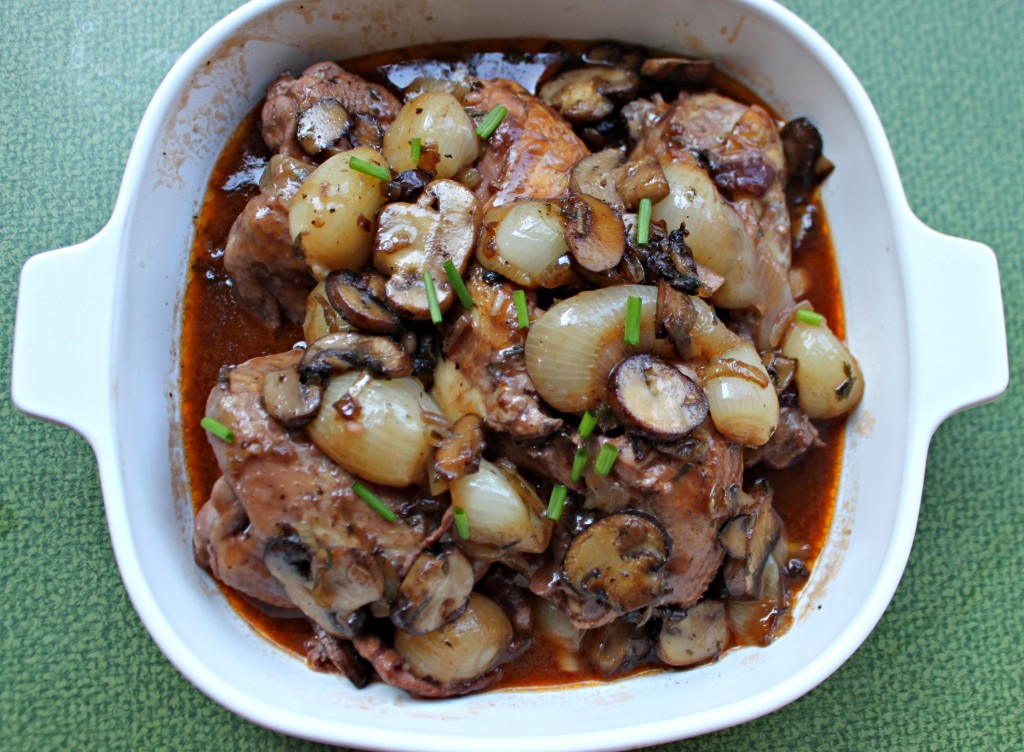 National Coq Au Vin Day | Julia Child's Coq Au Vin
Author:
Prep time:
Cook time:
Total time:
Serves: 4-6
Ingredients
3 to 4-ounce chunk lean bacon
2 tablespoons unsalted butter
2 1/2 to 3 pounds frying chicken, cut into pieces
1/2 teaspoon salt, plus additional for seasoning
1/8 teaspoon pepper, plus additional for seasoning
1/4 cup cognac
3 cups young, full-bodied red wine, such as Burgundy, Beaujolais, Cotes du Rhone, or Chianti (I used Chianti)
1 to 2 cups brown chicken stock, brown stock or canned beef bouillon
1/2 tablespoon tomato paste
2 cloves mashed garlic
1/4 teaspoon thyme leaves
1 bay leaf
12 to 24 Brown-Braised Onions, recipe follows
1/2 pound Sautéed Mushrooms, recipe follows
3 tablespoons all-purpose flour
2 tablespoons softened butter
Fresh parsley leaves
[b]Brown-Braised Onions[/b]
1 1/2 tablespoons butter
1 1/2 tablespoons oil
18 to 24 peeled white onions, about 1-inch in diameter
1/2 cup brown stock, canned beef bouillon, dry white wine, red wine, or water
Salt and pepper
Medium herb bouquet: 4 parsley sprigs, 1/2 bay leaf and 1/4 teaspoon thyme tied in cheesecloth
[b]Sautéed Mushrooms[/b]
2 tablespoons butter
1 tablespoon oil
1/2 pound fresh mushrooms, washed, well dried, left whole if small, sliced or quartered if large
1 to 2 tablespoons minced shallots or green onions, optional
Salt and pepper
Instructions
Remove the rind and cut the bacon into lardons (rectangles 1/4-inch across and 1-inch long). Simmer for 10 minutes in 2 quarts of water. Rinse in cold water. Dry.
In a heavy large heavy bottomed casserole or Dutch oven, saute the bacon slowly in hot butter until it is very lightly browned (temperature of 260 degrees F for an electric skillet). Remove to a side dish.
Dry the chicken thoroughly. Brown it in the hot fat in the casserole. (360 degrees F for the electric skillet.)
Season the chicken with salt and pepper. Return the bacon to the casserole with the chicken. Cover and cook slowly (300 degrees F) for 10 minutes, turning the chicken once.
Uncover, and pour in the cognac. Averting your face, ignite the cognac with a lighted match. Shake the casserole back and forth for several seconds until the flames subside.
Pour the wine into the casserole. Add just enough stock or bouillon to cover the chicken. Stir in the tomato paste, garlic and herbs. Bring to a simmer. Cover and simmer slowly for 20 to 25 minutes, or until the chicken is tender and its juices run a clear yellow when the meat is pricked with a fork. Remove the chicken to a side dish.
While the chicken is cooking, prepare the onions and mushrooms.
Simmer the chicken cooking liquid in the casserole for 1 to 2 minutes, skimming off fat. Then raise the heat and boil rapidly, reducing the liquid to about 2 1/4 cups. Correct seasoning. Remove from heat, and discard bay leaf.
Blend the butter and flour together into a smooth paste (beurre manie). Beat the paste into the hot liquid with a wire whip. Bring to the simmer, stirring and simmer for 1 to 2 minutes. The sauce should be thick enough to coat a spoon lightly.
Arrange the chicken in a casserole, place the mushrooms and onions around it and baste with the sauce. If the dish is not to be served immediately, film the top of the sauce with stock or dot with small pieces of butter. Set aside uncovered for no longer than 1 hour or cool, cover and refrigerate until needed.
Shortly before serving, bring the casserole to a simmer, basting the chicken with the sauce. Cover and simmer slowly for 4 to 5 minutes, until the chicken is heated through.
Serve from the casserole, or arrange on a hot platter. Decorate with sprigs of parsley.
[b]Brown-Braised Onions[/b]
When the butter and oil are bubbling in the skillet, add the onions and saute over moderate heat for 10 minutes, rolling the onions about so they will brown as evenly as possible. Be careful not to break their skins. You cannot expect to brown them uniformly.
Braise them as follows: Pour in the stock, season to taste, and add the herb bouquet. Cover and simmer slowly for 15 to 20 minutes until the onions are perfectly tender but retain their shape, and the liquid has evaporated. Remove herb bouquet. Serve them as they are.
[b]Sautéed Mushrooms[/b]
Place the skillet over high heat with the butter and oil. As soon as you see that the butter foam has begun to subside, indicating it is hot enough, add the mushrooms. Toss and shake the pan for 4 to 5 minutes. During their saute the mushrooms will at first absorb the fat. In 2 to 3 minutes the fat will reappear on their surface, and the mushrooms will begin to brown. As soon as they have browned lightly, remove from heat.
Toss the shallots or green onions, if using, with the mushrooms. Saute over moderate heat for 2 minutes. Sauteed mushrooms may be cooked in advance, set aside, then reheated when needed. Season to taste just before serving.
Tomorrow: National Chip & Dip Day; National Melba Toast Day
7 Responses to "National Coq Au Vin Day | Julia Child's Coq Au Vin"

Trackbacks/Pingbacks

Leave a Comment