National Coconut Torte Day | Luck O' The Irish Coconut Cream Torte
Whenever I think of coconuts, I think of contestants whacking the crap out of them and drinking coconut water on Survivor. This is the reason why I tried coconut water in the first place. In trail mix, I love eating the little coconut shreds- there's never enough!
National Coconut Torte Day slightly confused me. Is this a cake? What's the difference? What's a torte? Well, technically, I made a cake…I think. You can read about the differences between the two here: Cake vs. Torte.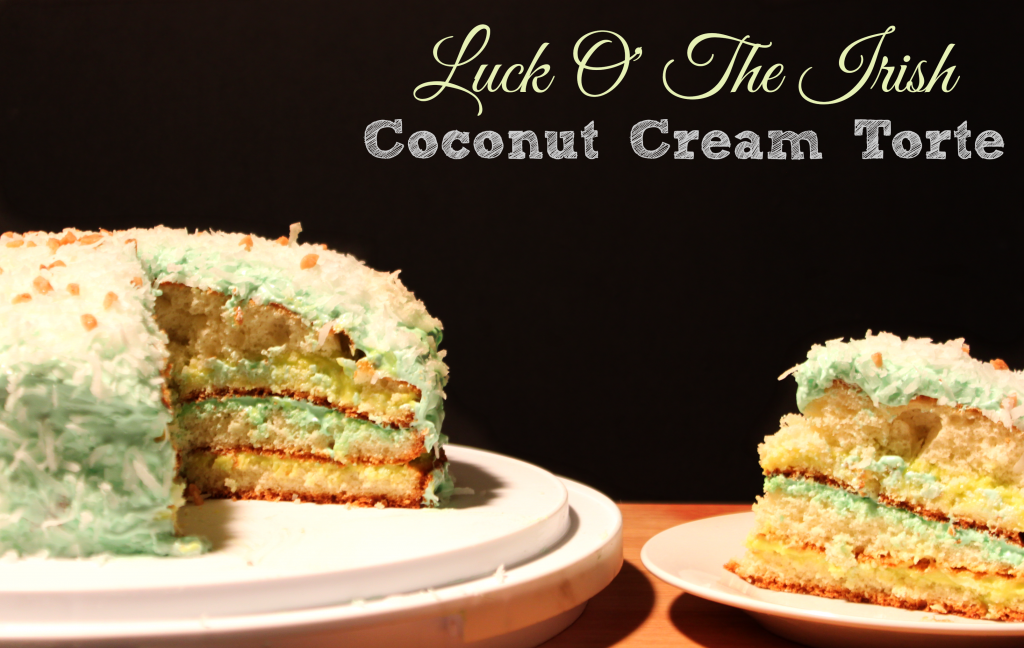 However, it has more going on than a traditional cake, so I'm calling it a torte. And, it's almost St. Patrick's Day so why not liven this cake torte up with some green food coloring?
It's not the most glamorous looking dessert in the world, but that's what you get when there's not any natural light left outside and you don't have a good place for lighting in your kitchen. Side note: I can't wait until we move into a new place.
National Coconut Torte Day | Luck O' The Irish Coconut Cream Torte
Recipe Type: Dessert
Author:
Prep time:
Cook time:
Total time:
Serves: 8-10
Ingredients
1 box super moist white cake mix
1 cup water
1/3 cup canola oil
3 large eggs
1 container fluffy white frosting
Green food coloring, normal green and neon green
1 (3.4 ounce) packet instant pudding in coconut cream flavor
Sweetened shredded coconut flakes
Toffee pieces
Instructions
Preheat oven to 350*F. Grease or spray two 9-inch round cake pans.
Cook cake mix according to package directions, with water, canola oil and eggs.
Once cakes have cooled, cut each in half horizontally using a serrated knife, to form 4 round cakes.
In a medium bowl, prepare instant pudding according to package directions. Add desired drops of neon green food coloring and set aside. In a separate medium bowl, empty frosting and add desired drops of normal green food coloring.
To assemble, cover the top of one cake layer with pudding and the second cake layer. On top of the second cake layer, spread a layer of green frosting, followed by a third cake layer. Spread more pudding on top of the third layer, followed by the fourth and final cake layer. Ice the cake like normal. Top with shredded coconut flakes and a sprinkling of toffee pieces.
Tomorrow: National Potato Chip Day
Leave a Comment