National Cherry Cobbler Day | Cherry Cobbler For One
Sometimes you just need a small dessert. I could have made a huge cherry cobbler and there have been times I could've made a whole cheesecake (and probably eaten the entire thing). So, for National Cherry Cobbler Day, I just wanted my own. I don't like food to go to waste, and I certainly didn't want to sit on my couch and eat an entire cherry cobbler myself.
If you are looking for enough cherry cobbler to keep you satiated and not overfilled, try this recipe for Cherry Cobbler (for one).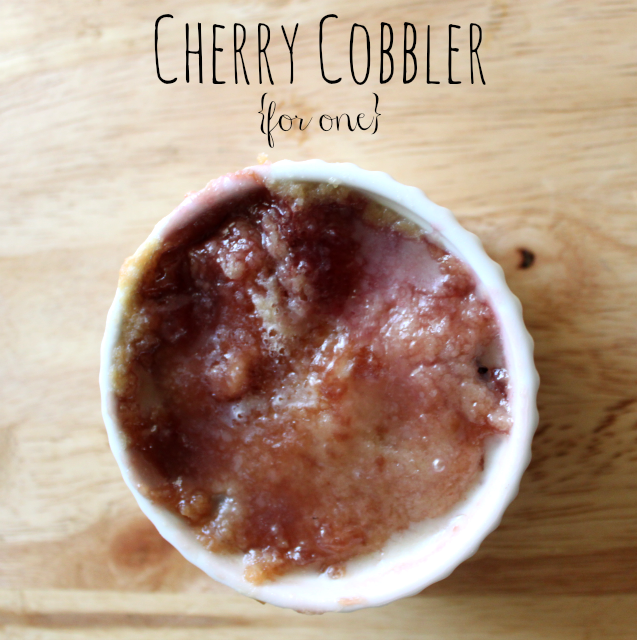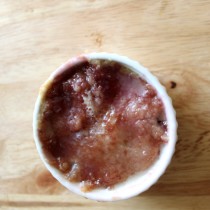 Cherry Cobbler For One
Ingredients:
Filling
1 cup frozen dark cherries
1 tbsp + 1 tsp sugar
1/3 tbsp cornstarch mixed with 1/2 tsp water
Crust
1/4 cup flour
1 tbsp sugar
1 tsp light brown sugar
Pinch of salt
5 tsp unsalted butter, melted
Directions:
Filling
Mix together cherries, sugar, and cornstarch mixture. Spray 1 ramekin with non-stick cooking spray and pour in the cherry mixture. Place filled ramekin on a baking sheet.
Crust
Preheat oven to 375°F. In a bowl, mix together the flour, sugar, brown sugar, and salt. Add the melted butter a little at a time incorporating it into a crumble. Top the cobblers with the crumble mixture.
Place ramekin in preheated oven for 25-30 minutes.
Leave a Comment