National Coquilles St. Jacques Day | Chicken St. Jacques
Coquilles St. Jacques. What the heck is that?
Yeah, that's what I thought too. As I've mentioned before, one of my favorite things about this food holiday challenge is that I learn something new very often. I had no clue what Coquilles St. Jacques was until the day before the food holiday and then I couldn't find scallops in a shell which is why instead of scallops, I'm using chicken. Plus, I like chicken more anyway.
It just reminded me of a creamy chicken casserole with a crunchy crust.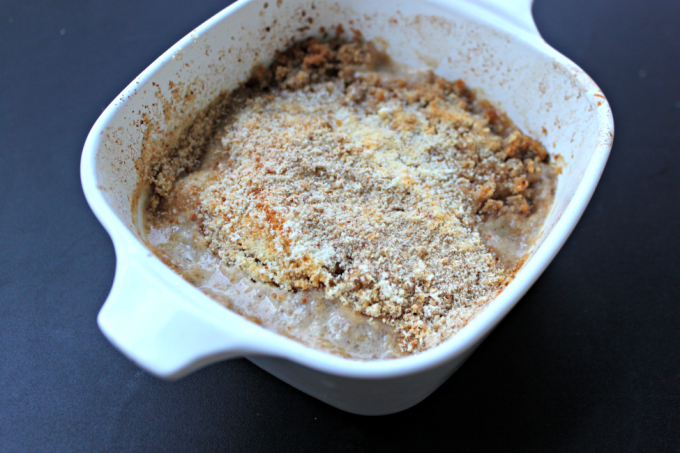 I love the combination of flavors, the poached chicken, the breadcrumbs and parmesan cheese topping. Enjoy National Coquilles St. Jacques Day!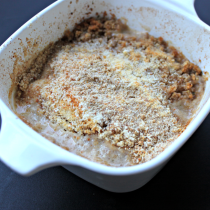 Chicken St. Jacques
Ingredients:
1 pound chicken tenderloins, cut into cubes
1 small onion, sliced
1 bay leaf
1/2 cup dry white wine
1/2 cup water
3 tablespoons unsalted butter
1/2 teaspoon minced garlic
6 ounces baby chanterelle mushrooms, stems trimmed and wiped clean
2 tablespoons all-purpose flour
1/2 cup milk
1 teaspoon fresh lemon juice
1/2 teaspoon salt
1/4 teaspoon ground white pepper
Pinch cayenne
2 tablespoons minced parsley
1/2 cup heavy cream
1/2 cup shredded Gruyere
1/2 cup fine dry bread crumbs
1 tablespoon melted butter
1 teaspoon chili powder
1/4 cup grated Parmesan
Directions:
Preheat the broiler. Lightly butter the insides of 1 medium casserole dish and place on a baking sheet. Set aside. In a large skillet or saute pan, combine the chicken, onion slices, bay leaf, wine, and water. Bring to a simmer and gently poach the chicken until just firm, about 3 minutes. Remove with a slotted spoon. Strain the chicken cooking liquid into a clean container. Reserve the chicken on a plate.
In a clean large saute pan or medium saucepan, melt 1 tablespoon of the butter over medium-high heat. Add the chicken and garlic, and cook, stirring, for 30 seconds. Add the mushrooms and cook, stirring, until tender, about 4 minutes. Remove with a slotted spoon.
Add the remaining 2 tablespoons of butter to the pan the mushrooms were cooked in and melt over medium heat. Add the flour and cook, stirring constantly for 2 minutes, to form a light roux. Slowly add the strained poaching liquid, whisking constantly, and cook until thick, about 2 minutes. Add the milk, salt, pepper, and cayenne, and whisk well. Bring to a boil and cook for 1 minute. Add the parsley, and simmer for 1 minute. Add the cream and white cheddar, stir well, and remove from the heat. Fold in the chicken and mushrooms, and pour into the prepared dish.
In a small bowl, combine the bread crumbs, butter and chili powder. Sprinkle over the chicken mixture and top with the Parmesan. Run under the broiler until just crisp and brown, being careful not to overcook, 1 to 2 minutes. Remove from the heat and serve immediately.
Leave a Comment