National Chocolate Chip Cookie Day | Chocolate Chip Cookie Cake
There's something about cookie cake that I LOVE. It doesn't much matter what flavor cookie it is – peanut butter, sugar, chocolate chip – if it's made of cookie cake, I'm on board with it. I can't put my finger on what could be so different, but for whatever reason, cookie cake is infinitely better than regular cookies. (Even if they are cookies from Publix.)
We had my husband's graduation party this past Saturday. He likes carrot cake, but no other cake would do besides cookie cake. I ordered half a sheet, which seemed pretty massive since we didn't have a ton of people in attendance, but with us all, we managed to eat every last bite.
Well, for National Chocolate Chip Cookie Day, a chocolate chip cookie cake was the only way to go.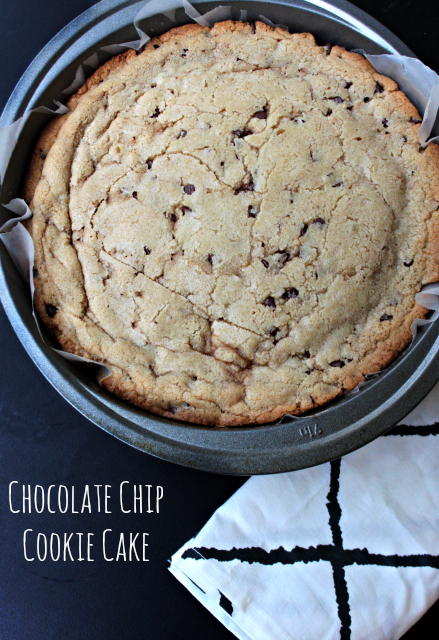 I admit that I haven't been as proactive about making the dishes for these food holidays as I would like to be. Ah, life. What can you do sometimes? So, I have had to make dishes throughout the week which makes me very grateful for my new 8am-5pm job. Last night Mike wanted to go out to dinner, but I had to make today's food holiday so I could capture what little sunshine still existed among the rain clouds to take my pictures.
Although I'm sure the primary motivation was being able to go out to eat together, Mike immediately started helping me make the cookie cake. By the time I made it home from work, the cookie cake was just minutes from being put in the oven to bake. (And then I was able to relax and watch Scandal, but that's a whole 'nother story.) Twenty-six minutes later and we had a lovely cookie cake!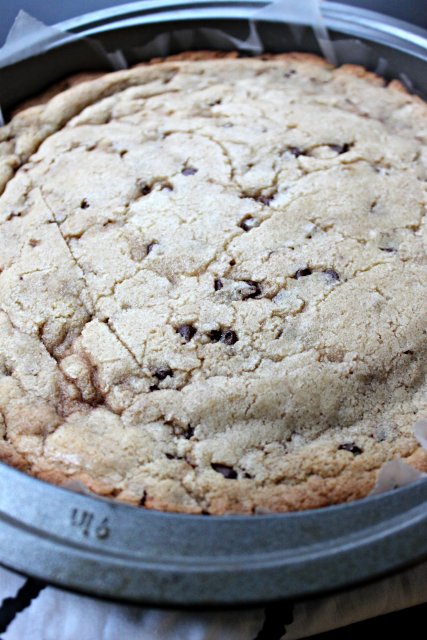 It was super chewy and absolutely perfect. Please don't tell me I was the only kid who used to eat the cookie dough out of the tube. And then sneak bites of cookies from the uncooked batter as an adult, being in complete denial of there being raw egg? Well, this cookie cake solves these things. You see, the batter is made in such a way that tastes like chocolate chip cookie dough! Yes, you can tell it's cooked and it's actually a baked cookie, but that cookie dough flavor is unmistakable. Get on board with this one.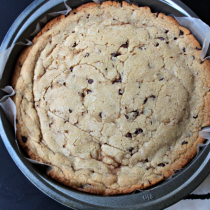 Chocolate Chip Cookie Cake
Ingredients:
2¼ cups all-purpose flour
¾ tsp baking powder
½ tsp baking soda
½ tsp salt
12 tbsp unsalted butter, melted and cooled to room temperature
1 cup light brown sugar
½ cup granulated sugar
1 egg + 1 egg yolk
1 tbsp milk
2 tsp vanilla extract
1 cup semisweet chocolate chips
Directions:
Preheat oven to 325*F. Grease a 9-inch round cake pan, then line the bottom with a round of parchment paper; set aside.
Whisk the flour, baking powder, baking soda, and salt together in a medium bowl; set aside.
Using an electric mixer on medium speed, beat the butter and sugars together until thoroughly blended. Beat in the egg, yolk, milk and vanilla until combined. Add the dry ingredients and beat at low speed just until combined. Using a rubber spatula, stir in the chocolate chips.
Turn the dough out into the prepared cake pan and use your fingers to press into an even layer. Bake until the cookie cake is light golden brown and the outer edges have started to harden, 25 to 30 minutes. Remove from the oven and plan the pan on a wire rack to cool completely. Use a metal spatula to loosen the sides of the cake from pan, then turn it out and place on a serving plate or platter.
Trackbacks/Pingbacks

Leave a Comment