National Candy Corn Day | Candy Corn Popcorn Balls
Let's talk orange. The flavor of orange is always okay (except for in medicines, then it's the most disgusting medicine – and orange flavor – in the world). For the past month, I've eaten at least one clementine a day. I don't care that a crate is nearing the $8.00 mark at the grocery store. Creamsicle? Even better. Oh, and orange Fanta is the best Fanta there is.
But the color orange? Not so hot…or cool…or whatever you want to say. The point is, I don't like it. It's either too bright or two dull, and by the way, I don't look good in orange, which explains why I don't even have one orange item of clothing.
So, yeah, having a National Candy Corn Day would require some orange, and that's okay. But just check out the amount of orange going on.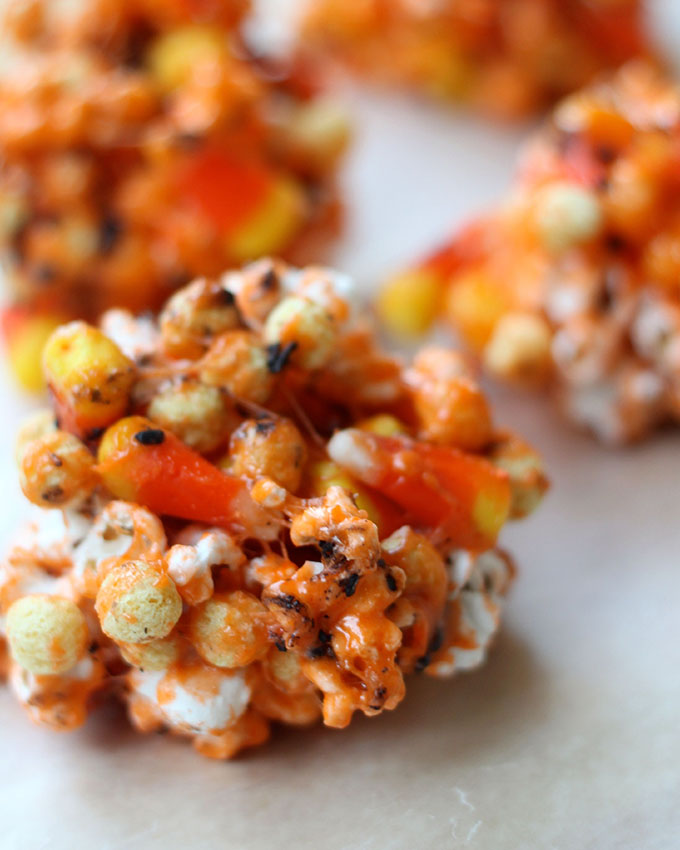 However, I think I can let bygones be bygones on this orange color because the orange flavor is that much better. And candy corns are tasty. And with Kix cereal now in the house, mornings are much easier. And I'm always down to snack on some popcorn.
The thing about snacks is that they should be bite-sized or at least little snacks that don't make you feel so guilty about eating them. They should be enjoyable. These popcorn balls were all the rage in my house – even the dog and cat were looking at me making them, greedy for some themselves (I didn't give in). I thought of making these popcorn balls and then the time came to make them and I just didn't feel like testing out a recipe (although, can these even go wrong?) so this recipe is brought to you by the Food Family Finds blog. Enjoy!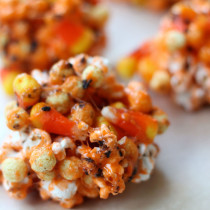 Candy Corn Popcorn Balls
Ingredients:
2 cups Kix cereal
4 cups cooked popcorn
1½ cups candy corn candies
4 TBS butter
10.5 oz mini marshmallows
4 TBS orange flavored gelatin powder
Directions:
In a large pot over medium-low heat, melt butter. Meanwhile, add Kix cereal, popcorn, candy corn, and sprinkles to a large bowl and toss to combine.
Once the butter is melted, add marshmallows to the pot, stirring frequently until marshmallows are completely melted. Add gelatin powder and mix well. Remove from heat and pour over cereal combination. Quickly stir to combine as much as possible.
Allow the mix to cool for 5 minutes. Coat your hands in shortening and form ball with the mixture. Place finished popcorn balls on wax paper.
2 Responses to "National Candy Corn Day | Candy Corn Popcorn Balls"

Leave a Comment