National Oatmeal Day | Honey-Vanilla Oatmeal Bowl
I love breakfast. I love breakfast for its scrambled eggs, spicy burritos, omelets, mimosas, and side of fruit. I've been known to go ham on some breakfast items during the early morning hours, wanting one of damn near everything. The one thing I never opt into unless I'm on a health kick, or feel guilty for a previous night's Taco Bell visit? Oatmeal.
Oatmeal is borrrrring, you guys. Especially the oats that are natural and come in the tub at the grocery store. You know, the ones that you have to completely sweeten up with some brown sugar and maple syrup or else you'll regret your breakfast decision and still eat a Mexican Egg Burrito anyway?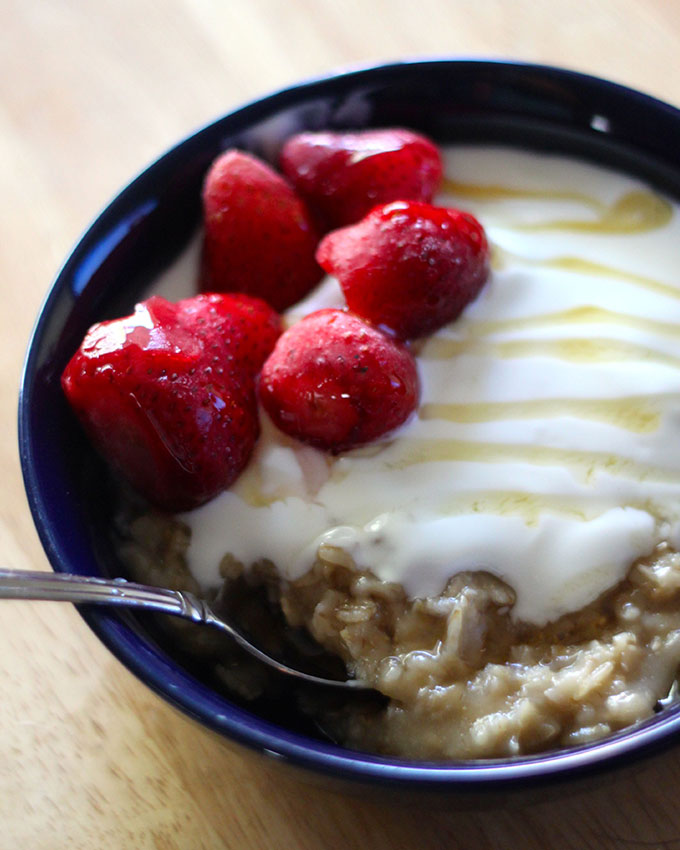 Well, one morning, I decided to be healthy at one of the breakfast places in Tampa that's sure to get me rocking and rolling on some breakfast grub. Daily Eats, to be fair, is the healthiest breakfast place I know of. But, for some unknown reason, I got the Daily Eats Oatmeal on this visit. At one of the best breakfast places around! But, it was delicious. They topped the oatmeal with vanilla yogurt, some fruit, granola, and a drizzle of honey. I forgot my bag of granola at work over the weekend when I made this so that stinks, but just adding the brown sugar and rest of the Daily Eats toppings, and it served as an excellent morning meal.
Happy National Oatmeal Day!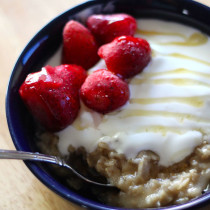 Honey-Vanilla Oatmeal Bowl
Ingredients:
1/2 cup old-fashioned oats
1 cup water
Pinch salt
1 Tbsp brown sugar (light or dark)
1/2 Tbsp maple syrup
6 ounces vanilla yogurt
Fruit of your choice
Drizzle of honey
Directions:
Make oatmeal on the stove by combining oats, water, salt, brown sugar, and maple syrup over medium-low in a small saucepan. Stir frequently until water is absorbed and oats are cooked.
In a small bowl, layer oatmeal, yogurt, and fruit. Drizzle honey on top.
2 Responses to "National Oatmeal Day | Honey-Vanilla Oatmeal Bowl"

Leave a Comment