National Blueberry Cheesecake Day | Mini Blueberry Cheesecakes
Let's talk about cheesecake…again. If you've been following along on this journey, you know that I have made many cheesecakes (all mini status, of course) since the beginning of the year. I once asked myself, "Can one have too much cheesecake?" to which I always answered no. I never thought the phrase 'too much cheesecake' was a valid one.
Well, unfortunately, I'm here to say that it is. I made both Mini Cherry Cheesecakes and these mini blueberry cheesecakes on the same day, six of each, and I can absolutely say that there is such a thing as too much cheesecake. Makes me sad to type those words, but you don't know too much cheesecake until you attempt to eat 12 mini ones. I got three in before giving up and realizing that my mom, brother, and neighbor were all too eager to take the rest. Thanks, guys. You saved me from cheesecake sickness, I assure you.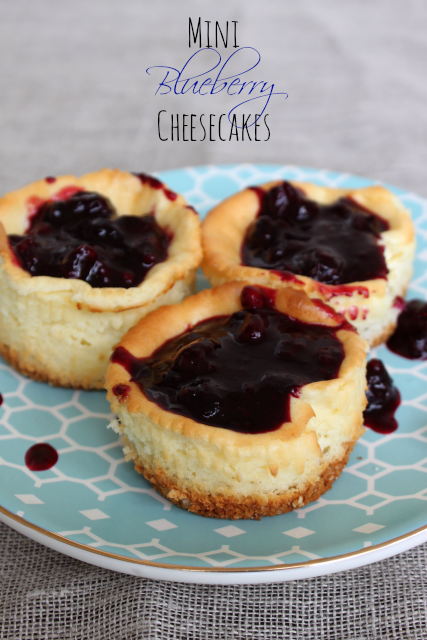 Well, it's been 34 days since I had any cheesecake so it doesn't pain me too much to write this post. Truthfully, Cheesecake, I needed a break. For that I am not (too) sorry.
I will say that if we are playing the versus game, I preferred the blueberry cheesecakes over the cherry. (But my favorite so far has to be the ones with salted caramel.) These blueberries are not from a can like the cherry mixture, but instead they are cooked over some heat with lemon juice, sugar, and vanilla extract. It smelled and tasted fantastic. When you get to the point where the blueberries burst in the pan, you are rockin' and rollin'.
Enjoy National Blueberry Cheesecake Day because I can't and somebody has to.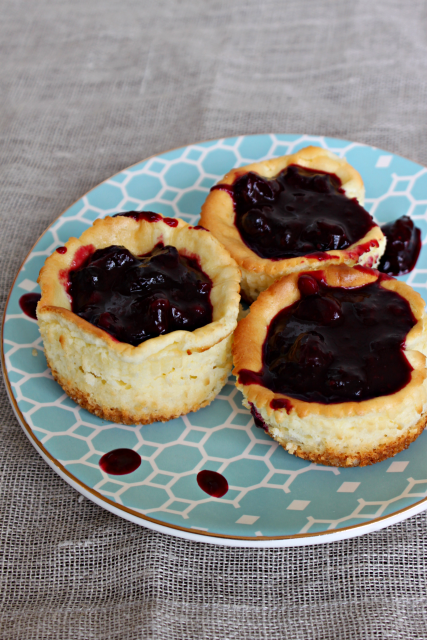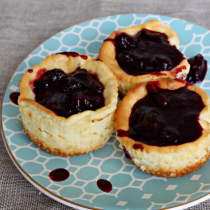 Mini Blueberry Cheesecakes
Ingredients:
Cheesecake
1/3 cup Graham Cracker crumbs
1 tbsp sugar
1 tbsp unsalted butter, melted
8 ounces cream cheese, softened
1/4 cup sugar
1 tsp vanilla extract
1 large egg
Blueberry Sauce
1 cup fresh blueberries
1/4 cup water
1/4 cup sugar
1 tbsp lemon juice
1 tbsp cornstarch, mixed with 1 tbsp cold water
1/2 teaspoon vanilla extract
Zest of 1/2 lemon (about 1/2 tbsp)
Directions:
Preheat oven to 325*F.
Mix together the Graham Cracker crumbs, 1 tablespoon sugar, and melted butter in a small bowl and divide evenly among 6 paper-lined muffin tins. Press into bottoms to create an even layer.
In a separate bowl, combine the cream cheese, 1/4 cup sugar, and vanilla extract. Beat to mix together. Add the egg, and continue beating for 5 minutes, or until thoroughly combined.
Pour evenly over the crusts. Bake for 25-30 minutes, or until the cheesecake has set. Remove from oven and cool completely. Refrigerate 2 hours before topping with blueberry sauce.
Meanwhile, in a saucepan over medium heat, combine the blueberries, water, sugar and lemon juice. Bring to a low boil, stirring frequently.
In a small bowl, mix the cornstarch with cold water.
Slowly stir the corn starch into the blueberries. Simmer until the sauce is thick enough to coat the back of a metal spoon, about 5 minutes.
Remove from heat and gently stir in vanilla and lemon zest. Pour evenly oven cheesecakes.
Trackbacks/Pingbacks

Pingback: Celebrate National Blueberry Cheesecake Day May 26 | NonStop Celebrations

Leave a Comment