Latin-Inspired Vegetarian Power Bowl
This shop has been compensated by Collective Bias, Inc. and its advertiser. All opinions are mine alone. #40DiasMorningStar #CollectiveBias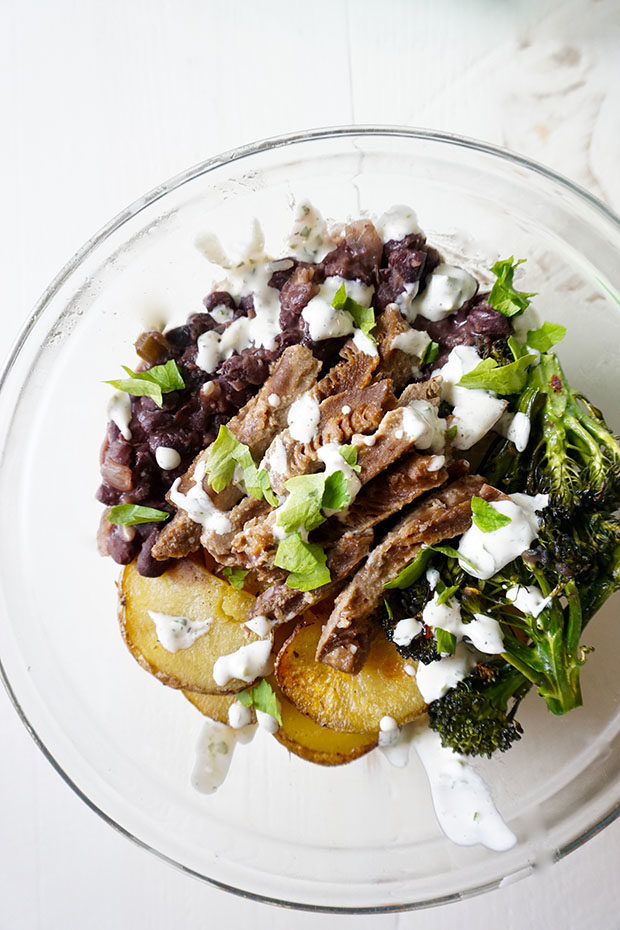 🙌🏼
🙌🏼
🙌🏼
Let's talk whole grains and roasted vegetables and proteins and legumes. They.are.delicious.
I made a vegetarian power bowl that's both inspired by my Latin heritage and filling for this season of Lent when we are refraining from eating as much meat. Mark every Friday from here to Easter as your POWER BOWL day. Come follow along with me. We are going to go on a journey.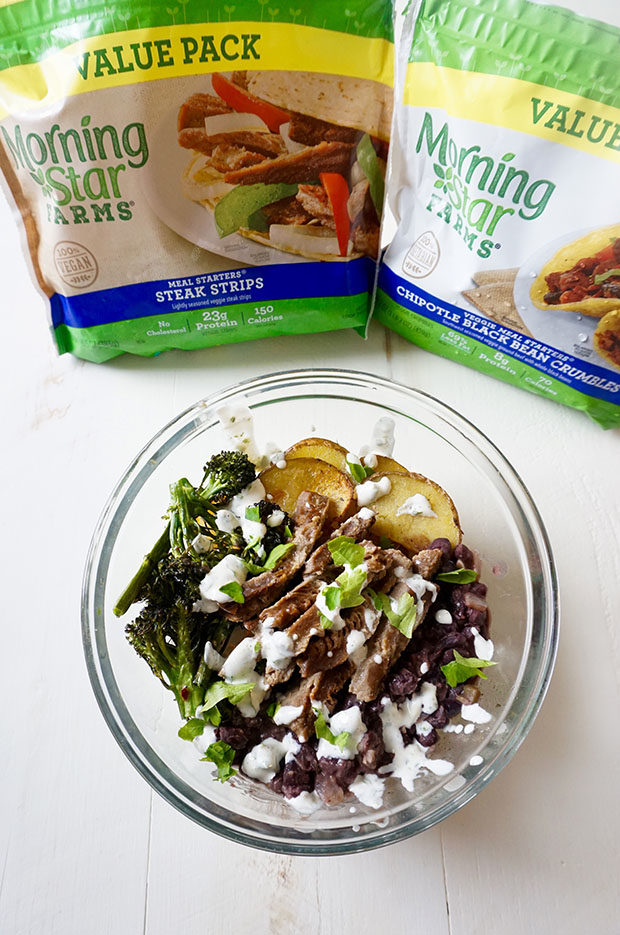 The star of the show are the MorningStar Farms® Meal Starters® Steak Strips (I purchased from Walmart and also have the Chipotle Black Bean Crumbles™ which will work just as well). You know how you want some meat, but you can't or perhaps are being more mindful of what you eat, and so you go for a vegetable-based product, hoping it's amazing? These are like that except add "widely exceeds expectations" to the list. Along with low cost, a quick preparation and definitely the best veggie cuisine I've ever tried.
The base of the power bowl is brown rice, naturally. It's what power bowls are made of. Seasoned with lime and cilantro = me 💃🏻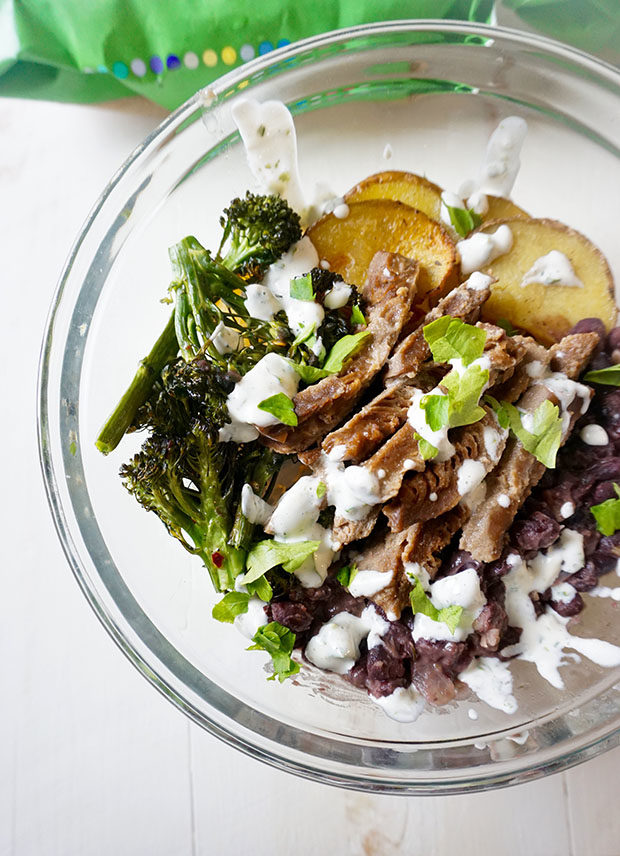 Next up: my Cuban black beans. The flavors are tremendous: cumin, jalapeño, onion, garlic, white vinegar, olive oil, bay leaf. My ideal way to cook them is with uncooked beans and cook low and slow for several hours, but since I'm here talking to you about a meal that doesn't take that long to prepare, use canned black beans! (Just make sure you give them a good rinse.)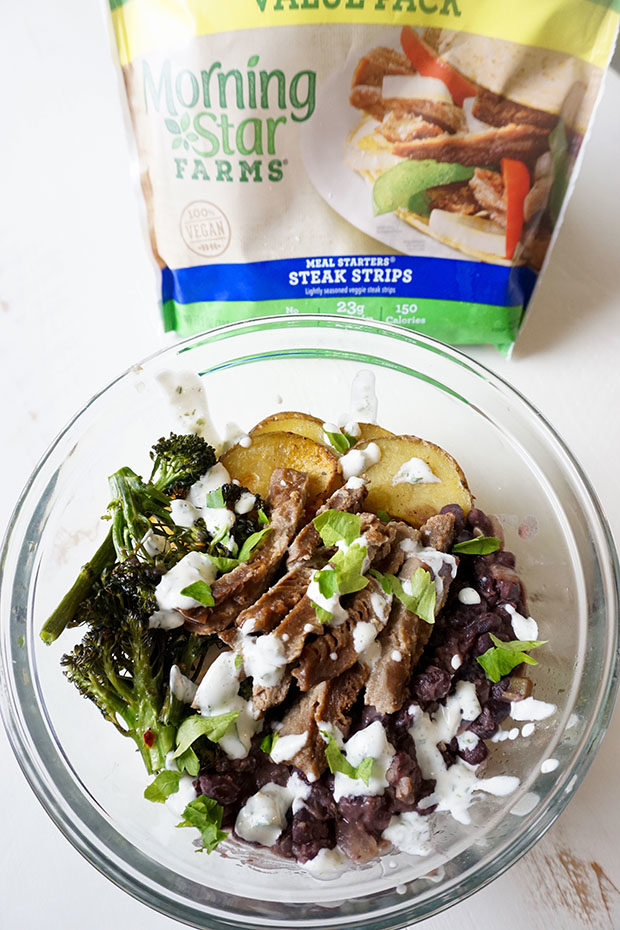 Top all of this with some roasted vegetables! My favorites to go with this bowl are potatoes and broccoli, but you can use absolutely anything you want. I've made this bowl with just root vegetables like yams, sweet potatoes, turnips, etc.
It's a use what's in your fridge, use what's in your pantry, use what doesn't take a lot of prep time type of power bowl. And you can feel good about all of these things. You can also feel good about the aioli drizzled on top!
🙌🏼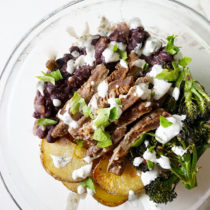 Latin-Inspired Vegetarian Power Bowl
Ingredients:
Rice base
2 cups water
1 cup brown rice
1 tablespoon minced cilantro
Zest from half a lime
Juice from half a lime
Roasted vegetables
One bunch of broccolini, hard stems removed
2 white potatoes, sliced thin into half-moon shapes
1 tablespoon olive oil
Large pinch of salt
Small pinch of black pepper
Red pepper flakes to taste
Cuban black beans
1 15-ounce can black beans
1/2 large white onion, chopped
1/2 jalapeno, seeds discarded and finely chopped
3 garlic cloves, minced
1 bay leaf
2 tablespoons + 1 tablespoon extra-virgin olive oil
1 teaspoon oregano
1/4 teaspoon ground cumin
1/8 cup distilled white vinegar
Cilantro lime aioli
4 tablespoons mayonnaise
2 tablespoons cilantro
Zest from half a lime
Juice from half a lime
1/4 teaspoon garlic powder
1/8 teaspoon onion powder
Pinch of salt
Directions:
Rice base
In a small pot, boil two cups of water. Once boiling, add 1 cup brown rice and turn heat down to low. Cook for 20 minutes and then remove from heat.
Fluff rice with a fork, add cilantro, lime zest and lime juice.
Roasted vegetables
Preheat oven to 400*F. Line a baking sheet with aluminum foil.
Place the broccolini and potatoes on the baking sheet. Drizzle with olive oil and add salt, pepper and red pepper flakes. Use your hands to toss together and cook for 20 minutes.
Cuban black beans
In a small saute pan, add 1 tablespoon olive oil and heat over medium. Add onion and jalapeño and a pinch of salt, sautéing until they are softened. Add garlic and cook for another minute.
In a small pot, add the canned black beans and the sautéed onion mixture. Add bay leaf, 2 tablespoons olive oil, oregano, cumin and white vinegar. Cook for 20 minutes on medium-low heat.
Cilantro lime aioli
Combine all ingredients in a blender and blend until combined. Adjust seasoning as needed.
To assemble
Brown rice is the base, then top with black beans, roasted vegetables, and MorningStar Farms Steak Strips. Drizzle with aioli.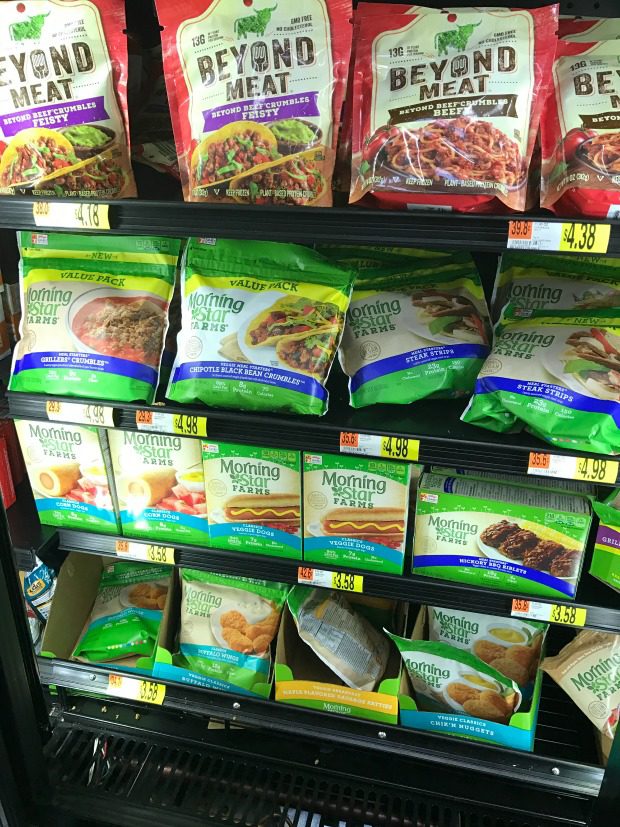 Do you have any go-to meals for the season of Lent? Let me know in the comments!
2 Responses to "Latin-Inspired Vegetarian Power Bowl"

Leave a Comment