Graffiato: A Top Restaurant From a Top Chef
I adventured to Washington, DC for Thanksgiving with my husband. I picked DC for more than just the cheap plane tickets and the vast number of places to go with free entries. I picked DC for all of the wonderful food I was told existed.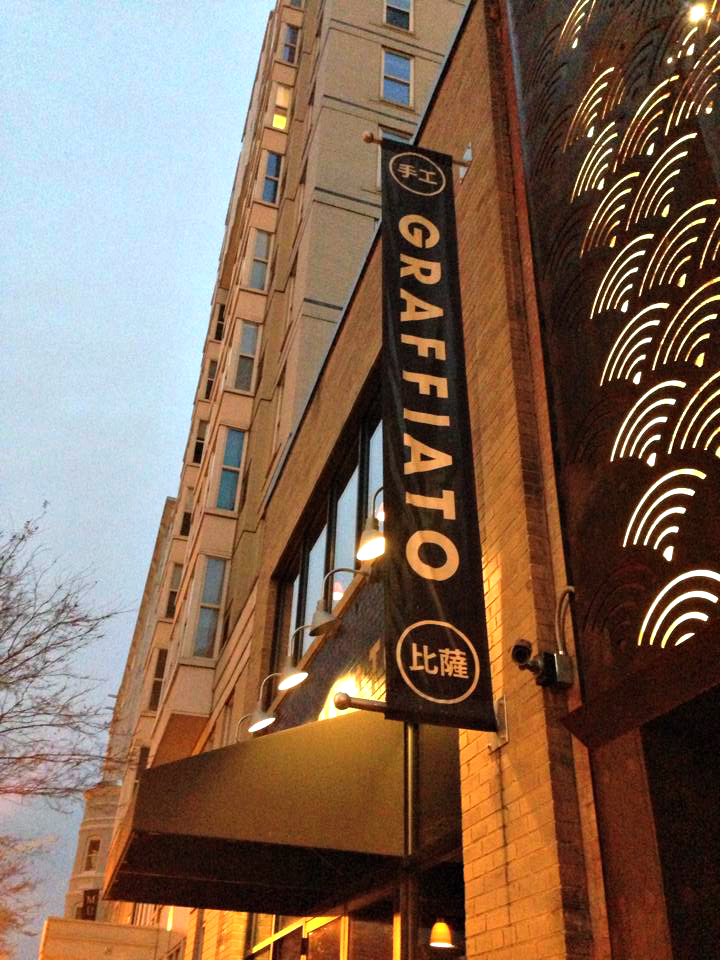 One place that I had to go to, no matter what, was Graffiato. As a Top Chef super fan, I have watched every season and know where a number of contestants have restaurants. As soon as my trip to DC was scheduled, I made Graffiato reservations. Mike Isabella continues to be a favorite Top Chef contestant of mine, further deserving my love after the meal we had. Wow.
First, since nothing takes as long to see and do in DC as one would think, we were done with our day adventures and ready to eat about 2 hours before our reservation. A cocktail was necessary. It was the perfect way to relax after the extraordinary amount of walking we did.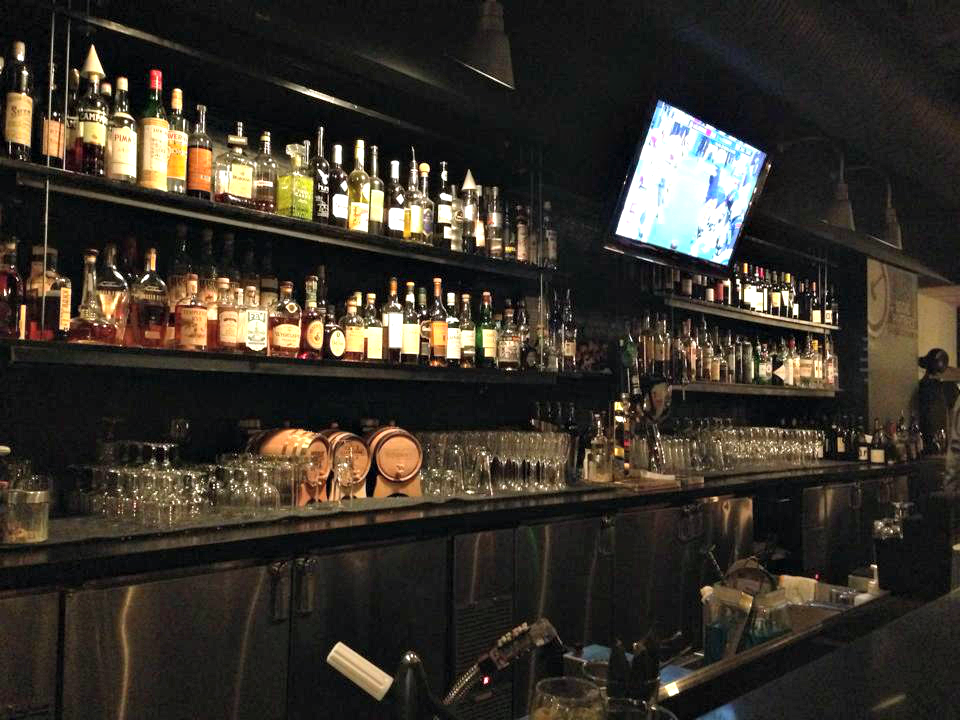 The bar area was small, but had a great vibe, just like the rest of the restaurant. The bar was right next to the front doors, which was on a wall of floor to ceiling windows, allowing one to look out on one of the busiest streets in Washington, DC. We were across the street from the Verizon Center and down the road from Chinatown. Bar staff were friendly and provided fast service.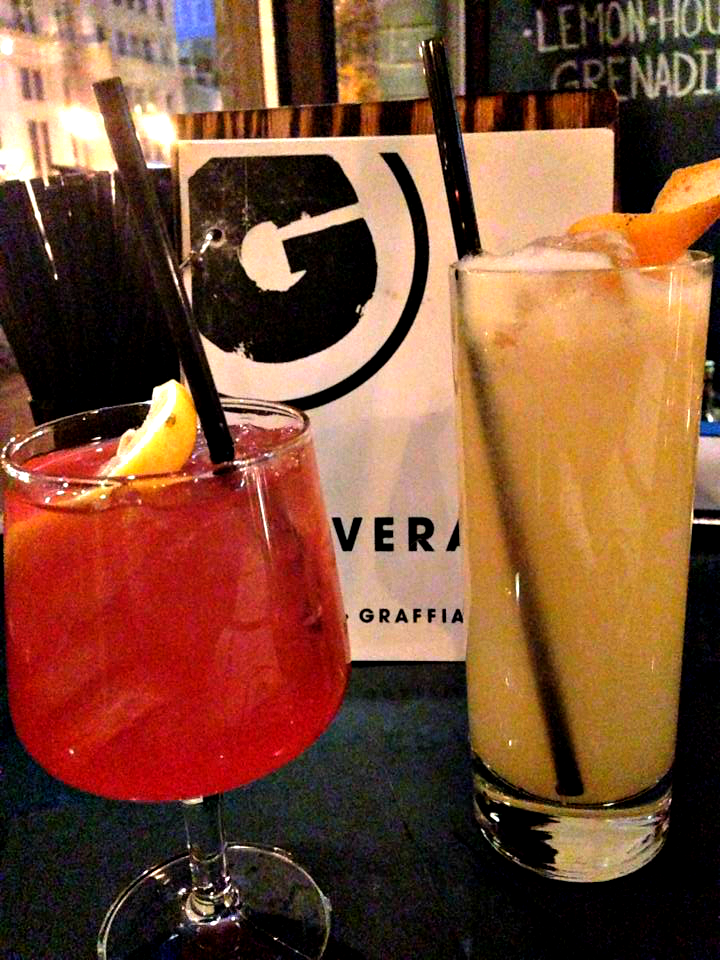 On the left is the Market Punch. Market Punch changes with the seasons, at least. Packed with seasonal flavors and booze, it was like a grownup fruit punch. On the right was my drink- the DC Mule, made with Absolut Elyx vodka, grapefruit, lime, and house ginger beer. Pretty much loved it more than a normal Moscow Mule.
When it was time to sit down for our meal, I was so excited that it took me a little while to decide on what to order.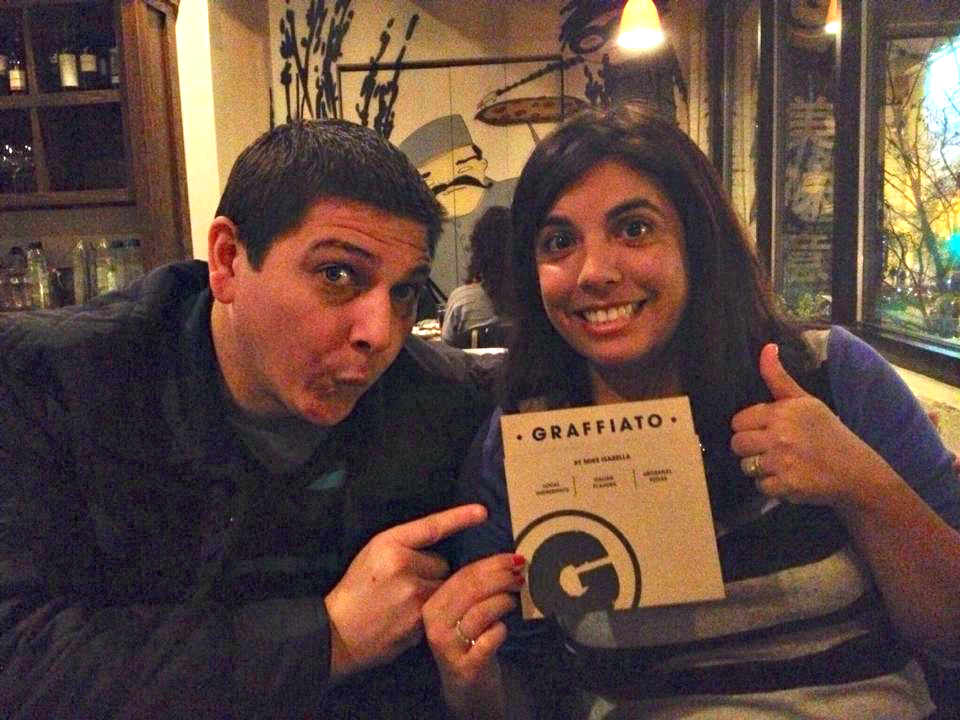 I mean, really, everything on the menu sounded so amazing. If my budget allowed it, I would have ordered about 75% of the menu and attempted to devour it all. As it was, we ordered an appetizer, salad, 2 entrees and a dessert. Yum!
One of the scenes I remember most from the season Mike Isabella was on was the love that Padma had for his pepperoni sauce. She practically licked the plate. When she talked about this sauce, in the way she talked about this sauce, I wanted to have some. Going to Graffiato was kinda sorta all about trying the pepperoni sauce.
I can now tell you from experience that any visit to Graffiato is not complete without some pepperoni sauce.
You can't tell, but I paused in the writing of this post as I reminisced about this Caesar Salad. My God, it was so awesome. I thought that Hue, a restaurant in Orlando which is now out of business (RIP), had the best Caesar salad ever. I used to drive the hour to Orlando just to dine on their salad and bread.
Now I guess I'll have to travel to Washington, DC just for this salad because it was easily the best I've ever had. Crisp lettuce, anchovy dressing and cream cheese croutons were all composed to make this salad one for the books.
Next, we had to order pizza. With a dedicated menu section, with some of the best toppings I've seen, we decided to give it a go and order the Rocky Balboa Pizza. This pizza came topped with hanger steak, provolone, caramelized onions and local arugula. Oh how I love arugula on a pizza…or anything, really. Some of the other pizzas that caught my eye were the Dirty South with brussels sprouts, braised pork, sweet potato, maple and chili, and the Jersey Shore with fried calamari, tomato, provolone and cherry pepper aioli.
I think I'll eat my weight in pizza the next time I visit because the Rocky Balboa pizza, with the spicy, tang, peppery flavors, completely blew my mind. I can only imagine how the other pizzas taste. For you truffle lovers out there, keep the Countryman pizza in mind. It's made with black truffle, fontina, and a farmed soft egg. My God…
Just like how we felt about the pizza, you cannot possibly visit an Italian restaurant and not order some pasta. So, feeling like we needed to try something a little different than our norm, we decided on the Pappardelle made with braised rabbit, lobster mushroom and fennel pollen. I will say now that I cannot imagine ever enjoying a pasta dish more for as long as I live. I did everything short of licking the bowl, it was so delicious.
The rabbit was tender and flavorful, the lobster mushroom absorbed a lot of the sauce, and well, I don't even know what the sauce is because I was too busy eating to ask. I was so engrossed in this dish that I had to find my way back again.
Last but certainly not least (because there is no "least" at Graffiato) were the Zeppoles for dessert. There really isn't much to a zeppole. It's hot fried dough with sprinkled sugar on top, but somehow they vary. Unfortunately, I've experienced mushy zeppoles and ones with no flavor. What.the.heck. At Graffiato, there is no worry as each zeppole was like eating a pillow, or a cloud. And a delicious one at that. They were paired with a salted toffee sauce.
Graffiato completely blew my mind and what's more, they use seasonal produce and hand-rolled pastas, also be sure to source other foods, wine and beer domestically, and often from the east coast, and care so much about farm to table dining. Added bonus is that they serve Prosecco on tap. Mmm!
3 Responses to "Graffiato: A Top Restaurant From a Top Chef"